Just as Sex and the City's Stanford Blatch has three shrinks—one for cuddles, one for tough talking and one for lusty ogling—there is now a spin studio to suit every kind of New Yorker's need for speed. As a SoulCycle enthusiast, I thought my destiny was set but one day, after walking past rival studio Peloton Cycle, curiosity caught this cat and I stepped in. My spin cycle started and I decided to try out seven more classes.
The biggest complaint about spinning I hear from friends who try it, other than the pace and effort required, is that the dance moves in some classes are impossible to follow. With that in mind, alongside the level of difficulty and pace, plus ambience, here are the nine top studios compared, with a personal best and worst.
Note: Ratings are from 1 – 4
Cyc Fitness
Location: Inside David Barton Gym at 4 Astor Place
Illuminated with neon and black lights, this class packs the most energy and excitement. Picture the instructor pounding on drums that will feel like your heart pumping out of your chest. The Cyc method, which is designed by Keoni Hudoba (if you don't know him, look him up!) is a 45-minute beat-based ride that incorporates weights, inspired by more than 20 different sport movements including boxing, volleyball and swimming. Mr. Hudoba also teaches classes here, and with a strong following, he knows students by name and will encourage them throughout the ride. If you can get into one of his classes, I highly recommend it! You'll leave feeling inspired, and like you've had a full-body workout.
Perks: Enjoy all of the amenities of David Barton Gym two hours before and after your ride. This includes the full gym floor (excluding group fitness classes), showers, steam and sauna.
Who's riding: The crowd is young, fit and a mix of male and female riders. 
Enjoyableness: 4
Difficulty: 3
Ambiance: 4
Complicated Choreography: 1.5
Music: 4
Swerve Fitness
Location: 30 West 18th Street
Not a class for loners. Co-founded by three college athletes, the class is divided into three teams: red, blue and green. Over the course of 45 minutes each team is working together to beat the others in multiple sprints, hills and intervals. Each person's performance is averaged into his or her team score. The group score and the team leader are displayed on two scoreboards throughout class. Only you are able to see your individual performance on your bike console, which is a relief; the competition is relentless. There isn't any choreography to follow, but at the halfway mark there is an arm segment. Trust me, at this point you'll consider this a break. It's one of the most difficult classes, because you feel accountable to your team. But motivational words called out by the instructor will help you to keep pushing.
Who's riding: Athletic types missing their old college teams and looking for a race.
Enjoyableness: 2
Difficulty: 4
Ambiance: 2.5
Complicated Choreography: 0
Music: 2.5
Perks: Complimentary shoe rental and a juice bar for Açaí bowls and smoothies.
SYNC Studio
Location: 133 South 2nd Street (Brooklyn)
Want to get out of your seat and dance? Here's where to do it. Throughout the 45-minute class you'll be out of the saddle pedaling to the music and moving your upper body to the choreography. The class doesn't use any weights, and you can choose to wear sneakers or clip-ins (available for rent). While the basics class is simple to follow, there are open level classes, where the instructors will give cues for advanced riders to take the heavier, faster options. In either case, it's a great out-of-your-seat workout and so much fun that you won't want it to end!
Who's riding: The crowd is reflective of Brooklyn and BFF co-owners, Ashley Lively and Karla Misjan. Mostly women in their 20s.
Enjoyableness: 4
Difficulty: 1
Ambiance: 4
Complicated Choreography: 4
Music: 4
Perks: The purchase of a single Sync Cycling class is more like a day pass. You can also enjoy yoga or even a TRX or cardio circuit class.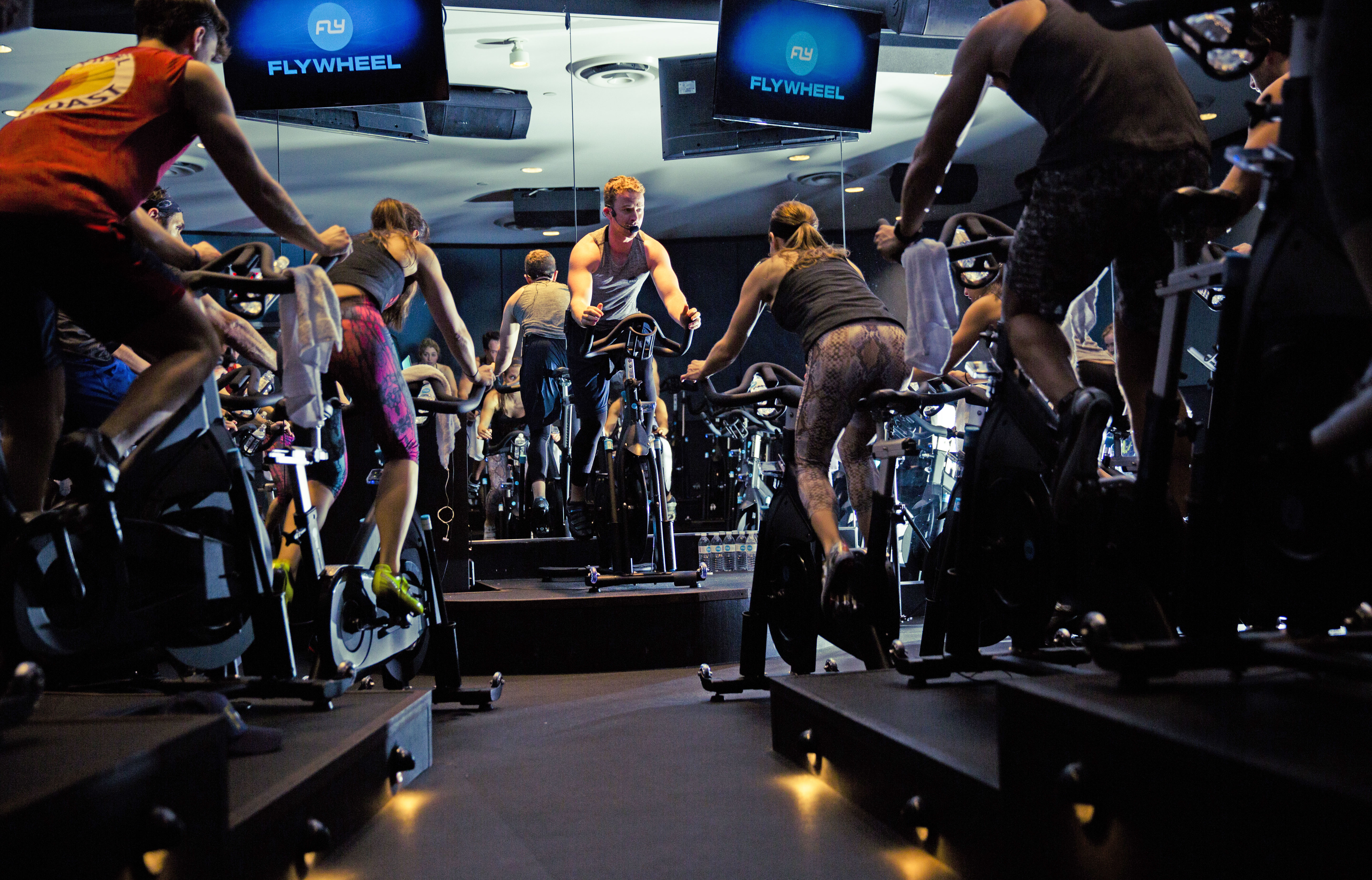 FlyWheel
Multiple locations
Other classes tell you how to gauge the resistance on a scale of 1 to 10; this class shows it on your bike's console. It also syncs to the Performance Page on your online account as well as on the iOS iPhone app. Post-class you can track your performance including RPM's, torque, speed, power, distance and estimated calories burned. The bike here is my favorite, not only for it's metrics, but because it is incredibly sturdy. The class is difficult, but the energy and music make up for it. You can choose to opt in or out of scoreboards that show your individual performance compared to the class. For the arm segment there is a weighted bar that you'll certainly feel the next day.
Who's riding: Alpha males.
Enjoyableness: 2
Difficulty: 4
Ambiance: 2
Complicated Choreography: 1
Music: 4
Perks: Complimentary water, fruit and shoe rental.
Aqua Studio NY
Location: 78 Franklin Street
Aqua Studio NY is the most unique of the cycling classes, and the only one that requires water shoes (available for rent). The bikes are submerged in a pool for an up-to-the waist underwater workout. The instructors demonstrate the moves out of the water. In the class that I took the instructor was encouraging, but not hard. The bikes are simple, metal ones. It takes a few tries to get into a rhythm so that when you speed up your ride it is smooth. The arm movements mimic swimming and are a benefit to this class. There is one segment in which you're using paddles that make it a little more challenging. The studio is multi-level and très chic with exposed brick walls and tall ceilings. It's certainly the most Zen-inducing space.
Who's riding: The crowd is slightly older than other studios (think Tribeca moms), and single sex. 
Enjoyableness: 4
Difficulty: 2
Ambiance: 3
Complicated Choreography: 4 (in this case choreography refers to synchronized arm movements)
Music: 1
Perks: According to the website, water friction helps eliminate cellulite. Also, the workout is great for anyone with joint or muscular pain—the water makes it impact-free.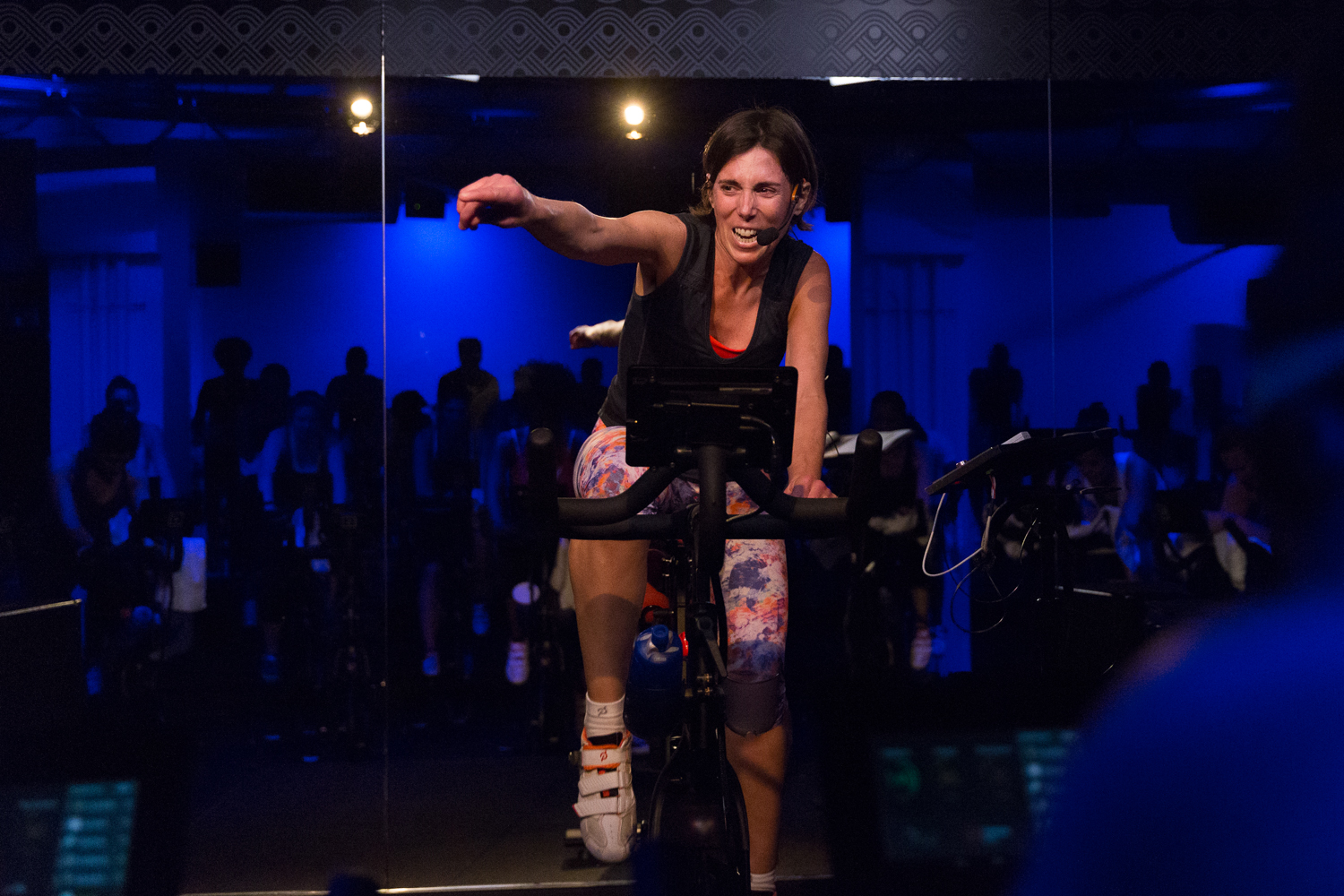 Peloton Cycle
Location: 140 West 23rd Street
This is the most state-of-the-art studio. Each class is recorded and live-streamed for those who own a Peloton bike at home (pretty cool!). The bikes are equipped with a small touch screen that shows your resistance, cadence, power and how you compare to other riders. The metrics are, of course, great for tracking results. The bike is comfortable and pedaling feels smooth. The rides are both in and out of your saddle with one arm segment with options to use one-, two- or three-pound weights. While difficult, the classes are fun and often offer a live DJ or themed ride like their black light tribal paint, or East Coast vs. West Coast hip-hop rides.
Who's riding: Mix of men and women, slightly older crowd than the other studios.
Enjoyableness: 3.5
Difficulty: 4
Ambiance: 4
Amount of Choreography: 1
Music: 3
Perks: Water and shoe rental is complimentary, as well as your first ride! If you're late for class you can hop on one of the test bikes and live-stream the class in the lounge area.
Revolve Fitness
Location: 52 East 13th Street
The instructors make the difference here; they are energetic, skillful and knowledgeable (they're all Schwinn-certified). Throughout the ride they shout words of encouragement and also advise you on avoiding injuries.
This recently opened studio offers three class types: Real Ride, RIP Ride and Body Ride. I opted for Body Ride, which is a 45-minute class with one six- to seven-minute upper body segment using sandbag weights. RIP Ride on the other hand is a 60-minute intense interval training class with two upper body segments; Real Ride is a 45-minute outdoor-inspired ride.
Who's riding: Young, mostly women. A quarter of riders are men.
Enjoyableness: 3.5
Level of Difficulty: 3
Ambiance: 3.5
Amount of Choreography: 0
Music: 4
Perks: Two membership options: Premium ($279/month) includes unlimited rides, no contract, no no-show/late cancel fees, four guest passes per month and complimentary shoe rental. Basic ($259/month) includes unlimited rides, two guest passes per month and complimentary shoe rental.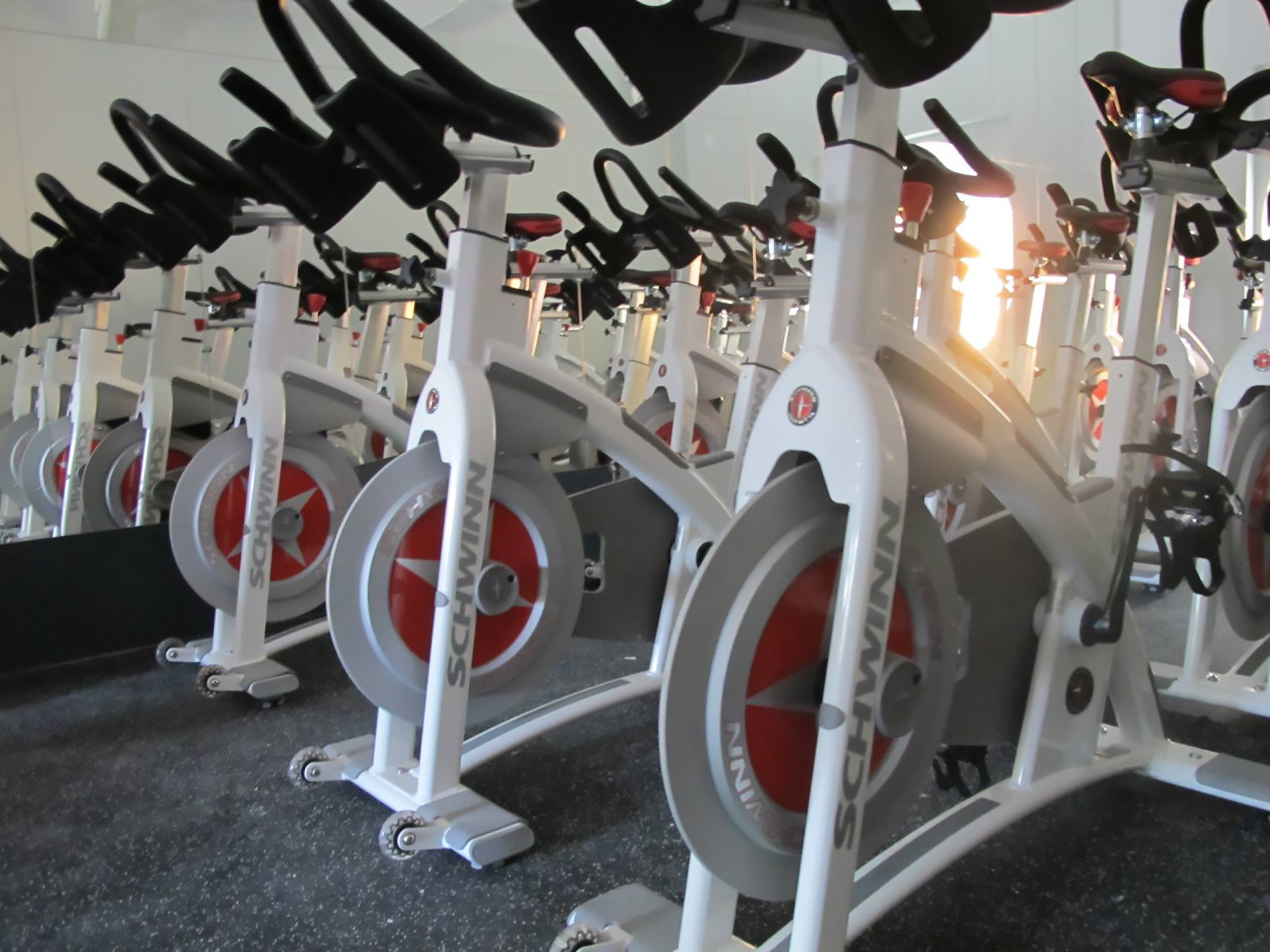 Torque Cycling and Fitness
Location: 74 North 8th Street (Brooklyn)
This boutique cycling and TRX studio offers various un-choreographed rides including a hybrid class of cycling and TRX designed by owner Christian Sjulsen. The class I took was a straight 60-minute ride. "We do real rides here at Torque," says Mr. Sjulsen, "that means the rides are mapped onto real terrain and we're not going to do anything on the bike that we wouldn't do on a bike outdoors." In other words, don't expect to do tap backs or weights. The space is small, but this is an upside because you get one-on-one attention. In the class I took, Mr. Sjulsen came around increasing or decreasing resistance based on individual performances.
Who's riding: Male and female Williamsburg locals.
Enjoyableness: 3
Level of Difficulty: 2.5
Ambiance: 3
Amount of Choreography: 0
Music: 3
Perks: Complimentary shoe rental and individual attention.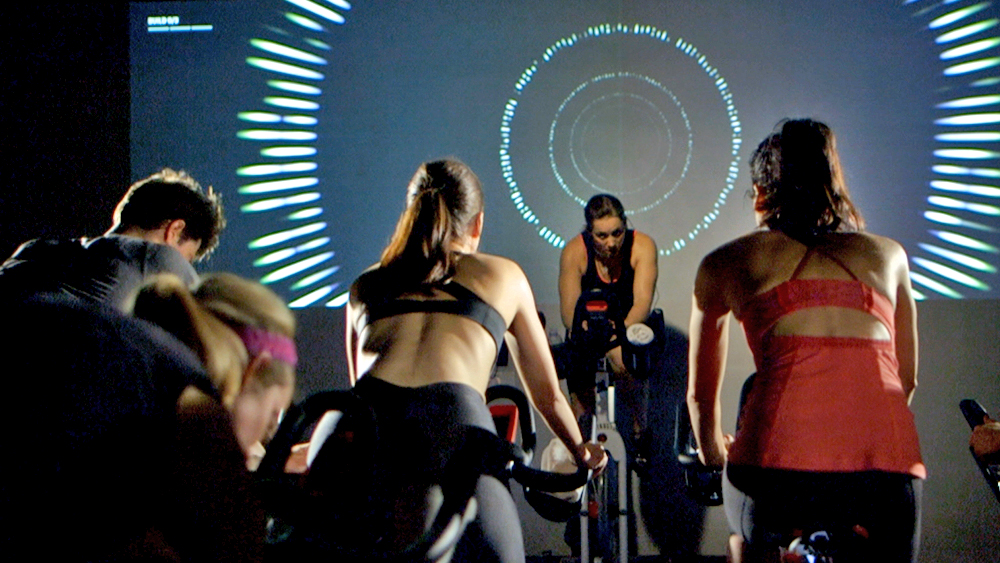 Equinox
Multiple locations
There are lots of classes and instructors to check out at Equinox and none stood out for me. While the bikes have metrics, they do not show the level of resistance. You can wear clip-in shoes or ride in sneakers. The music has depended heavily on the instructor. The ambiance and level of energy isn't the same as you'd get at a cycling studio, but that's about to change. Equinox is rolling out two new cycling classes, The Pursuit: Build, and The Pursuit: Burn. The concept is a highly competitive cycling class with team and individual challenges. Real-time stats will be displayed through graphics and leaderboards, and you'll be able to track your progress.
Who's riding: Depends on the location, an equal mix of men and women.
Enjoyableness: 2
Level of Difficulty: 2
Ambiance: 2
Complicated Choreography: 0
Music: 2
Perks: The classes are cost effective, straightforward, and, of course, you have all of the amenities of Equinox. Flexible cancellation policy (you can cancel up to 35 minutes before the start of class) without a penalty.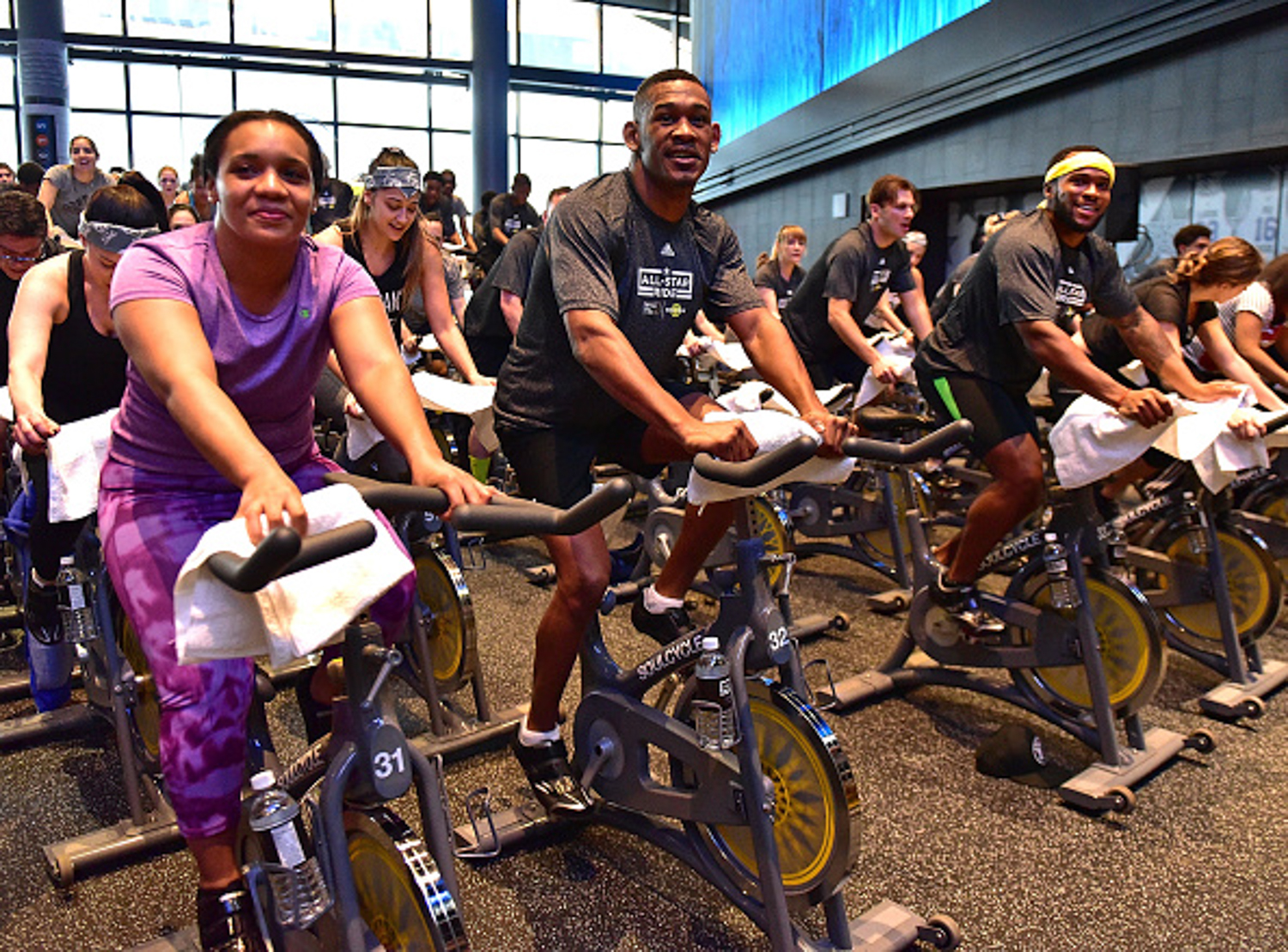 SoulCycle
Mulitple locations
The original NYC spin class. No frills, very basic bikes, no screens or competition. SoulCycle's inspirational instructors set their classes apart from other spin studios. The bikes are straightforward (you turn the resistance knob as instructed) so you're riding at your own pace. (Though I found riding a bike with resistance metrics at another studio helped me better understand how to pace myself at SoulCycle.) Throughout class you do sprints, climbs, jogs and choreographed movements. There are also hand weights to tone arms.
Who's riding: A cult following of SoulCyclists, mostly women, though guys show up in gangs on weekends and at after-work time slots.
Enjoyableness: 4
Difficulty: 2
Ambiance: 4
Complicated Choreography: 4
Music: 4
Perks: The room is candlelit and throughout the ride you're given words of encouragement.