The Jewish Daily Forward, which turns 118 next week, is assimilating to meet the diverse reality of modern American Judaism, moving ahead with a slew of changes that its editors hope will appeal to a wider audience.
Today, the paper relaunched its print product in a tabloid format—from a broadsheet—and an accompanying redesigned website will hit the Internet next week. It is also dropping the "Jewish" and "Daily" from its name, going from here on out as the Forward. (Which makes sense; the Forward, which has a weekly print circulation of 29,350, hasn't been daily for quite some time now, and publishes in Yiddish on a bi-weekly basis. The English-language edition, which is most widely read, was established in 1990 by the editor Seth Lipsky, and it turns 25 next month.)
"This is much more than a cosmetic change," said Jane Eisner, the Forward's editor in chief, in an interview with the Observer. "It really grew out of a year and a half long process of trying to understand who we are, who are readers are, who are readers ought to to be."
That process, in turn, was borne from a groundbreaking Pew study, released in October 2013, which revealed a dramatic rise of secularism and a decline in religious affiliation among American Jews. Unnervingly to some, as well, 34 percent of those surveyed said you could still be Jewish if you think Jesus is the messiah. (Oy gevalt!)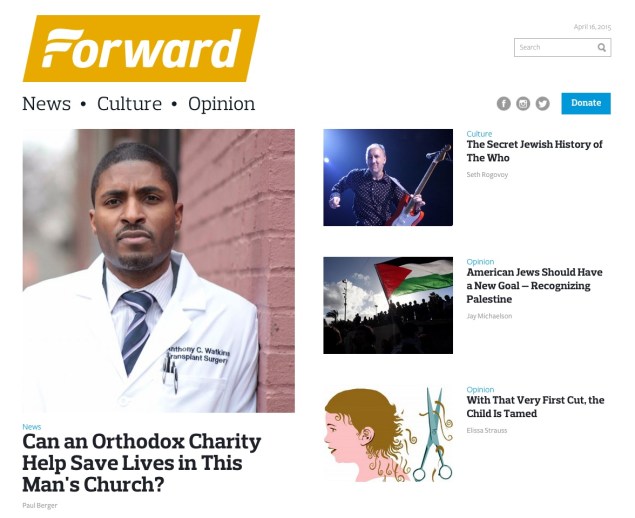 "What we know is that most American Jews today are living a very pluralistic life—there's a lot of intermarriage and interfaith relationships," Ms. Eisner, who was involved in putting out the survey, said. "It's much, much different than the immigrant community that the Forward was founded to serve in 1897."
Still, 94 percent of Jews surveyed by Pew said they were proud of being Jewish. "The question is," Ms. Eisner asked, "what does that mean?"
To some, it means Israel, while to others it means music, literature, politics, humor or food. "A lot of people relate to Jewish stuff through food," Ms. Eisner said. The redesigned, nonprofit newspaper is aiming to hit those bases and to make its content a bit more personal, with more essays, columns and individual stories that Jewish readers might relate to, a direction it has been moving in for at least a year now. Last February, for instance, the newspaper introduced a new advice column called "The Seesaw," to help those in interfaith relationships. "What the redesign does is take it in a big, giant step forward," Ms. Eisner said (pun seemingly unintended).
The first issue—with new fonts, a higher quality paper stock and a redesigned logo—contains a new feature called "Homelands," which casts a spotlight on the customs of one different Jewish household every week. And the back page serves as a venue for writers to suss out what it is to be a Jew today.
Other changes are less noticeable, Ms. Eisner said, like making sure not to use Hebrew or religious words without explaining them so as not to alienate readers. There is also a new feature called "Forward Looking Back," which contains snippets from the Forward's archives.
Although that is the most overt reference to the newspaper's vast archives, in many ways, the new iteration of the paper is a throwback to the original Yiddish-language version established by Abraham Cahan, the Foward's founding editor. (Ironically, it was Cahan's Forward that vociferously encouraged immigrant Jews to assimilate into American culture, which may have contributed, decades later, to the Pew findings.) Cahan published great literature—Isaac Bashevis Singer, Sholem Asch—and a now-famous advice column known as the "Bintel Brief," as well as passionate editorials decrying, for instance, Russian communism.
Cahan's legacy is still felt on a daily basis at the Forward. "There's a big picture of him on the wall in my office," Ms. Eisner said. "I feel like he's staring down at me sternly."