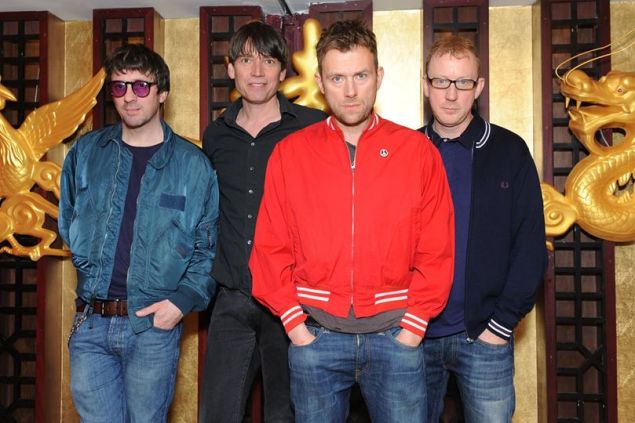 A little over two months ago, on February 19, the four members of Blur convened at the Golden Phoenix restaurant in London's Chinatown for a press conference to reveal that they had completed a new album, their first in more than a decade and the first to feature the band's original lineup in 16 years. Each one of them looked stunned. For bassist Alex James and drummer Dave Rowntree, the surprise seemed pleasant. Guitarist Graham Coxon, who'd been sacked in 2002 following a rehab stint and then rejoined the group in 2009, was a tougher read; one might think that his distinguished post-Blur solo career would have boosted his self-esteem, but he came off as quiet and nail-bitingly uncomfortable as ever.
The one thing James, Rowntree and Coxon had in common was that they all politely deferred to frontman Damon Albarn, the obvious alpha dog in the room and the only one who's sold millions outside Blur (with the animated all-star side project Gorillaz). And everything in Albarn's posture and facial expressions suggested that he was far from sure about the value of this latest enterprise, but he was going to be the big man, play nice for his old chums, and allow it to go forward.
---

There isn't a bad song in the bunch, and several are as good as anything they've ever done.

---
In short, the dominant signals pointed to Blur's unexpected eighth album being at best dubious and at worst an utter disaster.
Now that album, The Magic Whip, is on the market. And in an unlikely twist, one that proves body language can be deceptive (at least when coming from repressed English people), it's far closer to a treasure than a horror. Though rooted in the clanky, quirky, defiantly old-fashioned British pop sound that defined Blur 20 years ago—back when they were duking it out with Oasis to be the U.K.'s No. 1 band—the 12 new tracks go much wider and deeper than that, into bittersweet '70s soulscapes ("Ghost Ship"), haunted Morricone-ish vistas ("Mirrorball"), and that long-favored Albarn area, the realm of melancholy balladry ("My Terracotta Heart"). There isn't a bad song in the bunch, and several are as good as anything they've ever done.
How could this be? After all, the album's a patch job, cobbled together from a set of 2013 jam sessions in Hong Kong that were recorded to pass the time after a Tokyo live engagement got canceled. The tracks sat for a year before Coxon revisited them, suspecting they might contain something salvageable. With Albarn's blessing but not his involvement, Coxon enlisted Stephen Street, the producer who'd worked with Blur in their '90s heyday, to sort through the recordings with him. Several painstaking weeks later, Street and Coxon had indeed salvaged something, and presented Albarn with an offer he'd have preferred to refuse but couldn't—the tracks were just too good.
In Mojo's recent cover story on Blur, producer Ben Hillier makes a telling point. He worked on the band's previous album, 2003's Think Tank, recorded mostly without Coxon, and says that during those sessions, "it became clear to me that the person who finished an album was Graham. The person who started stuff was Damon. The hardest thing working with a really creative mind like Damon is making them finish anything … They're not interested in the craft, they're interested in the spark. Graham has got a lot more of the craft gene in him."
---

Despite the bleakness in these songs, there's real joy here, too—the joy of a successful reunion.

---
The Magic Whip bolsters Hillier's statement. It feels … well, finished, in a way that the uneven Think Tank, for all its virtues, did not. Of course, that's due in large part to Albarn, who wrote and sang most of the lyrics and vocal melodies here. He remains the principal voice of Blur: more plainly emotional and less cynical than he was as the sniffy social commentator of 1993's Modern Life Is Rubbish, but no more hopeful. Fading light and failing connections are his leitmotifs, and even a potentially celebratory act like "going to the local" is laced with despair, as heard in the menacingly noisy rocker "Go Out."
Still, despite the bleakness in these songs, there's real joy here, too, the joy of a successful reunion. And as crucial as Albarn's contributions are, it's clear that this album wouldn't exist without Coxon. He provides the necessary finishing touches with his continually surprising guitar parts.
Appropriately, Coxon's plaintive voice is also heard more often than on any prior Blur collection. It provides the climax to "Thought I Was a Spaceman," the album's longest and one of its most affecting songs, which begins with Albarn recounting a future nightmare of London's Hyde Park as a giant sand dune, the result of humanity's failure to "keep the demons hid." The music gradually swells, and at its absolute peak Coxon repeats the song's final verse through heavy reverb like a little lamb lost down a well, before summoning up a pair of tortured guitar lines—one ascending and one descending—that simultaneously burst in a fireball of distortion.
Albarn the curious, confident extrovert and Coxon the nervous, moody introvert have both made excellent music apart from each other over the past 15 years. But The Magic Whip shows that together this oddest of couples still taps into the 1 + 1 = 20 chemistry that distinguishes the best rock bands.
[youtube https://www.youtube.com/watch?v=gOAO41JM1hQ&w=560&h=315]