The comic actor Danny Kaye did this bit about a cocktail party conversation: host asks (well-traveled) guest, "So, how did you like the Himalayas?"—to which the guest responds, "Loved him, hated her."  It's hard to imagine a neater way to sum up the Met's new production of a classic Italian double bill, in which Pagliacci was a solid success, but Cavalleria Rusticana bombed on just about every level.
Though these two early examples of "verismo" (i.e., "slice of life") were written as standalone operas, they are almost invariably done as companion pieces nowadays. That's why it's so odd that director David McVicar seems to have connected so solidly with one work, and with the other not at all.
Mr. McVicar's new staging, which premiered on April 14, replaced an antiquated production by Franco Zeffirelli that had been in the Met's repertoire since 1970. That gaudy version was arguably too decorative and picturesque a framework for such earthy plots, each centered on a jealous husband who commits murder. But Mr. Zeffirelli's color palette, the level of detail on the sets and costumes and in particular the keyed-up acting style he drew from the first cast unified the disparate halves of the double bill. Mr. McVicar's productions, in contrast, differed so vastly in style they might be the work of two separate directors. 
A possible reason his Pagliacci worked so well is that the Leoncavallo opera lends itself to a gimmicky approach. The first half sets up the jealousy plot, climaxing in the celebrated "Vesti la giubba" aria for the cuckolded husband, the actor Canio: he must go onstage and make the audience laugh even though his heart is breaking. The second part of the opera is the play within the play, in which, ironically, Canio plays the clown Pagliaccio, whose wife Colombina is cheating on him.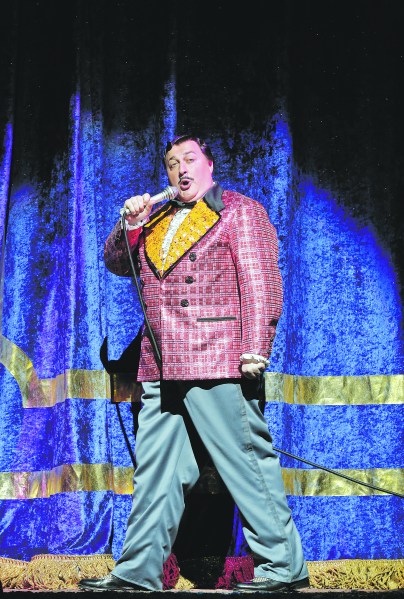 Mr. McVicar piled on the razzle-dazzle. For the "Prologo," during which the actor Tonio explains to the audience that they are about to see a retelling of a true story, Mr. McVicar styled baritone George Gagnidze as the emcee of a revue, complete with a running gag about an unmanageable microphone cord. Later, Canio ended his aria downstage of the grand drape like the headliner of a vaudeville show, then tried to wipe off his smeared whiteface makeup on the curtain. And the commedia dell'arte show was swarming with sight gags from a whipped cream fight to a demented puppet chicken. 
Mr. McVicar's expertise at gimmickry proved useless in Mascagni's moody, atmospheric Cavalleria Rusticana. The slender plot transpires in what is supposedly a Sicilian village at midday, but this production took place in a few shafts of blinding white light piercing the surrounding darkness. Everyone in town wore unrelieved black (on Easter Sunday?) and the movement was severely stylized, with extras portentously toting straight back chairs to and fro. (Imagine Bob Fosse's House of Bernarda Alba, and you get the idea.) A stage-spanning turntable revolved almost constantly, though its movement revealed nothing but different black-clad peasants huddled around yet more mounds of chairs. 
So bizarre as to verge on camp were little dance sequences choreographed by Mr. McVicar's husband and frequent collaborator Andrew George. The sinister carter Alfio (also Mr. Gagnidze) was assigned neither wagon nor horses for his entrance, but was accompanied by a gaggle of male backup dancers who bumped and shimmied like refugees from Chita Rivera's nightclub act. 
Once the boys jetéed off to Easter mass and the brakes were put on the whirling stage, the big dramatic scenes of the opera fell flat. The sizzling duet between the lecherous Turiddu and his cast-off lover Santuzza felt like a concert performance, two middle-aged well-upholstered singers running through a limited vocabulary of hand gestures.
Spectacular singing might redeem even so listless a spectacle, but the artists the Met fielded were not much better than all right. As Santuzza, Eva-Maria Westbroek had a strong sense of how the music should be phrased, but her soprano wobbled off center. Mr. Gagnidze sounded powerful and gruff without differentiation between his two characters. 
Also doubling roles was tenor Marcelo Álvarez, whose light instrument suggested Turiddu's youthful fecklessness brilliantly. He sang Canio passionately, but the big moments of the role such as "Ridi, Pagliaccio!" and the murder scene sounded a little pale. No such problem beset Patricia Racette as the unfaithful actress/wife Nedda: her bright, glassy tone exactly defined the character's desperation and guile. And this was by far the finest acting performance I have seen from Ms. Racette in her two decades at the Met. She played this complicated, conflicted woman with a volatility suggesting the young Anna Magnani.
"Reliable" can be a dirty word in the theater, but not when it's applied to Fabio Luisi's conducting. If he had few revelations to impart about these scores, he kept both moving fluidly, with lean orchestral textures allowing some lovely instrumental details to emerge. No, musically the production never evoked the blood-and thunder thrills opera fans long for in this kind of material. But given the lackluster staging, maybe that was an impossible dream anyhow.