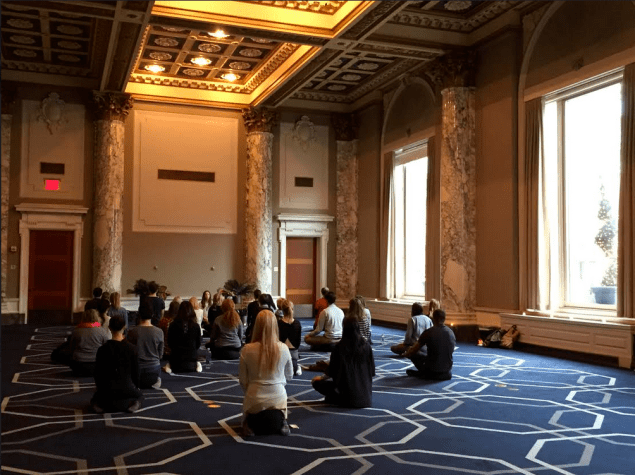 Around 30 people, eyes closed and bodies still, sat on the floor of a candle-lit subterranean studio at 7 p.m. on a Wednesday evening. From a spot at the head of the group, a silky-voiced instructor urged everyone to center their attention on the present moment.
Focus all of your awareness on your right thumb, she directed. Travel up and down, from the knuckle to the tip. "When you're done," she said, "move on to the next finger."
Nearly an hour later, the class was over—with mere minutes seeming to have passed.
This gathering was one of the bi-weekly meditation sessions offered by the W New York—Union Square. The sessions are led by instructors from The Path, a startup founded last October whose aim is to bring ancient meditation practices to the modern masses. The classes are offered to W guests for free, and to outsiders for $20 a pop.
"We're stripping [meditation] down from being something quite mystical," a hotel representative told the Observer, "into something that can be applied to everyday life."
So what is meditation, exactly? As with yoga, the exact techniques vary from place to place. But overall, the practice involves plunging the mind into deep concentration, eschewing all distractions in favor of clarity and calmness. Meditation is said to reduce stress and improve decision-making skills, and counts celebrities like Oprah, Gwyneth Paltrow and Gisele Bundchen as devotees.
The W's meditation sessions have become so popular since they introduced them in March, the hotel had to start offering classes on Wednesday evenings—in addition to Friday mornings at 8 a.m.—to keep up with the growing demand. Some classes are held in the hotel's great room (pictured above), while others take place in the aforementioned underground Studio. They will be offered through the end of the month.
That Wednesday evening, the attendees were a diverse bunch. Equal parts men and women, the group included downtown model types, spunky tech entrepreneurs, and mature business professionals. Some were hotel guests, but others were regular New Yorkers who had heard about the class through word of mouth, and were paying to attend.
Dina Kaplan, founder of The Path, said meditation is definitely the next yoga; it's just "six or seven years behind," she told the Observer.
But now that yoga studios are practically as ubiquitous as Starbucks, "I think meditation is definitely coming up next," she said. "I think it will become very mainstream for people to meditate. It's already starting to happen."
So why are New Yorkers flocking to meditation sessions? People have figured out how to make their bodies look better by working out, Ms. Kaplan said, but now, people want to make their minds function better—"brain hacking," she called it.
"It helps you focus, be more creative," she said. "It's literally good for your mind."
She also thinks people's constant smartphone use—all the Twitter and Candy Crush—is starting to wear on them.
"I think it's getting harder and harder for people to maintain a sense of calm," she said. "I think the need for meditation and its benefits are even more profound, now that people's cellphones are driving them bananas."
The benefits of meditation are so numerous, in Ms. Kaplan's opinion, it is hard to explain them in a single conversation.
For starters, there are the social benefits. Meditation makes you more open.
"When you meditate, you lose your addiction to your phone," Ms. Kaplan said. "When people are talking you can look them in the eyes, connect, really listen."
"Your brain settles down," she continued. "You're able to enjoy white space a bit more, even in conversation."
Ms. Kaplan also cited studies that say meditation lowers the brain's production of stress hormones. The less stressed a person is, the more able they are to take time before responding to stimuli during the day—like a nasty email from a coworker, or a body-check from a rude subway rider.
"Meditation gives you the space to not react automatically—to pause and think, 'How do I want to respond to that?'" Ms. Kaplan said. "It helps you make better decisions in all aspects of your life throughout the day.
For New Yorkers, she said, meditation can be especially beneficial.
"New York is a very stressful city," Ms. Kaplan said. "Even if you don't live a stressful life, you can feel the stress of the people around you on the street."
"I think what the W has helped us create is an oasis of calm and tranquility," she continued. "It's the best gift you could possibly give to yourself."