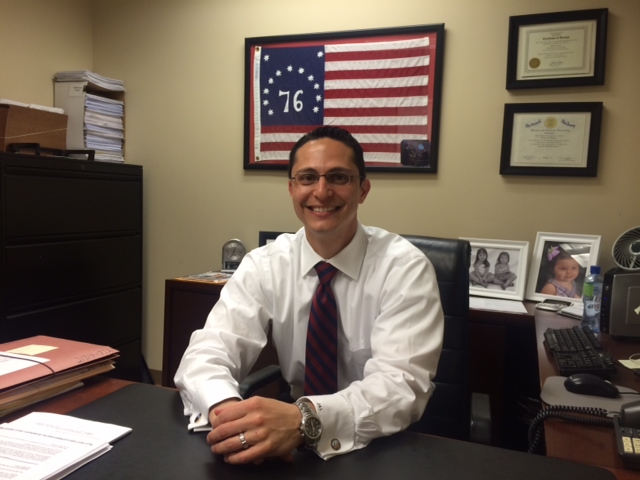 The Bergen County-based 38th Legislative District will be in the eye of the storm this November as one of the few truly competitive Assembly race battlegrounds in New Jersey. State Assemblyman Joseph Lagana (D-38), 36, was elected to the Legislature in 2013 and along with his Democratic counterpart, state Assemblyman Tim Eustace (D-38), is trying to hold off the Republicans in what is expected to be a close race. Pointing to the line "I am the master of my fate" from a copy of his favorite poem, "Invictus," close to his Secaucus law office desk, Lagana told PolitickerNJ why he believes that he's fated to stay in the Assembly.
PolitickerNJ: The 38th Legislative District is one of the few districts considered to be competitive in the 2015 state Assembly elections. What do you think makes LD 38 competitive?
Joseph Lagana: Just looking at the numbers, the amount of registered Democrats and Republicans isn't too far off. For the most part, it's independents who make or break the election. We have to connect with them.
PNJ: What is the issue that you believe draws the most interest for independent voters?
JL: In LD 38, the major issue is always taxes, as it is throughout the state, as well as our schools and the state of our bridges and roads. LD 38 is more fiscally conservative than a lot of other Democratic districts. But we've been knocking on doors, and a lot of people my age and younger are saying that they're worried about the environment, including what's happening with [the Exxon environmental cleanup settlement]. People are very informed in LD 38, but for the most part, people are worried about affordability.
PNJ: Some of your Bergen Republican critics point to an impression among many local voters that although Bergen County, the most populous county in New Jersey, sends much in tax revenue to Trenton, it gets little back in terms of municipal and school aid, as well as other services. Your opponents blame Democratic policies in the Legislative for this imbalance.
JL: I disagree as far as it being because of Democratic policies, but I don't disagree with the statement that Bergen isn't getting back what it's putting in. I'm from Paramus, and the sales tax revenue is pretty much from Paramus because of our four major malls. But I work with people from Morris and Essex counties, and the taxes there are exorbitant. It's a statewide issue – New Jersey disproportionately sends more money down to the Feds than we get back.
It's easy to say that this problem exists, but it's difficult to say why Bergen County should be getting back more money than Morris County is. It's up to us as legislators to identify what we should be getting back. For example, in LD 38, transportation is a tough issue, and the Bergen-Hudson Light Rail doesn't go to Bergen County. Senior transportation is a huge issue, and transportation for people with disabilities very disjointed. These are perfect issues where we can try to get money back into the county to make it more efficient.
Just because we're in northern New Jersey, it doesn't mean that everybody's rich. You do have some affluent towns in our district, but in the rest, everyone is pretty much blue-collar or middle class.
PNJ: What do you think is the best solution for the Transportation Trust Fund crisis?
JL: I personally am not for a gas tax. I think we're taxed enough. I think that what's dedicated to that fund should always be spent for that fund. We've gotten into a mess in this state because with issues like the TTF and the pensions, money gets pulled out to go into the general budget. But people have to remember that transportation is also a federal issue, and the federal government is not approving projects like they were in the past. They need to do more. I just read that 200 more New Jersey bridges are expected to be deficient. But taxing our residents more is not going to solve the problems, especially if administrations take the money and put it in the general fund anyway.
PNJ: What about the future of the state pension and benefit program?
JL: State Senate President Steve Sweeney (D-3) and state Assembly Speaker Vinny Prieto (D-32) have made a statement about us fully funding the pension, and I trust in our leadership and will look at their recommendations. If the intention is to fully fund it, I'm on that boat. Because the pensions aren't set to be fully funded, that's what causing the state to have nine credit rating downgrades. We really have no pension or benefits plan.
It's going to take a bipartisan approach to fix this. One problem is that you're going to have to deal with the unions to fix this. Why would the unions want to negotiate with Governor Chris Christie if they reached an agreement years ago and it didn't happen? What good faith is there left? The unions are not unreasonable. I think they realize that some changes may have to be made. I think it's just a matter of everybody living up to their end of the bargain. The unions have so far. Now it's time for the state government to do the same thing.
PNJ: Serious New Jersey state issues such as the futures of the TTF and the pension and benefits system obviously involve the input of Governor Christie, who has often been out of the state in recent months because of his exploration of a bid for the 2016 Republican presidential nomination. Should Christie end his apparent bid in order to more fully focus on New Jersey's problems?
JL: When I was knocking on doors in Fair Lawn, Paramus and River Edge in 2013, he was loved. Now it's a complete 180. People now say to me that we need a leader and that they are completely frustrated with the governor. He needs to be back, working with leadership to make things better, instead of saying "you guys are the problem." Without compromise, it's a disservice to the people. I think that's how people want us to govern. But you have to be present. You have to be here. He says he's going to make a decision based on what's good for him and his family. But he's got to make a decision based on his other family, which is New Jersey.
A lot can happen from now until the presidential election. But because of Bridgegate, there is a lot hanging over the heads of some of the former members of his staff. But it looks like he's all in.
PNJ: How much have you raised in campaign funds to try to defeat your 2015 LD 38 Assembly race rivals, Republican candidates Anthony Cappola and Mark DiPisa?
JL: It's close to $200,000 so far. I raised a total of about $175,000 in 2013.
I'm part of what Bergen County Democratic Chairman Lou Stellato and Bergen County Executive Jim Tedesco, the former mayor of my hometown Paramus where I served on the council, have done. I consider myself to be part of the new generation of this party. I look forward to whatever help they can give me.
Paramus is just like the county and the district – it's just as red as it is blue, with a lot of independents. But I think that independents are leaning more to the Democratic side because they are just happy with the way things are going, at least definitely in Paramus.
PNJ: Who do you support as the potential Democratic candidate to take on U.S. Rep. Scott Garrett in the Fifth Congressional District, which includes some LD 38 municipalities: Paramus Mayor Richard LaBarbiera, or Josh Gottheimer, of Wyckoff, a business executive and former advisor to both Bill and Hillary Clinton?
JL: I love my mayor, and I have an affinity for him. I haven't met Josh, but I know he comes from good stock and he has all the right people behind him. It's a democratic process, and the county committees, including the Bergen County Democratic Committee, will pick the best candidate.
PNJ: State Senator Bob Gordon (D-38) is your LD 38 teammate. Yet Senator Gordon's wife, Gail Gordon, is a prominent Republican donor, fundraiser and operative. Do you fear that Gail Gordon's fundraising prowess will be used against you?
JL: Look, I love Gail. She's a great person, and Bob is a great guy. I don't know if she's going to be raising money for [Cappola and DiPisa]. I don't know how much of her dealings will affect us in LD 38. It is what it is. She can do what she wants. And whatever Mr. Cappola and Mr. DiPisa throw at us, we'll respond to.
I've been working hard on legislation to update the prescription monitoring program, which we hope will give doctors and pharmacies a great tool in stopping drug abuse. It's legislation like that which I believe the voters in LD 38 will respond to.
PNJ: Your parents are both immigrants from the Calabria region of Italy. Did they give you any advice growing up that prepared you for life in politics?
JL: Since I was a kid, my father has always said to me "Don't be a big shot. Remember where you came from, and that just a generation ago, we didn't have anything. Remember who you are, and that there are people now where we were."
It's because of this country that I'll able to be who I am. And it's the policies implemented by government that gave my parents a chance. When government works, it's a great thing.
People love to bash us, but I'm a Jersey boy, and I'll always be a Jersey boy. I want to be here. And I want to be in the Assembly.