Art collector and cosmetics mogul Ronald Lauder, smiling In the second-floor gallery of his Upper East Side museum last week, gestured to the shimmering $100 million-plus, 4' x 6" square painting behind him, Portrait of Adele Bloch-Bauer I. 
"This painting means everything to me." he said. "It's a symbol of what happened." He added: "In World War II there were very few happy endings; this was one."
Mr. Lauder talked to the Observer following, a press conference at his Neue Galerie museum in New York for the film Woman in Gold, which opened April 1. The film details the late-in life-fight by Austrian-turned-Los Angelino Maria Altmann to reclaim the gold-flecked Gustav Klimt painting of her aunt, Adele, on view for 60 years in Austria's Belvedere Museum. She eventually won, and the painting is now the centerpiece of Mr. Lauder's Neue Galerie. (See related story: Ronald Lauder on the Next Frontier in the Hunt for Nazi-Looted Art.)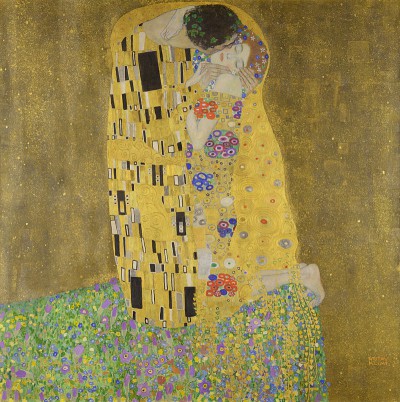 "It's a truly remarkable painting that has had a remarkable journey," said Renee Price, director of the Neue Galerie.
But how, exactly, did it come to be and find it's way to America?
Here's Adele's twisty tale:
Inspired by Byzantine mosaics, Art Nouveau-era master Gustav Klimt painted the beautiful Adele Bloch-Bauer, a socialite and hostess of a prominent Vienna Salon, in 1907.
Klimt excelled in sensual, erotic portraiture, and, although the work was commissioned by the subject's husband, rumors have persisted throughout the decades that she and Klimt were lovers.
Mrs. Bloch-Bauer died young (43) unexpectedly, likely of meningitis, in 1925. In her will she asked that two Klimt portraits of her and other art  be left to Austria upon her husband's death. But when Germany annexed Austria in March 1938, Mr. Bloch-Bauer fled to Switzerland. The government confiscated his property, and put three of the paintings on display in the Austrian Gallery. For most of the last 60 years the portrait had hung in that Gallery in the Belvedere Palace in Vienna near The Kiss, another Klimt masterpiece.
Meanwhile, Mr. Lauder, who had first seen the painting as an adolescent and loved it, then later served as the U.S. ambassador to Austria, had never forgotten Adele.
A 1998 conference in Washington, D.C., on Holocaust-related assets reignited the debate over repatriation, as did the return earlier in the decade, by the Metropolitan Museum of Art, of the disputed ancient Lydian Hoard to Turkey. Descendants began to research and claim assets lost in the war.
As detailed in the film, years after requesting its return, and only after the involvement of the Supreme Court, the grandmother, Maria Altmann, received the painting. Vienna had stalled for years, citing Adele's own explicit wishes that it be left to the nation and dubbing it their own nation's Mona Lisa. "This became very much of a symbol of the golden age of Vienna," said Mr. Lauder. "It took years … but it was really Maria who triumphed."
Less detailed in the film was the ensuing controversy: It was almost immediately sold, in a deal brokered by Christie's auction house, to Mr. Lauder—formerly the U.S. representative to the now-infuriated nation—for a sum reported to be in excess of $135 million. "Maria Altmann always wanted this painting to be here," he explained.
"Now it's our Mona Lisa," he said to a European TV crew last week and quickly corrected himself: "It's everyone's Mona Lisa."
Mr. Lauder, along with his brother Leonard Lauder, are perhaps the worlds leading collectors of Cubism and German Expressionist art. Both top museum trustees in New York, they are heirs of the hugely successful cosmetics company created by their mother, Estee Lauder, and named after her.
(Interestingly, Mr. Lauder has never confirmed the widely published $135 million price for Adele and has only said that it sold for more than the existing record at the time for art, becoming the world's most expensive painting. It broke the record at the time of $104 million for a blue-period Pablo Picasso.)
Recently, Mr. Lauder has been involved in the marketing of the movie in which his treasure stars, hosting a dinner earlier this month along with his wife, for the star, Ms. Mirren; guests included Barbara Walters and Meryl Streep. "Helen did a great job capturing [Maria's] determination," he said.
Early reviews were unkind—the film's world premiere was held, perhaps unwisely, at the Berlin Film Festival—with theHollywood Reporter being pretty typical in its assertion: "A stodgy crusade-for-justice drama, directed and written with minimal flair." Some reviewers specifically faulted director Simon Curtis, best known for directing television episodes of the PBS seriesCranford. But he told Deadline Hollywood recently that he has re-edited the film since the Berlin screenings, and the Observer's Rex Reed adored the film, calling Ms. Mirren "a miraculous blend of grit, grillades and grace."
Meanwhile, Woman in Gold is the second film from Harvey Weinstein's production company to tackle the repatriation issue: The Monuments Men, starring George Clooney, came out last year.
Will there be more such Hollywood tales? "I hope so," said Ronald Lauder.