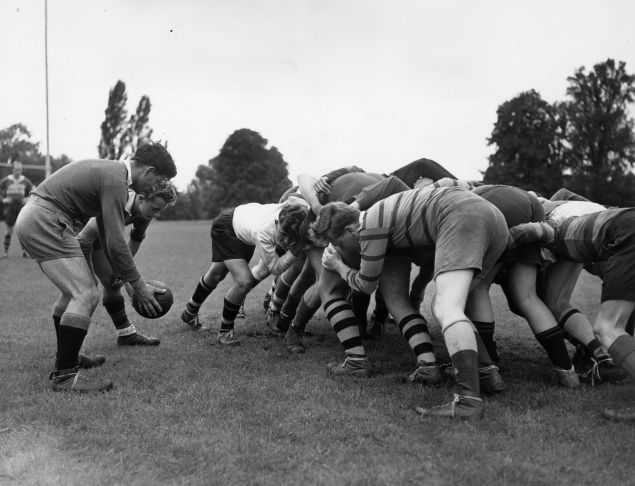 We all do it. We make some stupid crack to a friend or a person we're in a relationship with that we'd never make publicly. Not because we're horrible people but because a bit of black humor occurred to us and we let it fly.
These days, however, the culture of victimhood likes to preserve episodes of perceived victimization in amber and then use them as the basis for a witchhunt. And it's working—at campus after campus—to the detriment of truly important values like free speech.
 
This also happens off-campus, like when thousands of people go after somebody on Twitter for a remark that got taken the wrong way—or even the right way. And suddenly a person is damned by a global public, or at least a Western-world public, as globally horrible—as in a horrible person all around, simply because they expressed some attitude that was ugly or not quite well-thought-out.
About the current witchhunt (and subsequent witch-burning) Erin Gloria Ryan recently writes at Jezebel that an entire college rugby team was disbanded and punished over a "fuck a whore" chant:
One chilly afternoon in late November 2014, a few dozen students at the University of Mary Washington gathered in a house about a half mile off their Fredericksburg, Virginia, campus for a party at a house rented by rugby players. For a Sunday, the mood was raucous, with students belting bar chants in celebration of a recent victory. Then, as the singing escalated in enthusiasm and obscenity, one party attendee surreptitiously took his cell phone out of his pocket and began recording.
Finally found a whore (Finally found a whore!)

She was right and dead. (She was right and dead!)

Well god damn son of a bitch we're gonna get it in! 

(God damn son of a bitch we're gonna get it in!)
Finally got it in (Finally got it in!)

Wiggle it all about (Wiggle it all about!)

God damn son of a bitch I couldn't get it out (God damn son of a bitch we couldn't get it out!)

Finally got it out (Finally got it out!)

It was red and sore (It was red and sore!)

Moral of the story is never fuck a whore!

The student, disturbed by lyrics referencing necrophilia, rape, and violence against women, posted his clip to YouTube and reported it to the school's administration days later, which triggered disciplinary proceedings against the team. 
Yes, in the new culture of college being like nursery school, what was there to do about something you find disturbing but tattle to teacher?
By the way, not surprisingly, the student was female and feminist. Showing once again, as is shown so often lately, that young women have taken a giant step backward. No longer are women demanding to be seen as equal to men. Women now demand to be treated like eggshells, not equals.
This worked quite well in this case, as in so many cases:
On Wednesday, March 18, four months after the incident, the administration handed down a decisive verdict: the entire men's rugby team would be dissolved indefinitely, and all 46 members of UMW's Mother's Rugby would be required to attend sexual assault training classes. (At UMW, rugby is a club sport and is therefore not subjected to NCAA sanctions.)
Ryan continues:
Of course, the real story of what happened that night in November and in the months after is more complicated than the administration's delayed but clearly statement-making decision would have you believe. This wasn't a victory over the dark forces of misogyny as much as it was a parody-defying collision of 2015 collegiate caricatures: a feminist organization feeling threatened by a song sung at a party to which they were not invited and would have no interest in attending; a party full of co-eds getting drunk and yelling a stupid, obscene song about sexually violating a prostitute's corpse. A surreptitious cell phone recorder uploading the footage to YouTube like a guerrilla journalist. A terrified college administration cloaking their fear of lawsuits and negative media attention in righteously angry talk and scorched-earth justice aimed, probably, at the wrong entity.
Sometimes, we say or sing things that are terrible. Things we don't believe but we joke about — sometimes just to be "bad." 
Does anyone really think that the entire rugby team (or probably anyone on it) cheers dead prostitutes and wants to have sex with them? Or condones anyone else doing it? 
Polly Lyman, who sent me this link, and whose son was previously on the team wrote me this about the rugby guys: 
They are all gentlemen and great guys. A few bawdy songs and they get this? Insane! … It is just stupid and idiotic, the college's overreaction. They are treating it like a "frat" since they would never fund rugby to be a varsity sport, so it was always a club sport.
…Team members tend to live off-campus together (my son when a student there was a tenant in the "Rugby House," which actually isn't where this singing took place.)  Too bad that in a former women's college trying to make co-education a success that they glom on to this event as a tale to tell. Administration is such scaredy-pants. It is a great school, much like a mini-UVa, and this is a sad chapter in its new-found history.
I am still so outraged about this. My sweet son said "I'm sending a protest letter to the college. I have Mother's Rugby tattooed on my thigh!" And he is the epitome of a gentle man. Crazy rugby player, but aren't they all? Most of them would throw their cloaks down on puddles for damsels and protect all of them from harm.
***