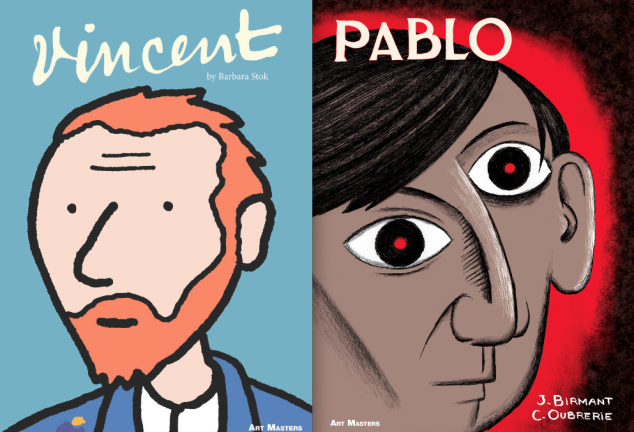 British publisher SelfMadeHero is putting a spin on the classic biography format. Often densely written, historic biographies can be a lot to digest, but the publisher's new Art Masters graphic novel series revives the form through visual storytelling exploring the lives of some of art history's greatest—with work by some of the comic industry's top artists. Beginning with Pablo Picasso and Vincent Van Gogh, the books are being distributed in the U.S. by Abrams. Vincent by Barbara Stok was this month, and Pablo by Julie Birmant and Clément Oubrerie comes out April 7.
The books are a visual tour of the influences and influencers in each artist's life and career, with accounts of early success and many, many obstacles, but don't expect a Disneyfied story—no, these are not children's books. Ms. Stok's story of Van Gogh goes to dark places, following the artist's obsessive work ethic and manic outbursts into a clear psychotic episode. And Ms. Birmant's Picasso is a furiously determined protagonist full of palpable jealousy and ego, his actions punctuated by Mr. Oubererie's loose and frenetic drawing style. And there's a whole lot of sex.
Ms. Stok and Ms. Birmant have done extensive research in order to tell their subjects' stories as factually as possible. Ms. Stok based scenes and storylines in Vincent on Van Gogh's letters to his brother Theo, including excerpts from select exchanges in between illustrated panels and incorporating parts into the characters' dialogue.
"I didn't want to put words into Vincent's mouth that he could have never said," she explained to the Observer.
The Van Gogh Museum in Amsterdam, which holds the largest collection of the artist's paintings, drawings, and letters in the world, initially approached Ms. Stok to create Vincent. They helped facilitate her research, which included staying in Arles and Saint-Rémy where the artist lived and worked up until his death.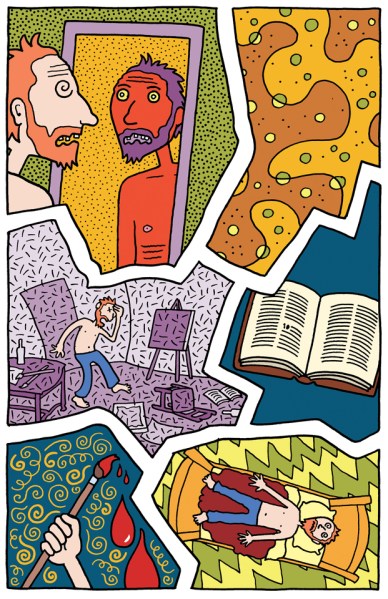 By contrast, Ms. Birmant's book began by reading the memoirs of one of Picasso's closest confidants, his former lover and muse Fernande Olivier. The two lived together for ten years, and her published account of their time together—before his career took off— was published in 1988, after the artist had died. Ms. Birmant discovered Olivier's memoir Souvenirs Intimes (Intimate Memories) in a public library in Montmarte and was moved to search out the written accounts of others who were close to the artist, like Max Jacob, Guillaume Apollinaire, and Gertrude Stein.
"Everyone who met him even once wrote about Picasso, but only the testimonies of his very close friends (mainly poets) are vivid," she told us. Subsequently, the book focuses heavily on the artist's early years in Paris.
Refreshingly, the authors don't try too hard to emulate their subject's artistic styles. It's obvious that Ms. Stok and Mr. Oubrerie have been inspired, but the book's artwork is completely their own. Instead, homage and influence can be seen peppered throughout: Ms. Stok depicts Van Gogh painting irises in a field amid a massive golden sunrise. The flowers dominate the foreground in a flattened, exaggerated perspective, nodding to Van Gogh's use of distorted color fields and love of Japanese prints.
"My aim in drawing the sunflowers was to show his enthusiasm: he got totally wrapped up in the sunflowers while painting," she said.
Meanwhile, Mr. Oubererie's maintains his own sketchy style throughout (best known through his Aya graphic novel series) using dark earthy tones, which break a few times when works by Matisse show up or we catch a glimpse of Picasso at work on his blue period paintings. In fact, not much of of Picasso's artwork makes it in at all. Instead, the artist focuses on the man himself. He even manages to highlight one of Picasso's most recognizable features on every page: his intense eyes.
The first volume of Pablo was awarded the Grand Prix by French radio station RTL's annual Graphic Novel Awards, and original artwork for the book, in addition to sculptures by Mr. Oubrerie, were the subject of a 2014 exhibition at the Musée de Montmartre, titled "Picasso in Montmartre: The Comic Book 'Pablo' by Julie Birmant and Clement Oubrerie." What's next in the Art Masters line? Look forward to titles on Salvador Dali and Edvard Munch.
In the meantime, Barbara Stok will be giving a free talk on Vincent at the Met on April 10, from 6:30-8 p.m, and both authors will also be attending the Society of Illustrators' MoCCA Arts Fest 2015, April 11-12.