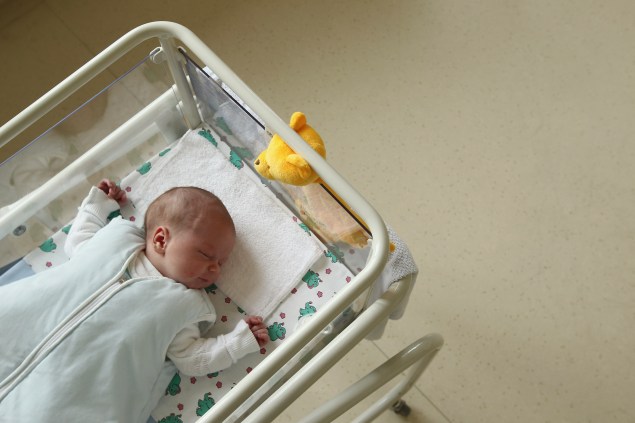 Biometrics can help us improve our fitness, lose weight and get more rest. By measuring and analyzing its users' health data, a new startup believes it can help women get pregnant—even those previously diagnosed as infertile.
The aptly-named Conceivable, which launched today, is a fertility program that claims to "radically improve a woman's natural ability to get and stay pregnant." Boasting $800,000 in seed funding, the company targets the millions of women struggling to pregnant, but who can't afford pricey medical procedures like in vitro fertilization (IVF).
Conceivable was founded by Kirsten Karchmer, a long-time fertility specialist who's worked with over 7,000 couples.
"There's a common misconception that fertility is black and white–you are either fertile or infertile," she said in a release. "We approach fertility in a fundamentally different way, viewing it as a full spectrum."
"Conceivable," she continued, "was designed to help women who are on the 'infertile' end of the spectrum move towards greater natural fertility."
The program takes a three-pronged approach. As we mentioned earlier, Conceivable tracks users' health data, including menstruation cycle, stress levels, nutrition and physical activity. Then, it helps users adjust their lifestyles to increase their chances of getting pregnant.
"An expanding body of medical literature suggests that what you eat and drink, your weight, how much you exercise, and your personal environment can all affect not only your ability to conceive, but the health of future children," Conceivable's site says.
Second, Conceivable sends its users various herbal formulas to help increase fertility. The company has developed over 20 of these formulas, each tackling different obstacles to getting pregnant.
Finally, the service pairs users with a virtual health advisor, accessible through Conceivable's app.
"Every day, you will share data that sheds light on your overall fertility and menstrual health," the site explains. "Based on that data, the Virtual Health Advisor will respond with recommendations for action that can improve your chances for success."

The service does come at a cost. Though the initial assessment is free, the actual fertility program will set you back $199 a month, with Conceivable estimating it'll take three to six months for the program to reach its full effect.
Still, it's a lot more affordable than IVF treatment, which is estimated to cost around $12,400, on average.
We had to know: Does Conceivable really work?
Prior to launch, the program underwent a four-month testing period with just over 100 women.
"So far we have two confirmed pregnancies, which may seem small but is a great result," a Conceivable spokesperson told the Observer. "Four months is fast for a fertile couple, much less one diagnosed as infertile."