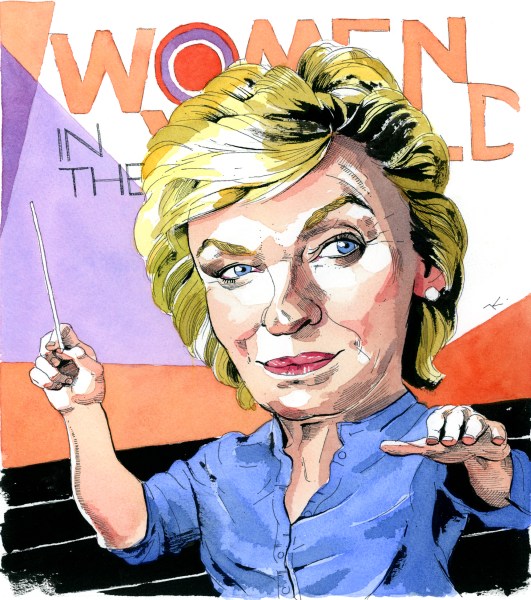 Tina Brown is one of the few constants in New York media. The high-profile editor came over from England in 1984 to inject Vanity Fair with her trademark mix of brows high and low. When, eight years later, she moved over to employ a similar strategy at The New Yorker, Ms. Brown became a polarizing figure among stalwart staffers and longtime subscribers, then left Condé Nast to launch Talk in 1999. The premiere issue featured a splashy profile of then-first lady Hillary Rodham Clinton. Talk lasted just two years.
Like Ms. Clinton, who announced her second presidential campaign last week, Ms. Brown has never let defeat get in the way of reinvention. In 2008, she started The Daily Beast, a website named for a fictional newspaper in an Evelyn Waugh novel. The Beast merged with Newsweek two years later, a marriage that was doomed from the start and dissolved in 2013.
But by then, Ms. Brown had a new business: Women in the World, a global summit she began in 2010 while in the belly of the Beast.
Women in the World, which begins this Wednesday and includes Barbara Streisand, Meryl Streep and Ava DuVernay as panelists, has recently partnered with The New York Times. Her team, which is producing what Ms. Brown likes to call "live journalism," also has its own vertical on NYTimes.com. We met Ms. Brown recently on the 17th floor of her new digs in the Times building. Sunlight streamed into her office, which was dotted with framed photos of Ms. Brown with female luminaries including Angelina Jolie and Ms. Clinton. It was very on-brand, as was Ms. Brown.
What prompted you to start Women in the World? I had been involved with Vital Voices, an NGO which mentors women in emerging countries, for many years. I used to meet the women who came to speak and I just thought, "These women are incredible and why aren't we hearing from them?" So I recruited the support of the more VIP women, because people aren't going to come to a theatre to see people they've never heard of. It's just a fact of life.
Tell me about this year's event. We are going to have over 100 women on our stage. And a lot of great men, actually. We have Jon Stewart. We have Jon Krakauer. We have Kennedy Odede, who's a great African activist. We have Bunker Roy, who is a fantastic famous Indian activist.
You call it a summit, not a conference. How is it different? We avoid pretentious introductions. We just go from video to interview to music to video. We keep it moving. And as a result, there's a very intense pace. We don't go on as a lot of summits do.
What it's like going from running The Daily Beast and Newsweek to working exclusively on Women in the World? It's like doing books or magazines in the sense of trying to identify the zeitgeist issue.
How does it compare to magazine journalism? I've just gone from storytelling on the page to storytelling on the stage. You get to learn about the places and the context through the people. And then you mix it with terrific people like Helen Mirren or Robin Wright. It's very much what I did at Vanity Fair and The Daily Beast and The New Yorker and at Talk magazine. For me, it's very similar. But it's live.
You mean combining celebrities and issues? Well, combining culture with news. Combining high-profile, very well known people with stories you've never heard of.
In the past six years, many more media organizations are turning to events. What's the benefit of being early on that? The more we are glued to our screens, the more we want to get away from them and have a human connection.