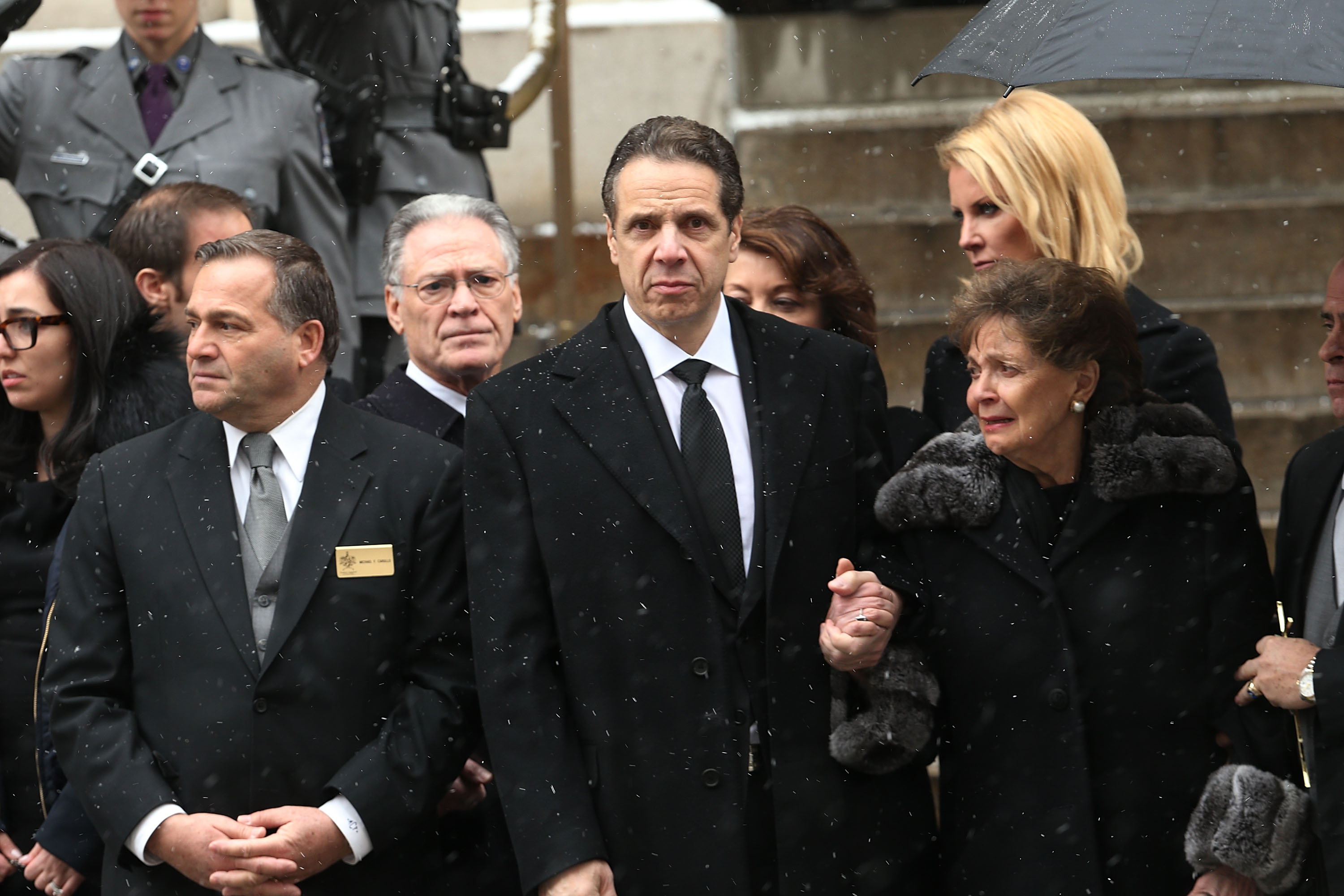 Is Gov. Andrew Cuomo poised to seize the White House? Not according to Michael Shnayerson—author of the new biography of the governor, The Contender—and his host, liberal millionaire activist Bill Samuels.
Mr. Shnayerson dished on the governor and his book in Mr. Samuels' East 18th Street apartment, where the building's elevator opened directly onto the party inside. On the opposite wall hung an array of paintings and blown-up photos that could have fit in at any Bushwick art loft: a machine gun on a pink background, a pair of crudely rendered ruby slippers surrounded with the words "Steal Steal Steal Steal Steal." Above a glass table of veggie trays and finger sandwiches hung a junk-art chandelier: a twisted mass of piping, light bulbs and plastic baby doll heads.
The guest list included an odd assortment of political misfits: former Public Advocate Mark Green, former candidate for lieutenant governor Tim Wu, former Councilman and State Senate candidate Oliver Koppel. An agitated Randy Credico, a perennial contender for mayor and governor, roamed the room, seemingly on the verge of an outburst.
But the clean, neatly furnished apartment was otherwise quite conservative, and the focus was on a man who was not in the room: Mr. Cuomo, as described as Mr. Shnayerson. The author insisted he did not embark on the book in 2012 intending to smear the governor.
"I certainly did not go into this project with any kind of bias. I was intrigued by Andrew, he had had a great first year as governor. It seemed like he might have been a presidential contender," Mr. Shnayerson assured the attentive guests.
The writer then laid out his book's portrait of Mr. Cuomo: descended from a community of clannish and secretive Italians, the product of a demanding yet absent father, a lawyer with questionable business dealings who ascended in politics due to the moral failings of others—Bill Clinton, Jeanine Pirro, Eliot Spitzer, David Paterson—a man "wounded, resentful and angry."
"He makes a lot of enemies, and not a lot of friends, and it's all for his father," Mr. Shnayerson said, recalling associates who labeled Mr. Cuomo everything from "the dark prince" to "a bully."
The writer had to defend the lofty possibilities his book's title implied, as Mr. Samuels had billed the soirée as a debate between himself and Mr. Shnayerson over Mr. Cuomo's potentialities. But Mr. Shnayerson, who said he had toyed with calling the book The Son Also Rises, seemed unable to make such a case.
"Bill wanted me to debate the future of Andrew Cuomo. Well, I don't know the future of Andrew Cuomo. I don't know if he has a shot in hell of becoming, you know, a contender for the presidency, much less the presidency. My guess would be 'no,'" he said, though he quickly added that events favorable to the governor could unfold quickly. "But a month ago, we didn't know about Hillary and emails. So, things happen."
After a question and answer period with Mr. Shnayerson, Mr. Credico was finally allowed to let loose. Introduced by Mr. Samuels as Andrew Cuomo, the former comedian launched into a profane impersonation of the governor, who declared he would soon be publishing a follow-up to the unsuccessful memoir he released last year: his enemies list, featuring everyone in attendance.