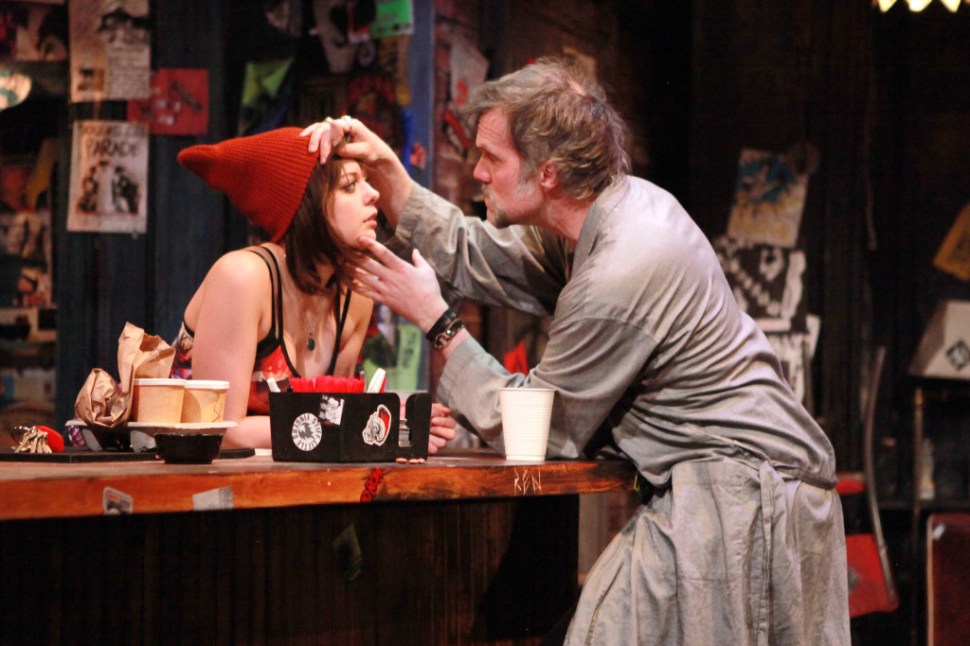 Do you wanna know where I went last week? To Hank's Bar on Chicago's North Side. In 1992.
The fictitious Hank's Bar—seemingly a composite of beloved real-life Windy City dives Lounge Ax, Empty Bottle and Double Door— is celebrating its 25th anniversary as a Chicago rock establishment. Changing tastes, a crumbling building, a greedy son-of-a-landlord who's pushing his we-had-a-handshake dad out of the picture, and possibly a failing sense of what's cool are all applying pressure to the existence of Hank's.
The namesake bar owner badly meets the boyfriend of his daughter Lena, a regulation punk-rock hottie who was raised as rock n roll royalty. The boyfriend, swaggering Nash, who keeps his wallet on a keychain in a delicious Chicago detail, tries to flatter Hank and it does not go well. Nash is a DJ. He appreciates the realness of live music and the "bones" of Hank's Bar, but finds it dated – his ability to pack 2000 electronica kids in a warehouse might save Hank's livelihood but it might cost him everything else.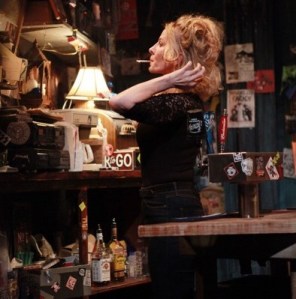 The play just crackles with life. Set and Costume Designers John McDermott, Lindsay Jones and Judy Merrick nail it – the posters for Jesus Lizard and Didjits are perfect, as are the bar and the torn-up-and-duct-taped barstools and the case of Old Style. I expected Liz Phair to ramble in any moment and shyly hang out in the back. The direction, by Kirsten Kelly, moves things along so fast that the 100-minute play felt like a side of a great record—boom boom boom. The actors, especially Jeb Brown, who plays Hank and Lusia Strus, who plays his long-suffering, ridiculously curvy girlfriend Bette, vividly bring to life the purposelessness experienced by trendsetters whose time has passed. I don't know if Ms. Strus comes by it honestly but her Chicago accent is spot-on without sounding like the detective in The Fugitive.
There are transcendent moments. When Hank forcefully informs Nash that he will get physical if he ever suspects Lena is being "supplied" with drugs, Nash says, "Don't threaten me." Hank replies, "Don't threaten ME." Meaning that a man who's already suffered from a family member's addiction sees a threat to one as a threat to all. Later, Hank is playing "Sympathy for the Devil" on his cheapo Strat as Lena gets the bar ready for the evening. When it gets to the "ooo ooo" part, they just naturally sing them together.
The real star here is playwright Laura Eason. Though she lives in Brooklyn now, Ms. Eason went to college and got her drama start in Chicago and her intense interest in theater competed for her time with her equally intense interest in indie pop. So it's no surprise that she nails the dialogue and the period details. But she also wringed some real richness from characters who could easily have been merely punk rock versions of the "time has passed them by" losers in Death of a Salesman and Glengarry Glen Ross.
This is a milieu with particular resonance for me. My own tenure in Chicago as a rock non-establishment tracks roughly the same years Hank's was open. So a lot of the details were familiar to me in that perfect way that makes a work of fiction more real than a documentary. The pre-show soundtrack includes "She's Not Ready" by M.O.T.O., whose leader I lived with right around that time. When bands are tripping over themselves to perform at the club's 25th Anniversary show, Toby, the loveable Velvets fan who crushes hopelessly on Lena, says "Billy Corgan and Jeff Lescher called." I got chills to hear those names mentioned together all these years later.
The play opens with Material Issue's masterpiece, "Valerie Loves Me," sung by Jim Ellison a close friend and mentor who produced the first record of my band The Lilacs; his suicide a few years later coincided with one of the points the play powerfully makes – that pop music goes in and out of style and missing those upwaves, as the tragic hero of the play seems to be doing in his twilight, is devastating to a rocker's sense of self.
(The obituary I wrote for Ellison was a major turning point in my personal career – one last gift from Jim, a phenomenally generous guy. I was busy as hell getting my New York City writing career going by 1996, and almost didn't do it. But then it all poured out of me. After it was published, Jim's mother called me, destroyed, and so grateful for the words and stories I shared. That was the death that made me promise to follow my instinct to honor great people who died with long and rambling "throw everything in there" remembrances.)
I don't pretend to be a dispassionate reviewer here. In addition to my own time in the early 90s Chicago rock trenches, I know Laura a little bit (one of her band's first gigs was opening for my band; see flyer below) and am a long-time fan of her writing. But I do think I can say with some expertise that if you're looking for a work of art that faithfully captures a special time in a special place, The Undeniable Sound of Right Now fulfills its promise.
Through May 2 at Rattlestick Playwrights Theater, 224 Waverly Place, NYC; $45; Monday, Wednesday and Thursday at 7pm Friday and Saturday at 8pm Saturday at 2pm Sunday at 3pm; but get there 30 min early because directly next door is Taim, the Israeli smoothie place and this show rocks even harder with a date-lime-banana shake in you.