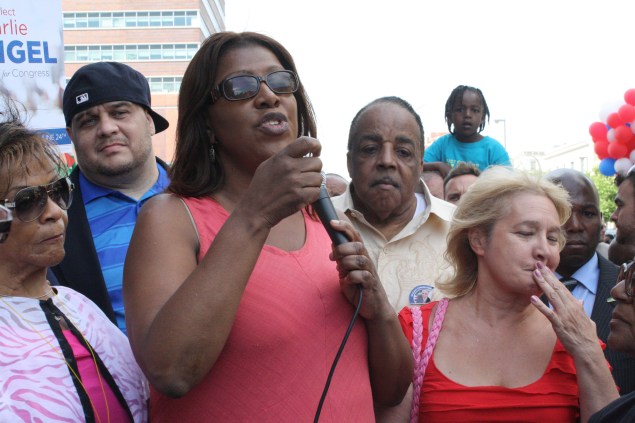 This is no pissing contest.
Public Advocate Letitia James and Comptroller Scott Stringer, two of the top elected officials in New York City, agreed today that public urination should remain a criminal offense–breaking with their fellow Democrat, Council Speaker Melissa Mark-Viverito.
Ms. Mark-Viverito proposed on Monday that the city should decriminalize minor offenses like urinating outdoors, drinking in public and turnstile hopping. While Police Commissioner Bill Bratton initially criticized the proposal, he is reportedly in talks with the speaker to decriminalize, among other offenses, drinking in public–but not urination.
"We lived in a city not that long ago where the smell of urine was so prevalent in some of our economically challenged communities, people felt they were afraid to go out at night and I just think we should enforce the law fairly but keep in mind we have to have some laws," Mr. Stringer told reporters outside City Hall. "I think we should proceed with caution. I am very proud of our low crime rate."
Mr. Stringer said that "having grown up in this city in the 70s and 80s, I am not in favor of people urinating in the street, jumping turnstiles or creating dangerous situations by being drunk."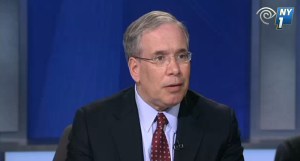 "I think if you're going to urinate on someone's property, on your child's school, then there should be the expectation that you will face arrest and I think that is the foundation for making sure all communities feel safe," he added.
While Mr. Stringer contended that the main focus for the city should be enforcing existing laws fairly, across all racial and ethnic enclaves, Ms. James said that Ms. Mark-Viverito was right to want to decriminalize offenses including walking through subway cars, riding a bicycle on the sidewalk and sitting in a park after dark. She stopped short, however, at making outdoor urination a civil penalty.
"I think public urination should be a criminal offense, it's a quality-of-life crime and as someone who just witnessed someone urinating not too far from here, I think it should remain a criminal offense," Ms. James told the Observer, not elaborating on the urination event she said she had witnessed.
As the overall crime rate continues to fall, some progressive elected officials have spoken critically of "broken windows" theory, a style of policing championed by Mr. Bratton and Mayor Bill de Blasio. Mr. Bratton credits the attention paid to quality-of-life offenses as a primary factor in New York's turnaround on crime, while critics and left-leaning academics say the style of policing unfairly targets minorities and did not play a major role in lowering crime.