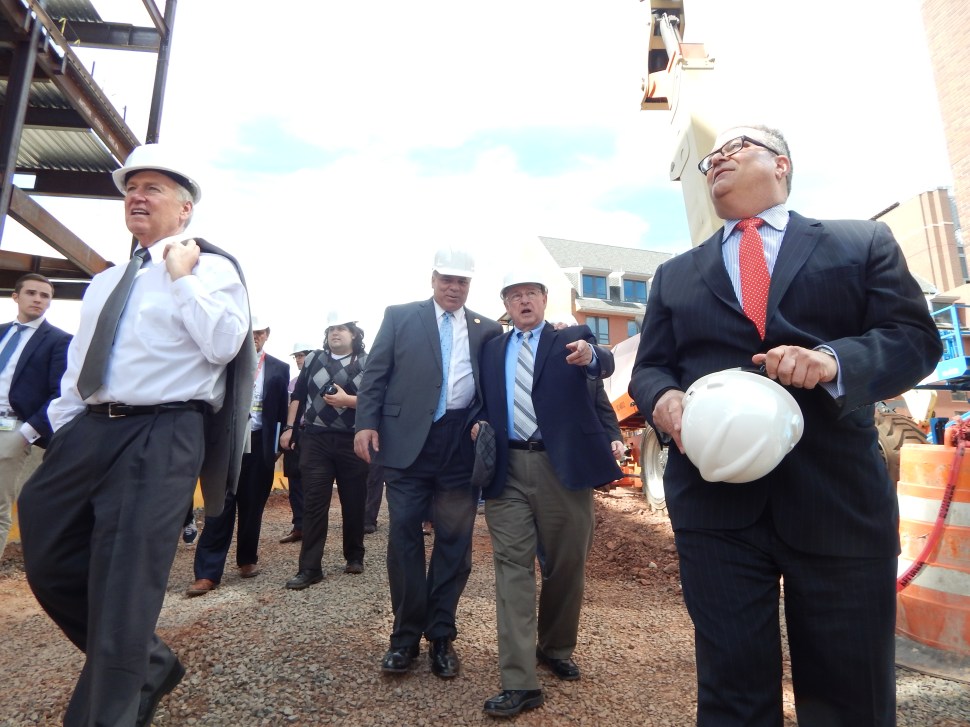 NEW BRUNSWICK — Former Germany Ambassador Phil Murphy has his 501c3 nonprofit, New Start New Jersey, aimed to strengthen the state's middle class with minimum wage raises and mandatory statewide paid sick leave. Jersey City Mayor Steve Fulop has taken credit for the compelling level of job growth and new business coming out of Wall Street West, which has enjoyed a resurgence in economic development in recent years. The mayor implemented paid sick leave in his city.
And Senate President Steve Sweeney (D-3) — probably the most vocal of those candidates jockeying for governor in calling attention to the state's fiscal plight and excoriating its current executive for not doing enough to fix it — has his leadership post in Trenton, which will likely prove a useful platform for communicating the need to address the state's economic issues ahead of 2017.
"What's happened is when Christie came into office we were 35th in growth, which is nothing to holler about. But we're 49th now," Sweeney, joining a scrum of reporters and public officials on a tour of several development sites here this afternoon, said. "And everyone talks about budgets, you have to fund higher education better, we need to fund pensions. If you grow your economy, and if we had in this state, not the top, but just the average nationally, there'd be 3.3 billion dollars more in the state budget. Which means you're funding your pensions, you're funding higher education, you're making investments."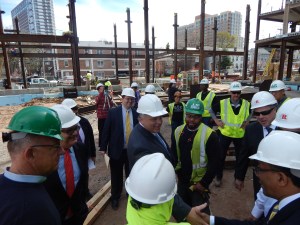 As the state deals with stagnant growth, credit downgradings, and budgetary troubles that have jeopardized public programs like education and entitlements, there's one issue likely to take center stage during the 2017 gubernatorial race: the economy. It's caught the attention early prospective candidates for the seat, like Fulop and Murphy, who have both articulated to varying degrees the seriousness of the problem, and are slowly beginning to formulate different ways to address the issue to voters.
But it's Sweeney, an iron worker by trade, who seems most determined to position himself as champion of the issue in the lead up to 2017. He's pushed legislation in Trenton to bolster business in the state and bring financial relief to a beleaguered Atlantic City, which some see as microcosm of statewide troubles. And while he would still seem to maintain a working relationship with Christie,  Sweeney's also begun to distance himself politically from the Republican: he's openly criticizing him in recent months for his failed leadership over the last six years, particularly when it comes to strengthening the state's economic footing.
Donning a white construction cap and reminiscing about his early career with workers on site, Sweeney used the projects he visited throughout the city and on the Rutgers University campus here to again stress the need to address state's economic problems. All of the construction — including plans to expand the Robert Wood Johnson Wellness Center downtown, improve the Gateway project, and continue with College Avenue Redevelopment Project, which will result in new Rutgers University Apartments, the Rutgers Academic Building and Rutgers Honors College — are being spearheaded by the New Brunswick Development Corporation, a public-private partnership that Sweeney said has helped fuel immediate and long-term economic growth that benefits the region and the state.
Joining him was state Senator Bob Smith (D-17), New Brunswick Mayor Jim Cahill, New Brunswick Council President Kevin Egan, and DEVCO President Chris Paladino.
But Sweeney also jabbed Christie, who he said has done little to turn New Jersey's economy around, despite promising to do so upon taking office. The Republican governor — himself a potential candidate for the 2016 GOP nomination — spent the last two days in New Hampshire on a retail politicking tour of the first-in-the nation primary state.
"You know, basically, sometimes you have to do things a different way to make things grow," Sweeney said. "This administration has taken us way in the wrong direction. But here's an example of what can be. It's a shining example of what can be. Look, people are working. And when they say construction jobs were temporary jobs, well, I was an iron worker — I'm still an iron worker. But guys can retire as iron workers after 40 years if they do enough of it, and take care of their families."
Sweeney and Christie clashed recently over the Republican's attempt to implement further reforms to the state's pension and benefit system, currently suffering from some $80 billion in unfunded liabilities. The top Democrat has defended public sector unions who want the state to meet its obligation and fund the system, and has proposed a millionaire's tax to cover the costs, while Christie has asked workers to contribute more in order to alleviate the state's burden.
It's a logic the Republican has used in crafting his national entitlement reform plan, which he rolled out this week in New Hampshire and which he's expected to use to distinguish himself from the crowded field of GOP candidates currently jockeying for the nomination next year.
Asked what he thought about the plan, which would phase out entitlement payments for senior citizens who make $200,000 a year in other income during retirement and implement a means test for those who make $80,000 a year in non-Social Security income, Sweeney said he saw some hypocrisy in the way Christie's dealt pension and benefit reform at home.
"I'm interested. We can't do a millionaire's tax, but he thinks they're not worthy of their social security payment," Sweeney said. "You can't have it both ways. And we're not trying to pick on anybody here, but we'd like to see just a little more consistency. The state needs revenue right now to meet some of its obligations. And we don't want it to be permanent, but you're better off if we're all in it together than if you're on your own, and a lot of people in New Jersey feel like they're on their own right now. "