The seventh-floor apartment at 408 Greenwich Street that just sold for $9.25 million, according to city records–a ways shy of the $10.75 million it was listed for when it hit the market last May–is accessed by a locking private elevator. The locking and the privacy have status as well as security perks, but the elevator itself is naturally rather useful for carting all manner of decorative tchotchkes up from below. And cart the sellers did, if the listing held by Richard Orenstein at Halstead Property is any indication. The finished effect is by turns dizzying and, in the context of Tribeca fresh construction (the building went live in 2008)–where the aesthetic order of the day often veers toward chilly austerity–actually kind of refreshing.
To the condo's interiors–high-ceilinged, light-filled and virtually walled in glass–Jennifer Tonkel, an interior designer who until recently owned the place with Carlos A. Fierro, a business type of the law and finance variety, brought brown drapes inlaid with powder-blue designs and sofas patterned with small-leafed branches, a warmly faded carpet to match the window-wear. There are glassy octopod chandeliers with a vaguely-frightening Alien aspect, and a children's room was done–screamingly–in hot pink. A clutter of vases and lighting implements can suggest a commercial showroom.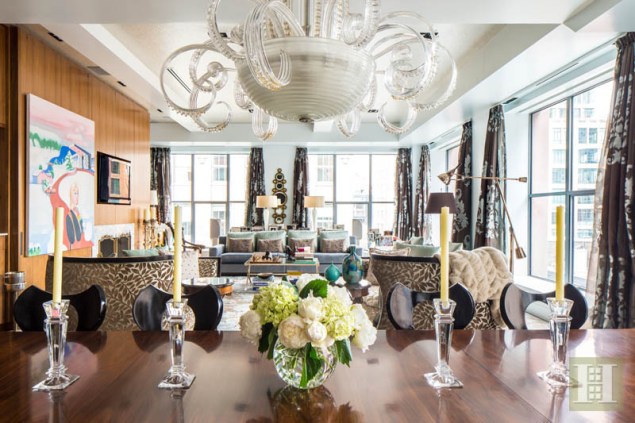 Still, the apartment is quite lovely, and the four-bedroom's more permanent aspects do their part to soften the effects of all that light and glass. There are wide-plank floors in a rich shade of walnut, zebra wood cabinetry and a custom headboard with built-in bookcases in a guest bedroom. All of the usual name brands are in place where kitchen and bathroom trimmings are concerned, and from a sitting area in the master suite, one can glimpse the Hudson River. The sellers seem to have relocated to a storybook mansion in the Wesley Heights section of Washington D.C. that boasts 12,000 square feet–plenty of room for tchotchkes–and, as of a few years ago, an $8.5 million price tag.
Not too shabby. The buyer of the couple's old place was Richard Gibb, a managing director at Deutsche Bank.