[youtube https://www.youtube.com/watch?v=4OfU7CGY5DQ]
So the first teaser trailer for season two of Nic Pizzolatto's True Detective just came out, and it is just filled with people looking at each other, meaningfully. Or at things. You can't really tell. I bet they're looking at something hard and dangerous, probably occult-related, probably something that haunts them down to their very core, shaking them from the foundations of what we consider "reality."But  really, you can't tell. We don't learn much from the trailer, is what I'm saying.
I guess that's the purpose of a teaser trailer? Consider me teased, HBO! We're still a long way out from the premeire of season two, so let's look at everything we possibly can take from this 1 minute video.
Boy, this thing looks gloomy. I mean, no surprise after last season, but yowza. At first watch, I'd say smile count: 0. world-weary scowl count: 1,000.
We all knew Colin Farrell was rocking a sick mustache for True Detective, but this is the first time we're seeing it in action. Look out Roger Sterling, because Mr. Farrell's face-fur is glorious. Not since he played Bullseye in Daredevil has he been so on-fucking-point.
Staring…..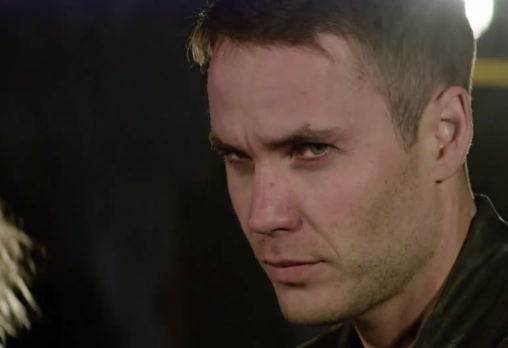 At some point Colin Farrell hits someone in the face with brass knuckles and Taylor Kitsch shoves someone to the ground and points at him all like "hey don't test me bro I have a dark past." These two, amirite?
At some point Vince Vaughn shoves a guy and looks at him all like "hey don't test me bro I have a dark past." Wait.
Is it weird that among all these burly dudes Rachel McAdams is the only one who doesn't look out of place in the True Detective universe?
Hey Mr. Pizzolatto, can you comment on whether this season will be brought to a satisfying conclusion?
In all seriousness, though I jest this looks to be right in the same mood as the original season, and I'm genuinely excited. Now, let's get a tease of that "deliriously vast" orgy sequence and call it a day.