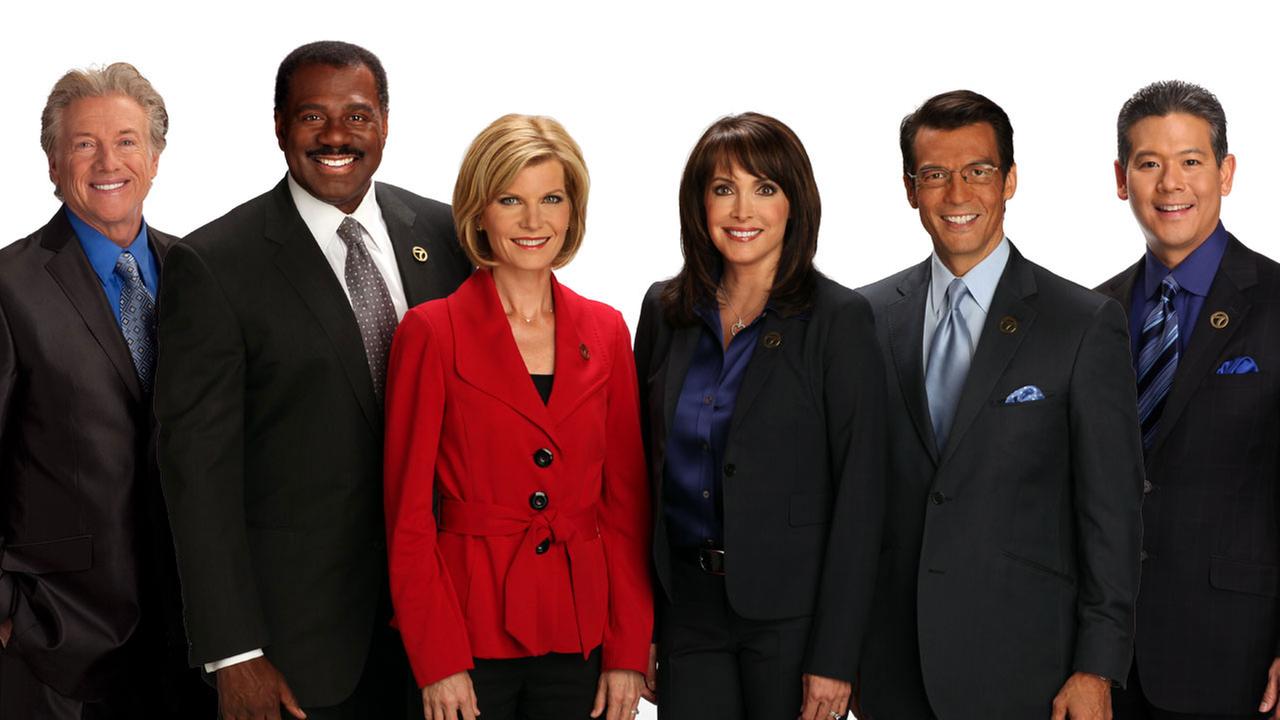 Ever since the Internet put local TV news anchors on the endangered species list, we've seen them try various tech-inspired schemes in order to adjust to the times.
Now, mobile live-stream apps like Periscope have caught the attention of the local news anchors everywhere, who were clearly led to believe by the tech hype machine that live-streaming is going to be the death of the news business, even if that claim is ridiculous.
Most of these feeds are "behind the scenes" footage of nothing happening from the perspective of the worst camera in the room. Occasionally, it's the same scrappy view from some coifed old white guy reading from a teleprompter that you'd normally see on the local news. Most of the time, it's the silent, uneventful commercial breaks, or the backroom chatter of floor managers and news directors. Turns out, TV studios aren't like episodes of The Newsroom, and local news anchors often don't have very much to say when you get the opportunity to meet them as human beings.
It's enough to make you wish there was a high-definition camera in the room with sophisticated microphones, broadcast engineers and meticulously-crafted lighting setup and some prepared statements.
Moreover, nobody's watching—in terms of audience, only a few dozen people show up at a time for even the country's largest local TV studios, largely because discovering new Periscope feeds is difficult and so many of these Periscope feeds wind up in everyone's front pages randomly.
But the worst part is that TV news anchors are just terrible at live-streaming. The best live-streamers engage heavily with the audience, take requests and interact with comments—the reason people tune in is because they want to be live on set, reaching through the camera and interacting with the stars. Instead, most of the chatter is inaudible and there's no interaction with the steaming audience.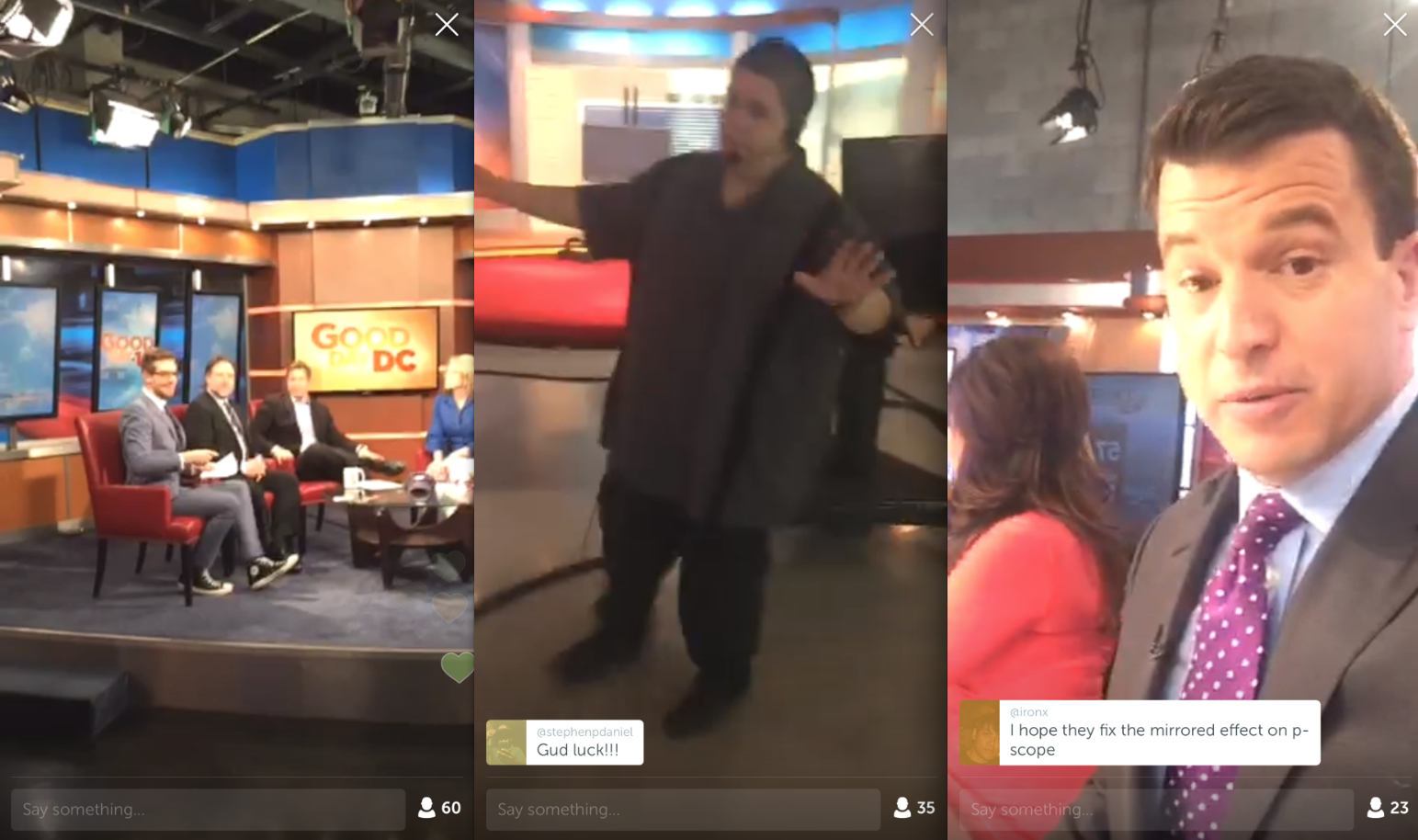 The only time we could get a real inside look at a newsroom conversation was when one anchor, in the ultimate convergence of irony and tragedy, joked to his guest about how hard it was to get access for the interview in the first place. In another feed, a field reporter simply pointed the camera at his forehead for five minutes while waiting for his live-shot.
And even the big players are struggling to get it right—Brian Stelter got close to doing this right when he started a stream to talk about last night's breaking report from CJR on the Rolling Stone controversy, but self-sabotaged by sitting there staring at his laptop and only briefly looking at comments or saying something of consequence.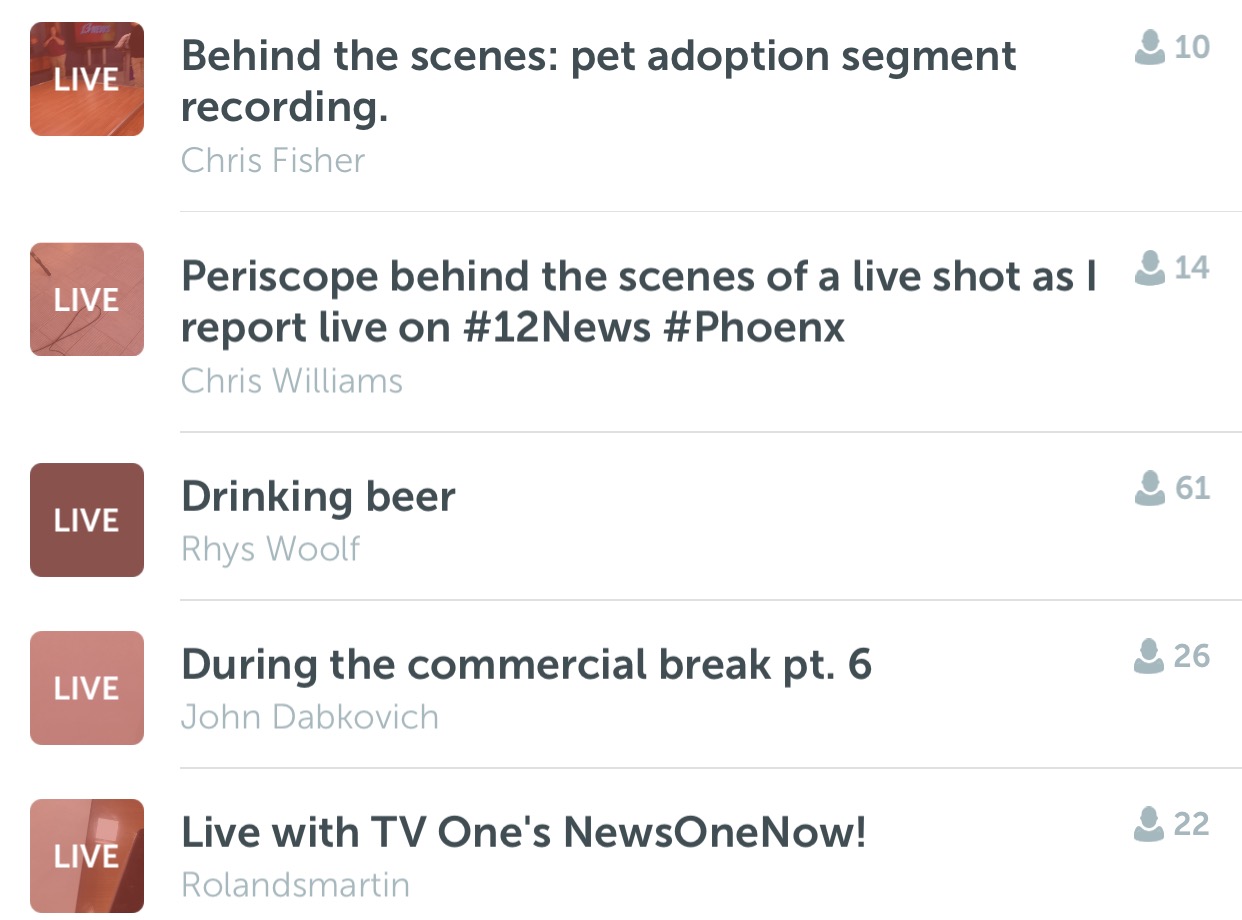 Look, we get it. One of the most tired speculations about mobile live-streaming apps like Meerkat and Periscope is these will help "citizen journalists" kill the television news business. Local television news is under a brash assault from a number of forces: online news outlets that break news faster and are more sharable, a democratization of video tools, and a credibility problem that is evolving into an ad sales problem. Local TV's problem is the Internet and technology, and whatever the hype, simply turning on a hot live-streaming app isn't the answer.
As Annie Lowrey points out over at Daily Intelligencer, there are plenty of reasons live-stream platforms are terrible for making and sharing news video:
Let's say that you were at a campaign event and saw a politician lose his cool and scream his face off at a constituent. But let's say it happened three hours into the event, meaning that your mom was the only one watching your Meerkat feed by the time the candidate went ballistic. And let's say that you failed to capture and repost the relevant part afterward. Would it go crazy on the internet? The short answer is that it would not. The ability to trim down, to share asynchronously, to annotate, to comment on — these are pillars of the viral internet, and Periscope and Meerkat erode them.
You know what the best tool to broadcast a protest is? A professional camera that records great sound and audio used by a trained cameraperson, especially if you are already an organization that already owns those tools—VICE News has known that for years. If you're a professional news organization, find better way to use the expensive gadgets you have at your disposal before wasting time pouring terrible content into buzzy apps.
In other words: If you're fleeing the Titanic, and least learn to row a life raft. Or choose one that you know will float.