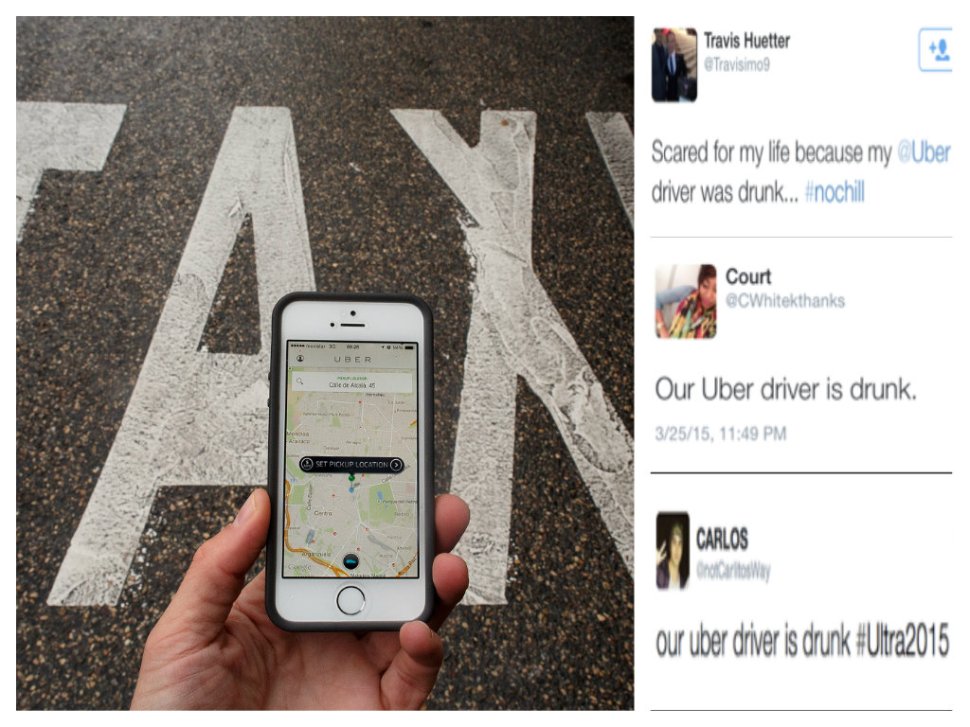 UPDATE: This story has been updated to add further comment from Uber (UBER).
Uber, the app-based car-hiring service, recently released new safety initiatives to ensure the protection of their passengers. Like its competitors, Lyft, Sidecar and Via, Uber does not tolerate drug or alcohol use by drivers while using the app. Unlike the competition, Uber is the only one that has sent me a drunk driver.
---

"Um, hi?" I could still smell the joint he'd paused to smoke while I chose to pass. "Oh hey," he said casually as if I hadn't watched him fill his wine glass three times for every time I filled mine. Now, in a terrifying twist, he was my designated driver.

---
Last Friday I attended a dinner party on the Upper West Side. As the empty wine bottles lined up and a joint was passed around, I sat back and measured the room. I knew all of the diners except for one, a redheaded grad student who was a friend of a friend. I didn't catch his name and it didn't much matter because by 11 he was already slurring his words and headed out the door. Around midnight, when the music switched from acoustic to afro-pop and the crowd went from sitting room, to standing room, to leaning room only, I wiggled through the kitchen to find my coat. I said goodbye to the host and waited out front for the Uber he'd offered to order, since my phone died.
I ducked into the backseat of the black sedan and confirmed my address. Catching his familiar fiery hair in the rear-view mirror, I leaned forward.
"Um, hi?" I could still smell the joint he'd paused to smoke while I chose to pass.
"Oh hey," he said casually as if I hadn't watched him fill his wine glass three times for every time I filled mine.
Now, in a terrifying twist, he was my designated driver.
"I know, it's weird right? But it's good money," he answered as he pulled away from the curve.

I unbuckled my seat belt and shouted at him to stop the car before I hopped out at the light. Even if I had a phone to call the police, I had no name or license number to give them. I hailed a cab and went home.
(Update April 9, 2015: Uber contacted the Observer to explain that the reason the writer did not have the driver's information is that it was her friend who had summoned the car, not the writer herself. Uber also pointed out a system they believe gives greater accountability than is offered to riders in ordinary yellow cabs: "Many never have the information of for cabs they take home because they would need to remember to jot it down – while with Uber every rider not only has that information before entering the vehicle, but they also receive a detailed email receipt with driver information.")
The next morning I took to Twitter: Hey @Uber who do I contact if one of your drivers is working while he's drunk? Twenty-two minutes later they directed me to their customer service email, but by then I'd discovered dozens of other riders with complaints matching mine. 

I reached out to these users to see if we had experienced any similarities. Each of their stories echoed details: the driver was erratic, swerving and reeked of alcohol. Not one of them reported their drivers to the police. Only three filed complaints to Uber. The company's response was to offer a refund and a $25 credit toward future rides. In all three cases reported, the passengers were assured that an investigation would be opened to confirm any accusations and the employee would be reprimanded accordingly. Not one person followed up.

Uber and MADD (Mothers Against Drunk Driving) released a report stating that the ride-hailing app was responsible for reducing the incidences of drunk driving. This claim was further supported by a Temple University study that concluded that Uber was responsible for a 3.6 percent to 5.6 percent decrease in fatalities from alcohol-related crashes, a fact that was underlined by Uber spokeswoman Natalia Montalvo in an interview with the Observer. There is no denying that the rise of alternative transportation apps has decreased the amount of drunk drivers on the road. But what does Uber do if the drunk driver is on their payroll?
Their zero-tolerance policy is enforced by removing the driver from the platform if an investigation concludes that he or she is in breach of the standards expected of them. Unfortunately for passengers, many drivers straddle employment with other transportation services, switching from one app to the other seamlessly. Just because they've been dropped from one platform doesn't mean they're off the road for good.
The updated safety initiatives include a worldwide incident response team that is available to passengers 24/7. This group is specifically trained to deal with critical or time-sensitive issues that require immediate resolution. When I notified them by email about my driver, their response took 59 minutes. According to Madd.org, "Someone is killed in a drunk driving crash every 53 minutes."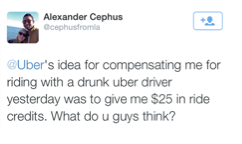 A representative of Uber assured me that "because all rides are tracked by GPS, they are able to quickly provide law enforcement with specific details needed for any investigations; the first thing anyone should in that situation is call 911."
The quickest way to ensure your safety is to end the ride immediately and contact your local authorities with the driver's vehicle information and license plate number.
Though Uber does a thorough background check for their drivers in New York City (in combination with the screening of the Taxi and limousine commission) there is no way to test a person's judgment on whether or not they are too drunk to drive. That call is for you to make.
Jessica Ciencin Henriquez is a writer living in New York City and is currently working on her first novel. You can follow her at @TheWriterJess