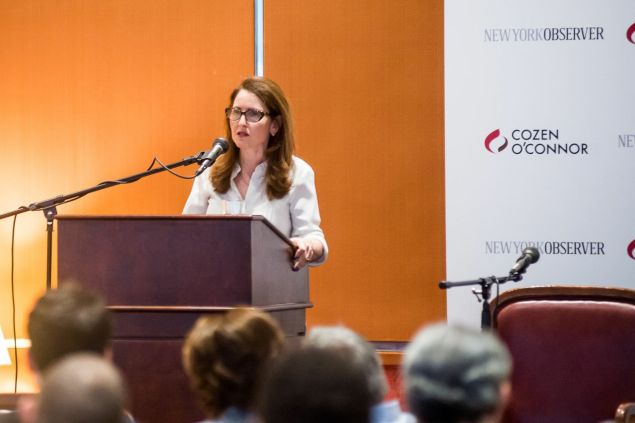 This week, 1.1 million children in New York State will take Common Core-aligned standardized tests amidst a growing national revolt against testing.
Standardized tests don't measure real learning, just superficial test-taking skills, and our obsession with them is destroying our nation's schools by taking away from real learning.
As the mother of a high school student who just took the SATs, I can empathize with those holding such views. But, as the head of a network of charter schools, I know these tenets of the anti-testing movement to be false.
My schools are known for our students' high test scores. Although we admit students by lottery, 94 percent of our eighth graders pass the English exam compared to 14 percent in central Harlem, where most of these students come from. Some believe we accomplish these results by a laser-beam-like focus on test prep at the expense of overall education. They're wrong.
---

Standardized tests also provide vital objective information to regulators, elected officials, voters and parents. Not having this data is as foolish as not installing a smoke detector.


---
You can't game Common Core-aligned tests. Reading tests, for example, measure a student's ability to understand passages with advanced vocabulary and challenging sentence structure and to examine them critically. They test all of the skills you need to understand this Op-Ed. And good multiple-choice questions could determine whether you do. The same is true of well-designed tests. There's only one way that students can demonstrate mastery of the skills these tests measure: actually mastering those skills.
So preparing our kids for the test means, foremost, teaching them the intellectual skills we'd want them to have anyway. To be sure, as the date of the test approaches, we engage in explicit test prep. But it's equally valuable instruction.
What do we teach? Imagine the skills you'd need as a competent journalist. The basics are figuring out what facts you need, interviewing sources, and writing your story. Many people could do it more or less. The tricky part is doing it right under time constraints. Make factual errors and you'll mislead readers or be subject to a potential libel claim. So you'll need to be careful. But take too much time to get it right and you'll miss the deadline or a competitor will scoop you. So you'll also need to be focused and efficient.
That's precisely what we teach our kids in test prep: how to concentrate hard, work efficiently, pay attention to detail, and distill information quickly. And on the written part of the test, we teach students to express their ideas in strong topic sentences, identify facts supporting their thesis, and organize their essays logically. And above all, we teach them to try really, really hard.
These are all critical life skills whether you're a plumber or a heart surgeon. Some people say, "Well, it isn't heart surgery, it's just a stupid test!" True, but school is supposed to prepare children for life. A heart surgeon needs to learn how to focus under pressure before he enters the operating room, not after.
So "test prep" doesn't take away from learning at my schools, it advances it.
Another oft-expressed concern is that standardized tests fail to adequately measure real learning. That's a particular complaint of parents yearning to get their kids into a top college. If you're one of them, ask yourself this: If you truly believe these colleges are so great, doesn't it say something that they've chosen to weigh standardized testing so heavily? No law requires it. Yet schools that are the envy of the world, such as Harvard, Stanford and Yale, have concluded, based on years of experience educating students at the highest level, that standardized tests are a critical measure of academic accomplishment and college readiness. And if standardized tests can determine whether a kid can handle Harvard, does anyone seriously believe they can't also measure a fourth grader's ability to read?
Some parents and teachers advocate replacing standardized tests with student portfolios. That's just not practical. I run 32 schools. To manage them, I need metrics. Reading 9,000 students' portfolios just wouldn't cut it. And I can't rely on teachers' grades because I need objective and unbiased data. I can't be sure an "A" means the same thing at two different schools and while I think the world of my teachers, their desire to see the best in their students sometimes spurs them to overestimate their students' progress.
Standardized tests also provide vital objective information to regulators, elected officials, voters and parents. For example, there are 143,000 children in schools in New York City where fewer than 1 in 10 students passed the state tests. Tests aren't perfect but something's rotten in Denmark (or the Bronx) when a school has a 90 percent failure rate. Not having this data is as foolish as not installing a smoke detector.
For years we lacked good data because New York's tests were far too easy. When harder exams were introduced three years ago, scores dropped, producing a jarring wakeup call. This has put pressure on the schools and raised questions about how to hold teachers more accountable. To relieve that pressure, teachers unions and their political allies have recently sought to fan the flames of anti-testing fervor by exploiting the anxiety of parents.
Weakening these tests would just be killing the messenger. It would diminish the pressure for much-needed change, particularly in those schools serving our most disadvantaged children, and deprive educators of the objective information they need to make the improvements in our schools that our children deserve and so desperately need.
Eva Moskowitz is the founder and CEO of the Success Academy Charter Schools, former New York City Council member and co-author of Mission Possible. Follow her on twitter: @MoskowitzEva