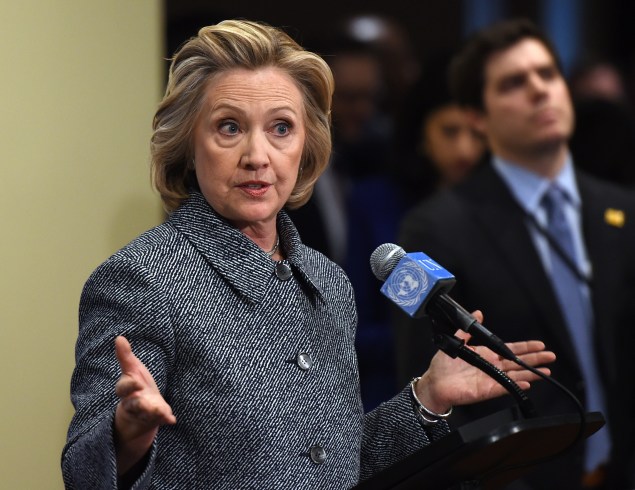 Rob is ready for Hillary.
Rob Astorino, the Republican Westchester County executive and perpetual critic of Gov. Andrew Cuomo, enthusiastically backed Hillary Clinton for president this morning, declaring that it "would be great" if a resident of his county become the next president of the United States.
"Westchester is proud to have Secretary Clinton as a leading candidate for president," Mr. Astorino said. "Mrs. Clinton and I may come from different political parties, but I admire her service and we have always enjoyed a friendly rapport."
"I wish her the absolute best in the Democratic Primary. It would be great to see a Westchester resident as a standard bearer in 2018," he added. (Ms. Clinton, a Democrat, is the only Westchester County resident running for president.)
After years of playing coy, Ms. Clinton announced she was running for president yesterday. She immediately received the endorsements of several prominent New York Democrats, including Mr. Cuomo, who defeated Mr. Astorino in the gubernatorial election last year.
But Mayor Bill de Blasio, the man who managed Ms. Clinton's successful campaign for the U.S. Senate in New York, declined to back Ms. Clinton until he determines that she is wholeheartedly committed to his progressive brand of politics. Mr. de Blasio's reluctance to stand behind Ms. Clinton drew condemnation from at least one major Clinton supporter, Democratic consultant Hillary Rosen, and led the Daily News to declare that Ms. Clinton had been "Stabbed In De Back!"
"Like a lot of people in these country, I want to see a vision and that would be true of candidates on all levels. It's time to see a clear bold vision for progressive economic change," Mr. de Blasio said on "Meet the Press."
But Mr. Astorino, a proud conservative, appears to have no reservations about praising Ms. Clinton over Republican presidential contenders aligned with him. Gov. Bobby Jindal of Louisiana and Gov. Rick Perry of Texas both appeared on the campaign trail for Mr. Astorino and are considering presidential campaigns of their own.
Neither, it seems, excites Mr. Astorino as much as Ms. Clinton.
Mr. Astorino's camp, however, disputed the Observer's interpretation of his enthusiastic response to Ms. Clinton's candidacy—and silence on the growing Republican roster—as an endorsement. Instead, they alleged he was simply showing home county pride by praising the Illinois-born Democrat.
"Good manners shouldn't be confused with an endorsement. County Executive Astorino will of course be backing a Republican for president. All he did was wish Mrs. Clinton well. Surely that's still allowed, even in New York politics," said spokesman Bill O'Reilly.
Updated to include Mr. O'Reilly's comment.