When Jim Florio ran for governor in 1989, Hillary Clinton came to the County Airport in Fairfield run by the Essex County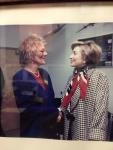 Improvement Authority.
That's where Essex County Freeholder Patricia Sebold first met the future first lady/secretary of state and 2016 presidential candidate (left).
"I also have a picture of a whole group of us at the airport," Sebold told PolitickerNJ. "I was a delegate for Hillary Clinton to the Democratic National Convention when she lost to Obama [in 2008]. I was also a delegate for Bill Clinton in 1992 in NYC and in 1996 in Chicago."
Sebold Facebook posted the picture of herself with her presidential candidate this past weekend in anticipation of Clinton's presidential campaign kickoff.