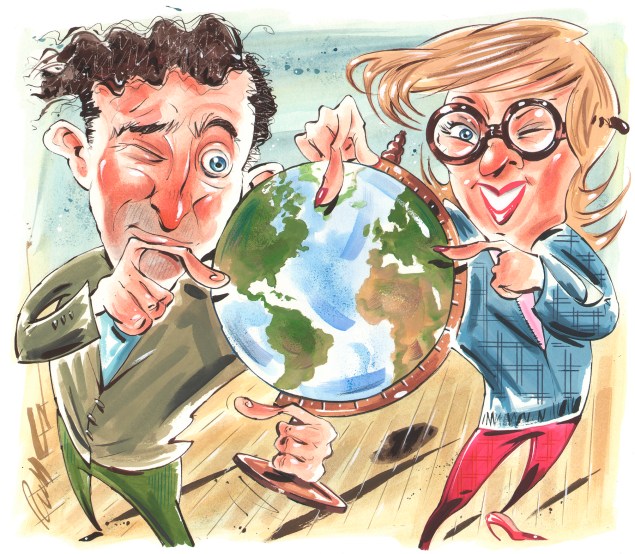 Of all the divas in history, the Supreme Diana Ross tops the list. It was a Bob Mackie-style explosion of sequins, feathers and adoration when the fabulous Ms. Ross re-opened the ornate and historic Kings Theatre in Flatbush after a $95 million renovation to restore the once-derelict movie palace.
Best Man and Second Wife had generously procured the seats and we started out at Park Slope's delightful Stone Park Cafe.
"Did you get the article I sent you on bolt holes?" Best Man asked as he broke his strict no-bread-or-alcohol regimen.
"Bolt holes?" I asked.
"A place to escape to," he explained.
---

'When international security issues reach Flatbush you know you need a bolt hole,' Best Man cautioned as they screened us for whatever they were screening us for.

---
"Oh that," I said, recalling a previous conversation we'd had about the wealthy escaping to New Zealand. "Now, with all the world instability, the wealthy are buying safe houses and landing strips there."
"The only problem is getting there," Best Man said. "It's not exactly close by."
"Maybe that's the point," I shrugged. "The stylish so and so's bought a second house recently in Uruguay and it's a nine-hour fight. They said it was the Switzerland of South America, with fine dining."
Dana chimed in. "I think if some major issue happens in NY, you need to be in driving distance," she said, sipping her gin and tonic.
"What's the use of having an escape hatch if you can't get to it? I vote for the Hamptons," Second Wife offered.
"I vote for Aspen," Best Man said. "It's pristine, tucked away and they have Matsuhisa."
As we arrived at the packed Kings Theatre, people divided into airport-style lines to pass through metal detectors and submit to bag checks and wanding.
"Well this is a new reality," I said.
"When international security issues reach Flatbush you know you need a bolt hole," Best Man cautioned as they screened us for whatever they were screening us for.
"It just depends on where you want to bolt to," I said.
It had been a hectic week: A 4:30 a.m. wake-up call for a CNN appearance for Super Bowl commercial commentary and lunch at Michaels with the world's most famous gossip columnist and author, the original Texas blonde legend. She looked resplendent in yellow, which set off her lovely blue eyes.
"You're a wonderful writer," she said as the lunch ended. "You're not content just to be a businessman. Keep it up with the difficult subjects. My old friend Truman did it but he was run out of NY socially," she cautioned.
"I have a new article on wealthy New Yorker's escape routes," I offered.
"Perfect, just the thing to upset the apple cart. Will you have some of my burrata pizza?" she said, placing a sinful slice on my plate.
I rallied later that week for small dinner at one of my favorites, Indochine. I braved the harsh elements to meet an eclectic group hosted by the dapper, debonair and very international Oswan Stampede. (Not his real name.)
Oswan, the always-on-the-run Santa Barbaran, sports his mouchoir de poche in his cashmere blazer with great flourish. I recounted a recent article in Forbes that mentioned expats living abroad who were considering renouncing U.S. citizenship due to the financial tax burden, and that at the same time, foreigners are seeking American citizenship at an unprecedented rate.
"Yes," he said. "In fact, there is a new and very expensive tax that one now has to pay if one wants to give up U.S. citizenship. One now has to pay to leave."
"Well, the people I speak to think the U.S. is the best. They don't want to give up their citizenship—they just want to have a remote place to go if there is a major societal event or crisis."
"Is there a place you think you'd bolt to?" I asked.
"Most definitely Cabo," he said. "I would just drink tequila and eat guacamole and watch the whales. And if I went North, I would go to Cascadia. No one knows it's there."
"Cascadia?" I said. "I never heard of it."
"That's the point," he said. "It's in British Columbia."
"And what would you do for money?"
"I have a few small paintings I would roll up and take off the frames," he said.
"Do you think anyone would be buying art in that scenario?"
"Someone will always barter a Picasso for a bag of pretzels," he said.
"You have a point. And you can't run down the street with heavy gold bars in your bag. Any place else?" I asked, admiring the timeless palm-leaf wallpaper and enjoying the scrumptious vegetarian spring rolls with dipping sauce.
"Aspen."
"Why's that?"
"I like Cache Cache. And the bad guys will get altitude sickness."
"Plus, Eagle Airport always gets snowed in and who wants to drive all the way from Denver?" I nodded.
It just so happened that I was going to be in Aspen for a father-son ski trip, though I am useless on the mountain for anything other than picking up the tab. (I always say I am not a skier but an après skier.) While my son is doing black diamond runs with his instructor, I have lunch with a very good college friend who had decamped to the ski hamlet with his family years before.
"It's so good to see you," I fist-bumped Aspen Trader as we made our way from the Little Nell to the bustling Ajax Tavern, where we sat in the glorious sunshine—it could have been a 60-degree spring day. He looked tanned and relaxed in Loro Piana.
"How's life in Aspen these days?" I asked.
"I love life in the mountains. It's clean and beautiful. I always dreamt of not having a repeat performance of my childhood. When we moved to Aspen, it was really a different experience for us."
"Did 9/11 prompt you to move here?" I asked.
"Yes. It was traumatic—definitely a motivating factor. The second plane literally flew over my car on the drive into the second tower and I lost a lot of very close friends," he said in sad, reflective moment.
"Did you feel at home immediately?"
"After we moved here, most of my friends told me I'd be back in two months," he said.
"And?"
"We love it. Aspen isn't what people think—there is a real community here and local, full-time residents."
"I hear the public school has a ski lift to the mountain."
"Yes. The kids have a great time but there's so much more to Aspen"
"Do you feel safer?"
"Look, it's more remote," he acknowledged. "It's cleaner and more secure. I didn't feel scared to live in NYC. I just wanted a change. I didn't want to have a pre-arranged life. Look, things happen everywhere but I don't have to deal with certain things here."
"Such as?"
"Traffic. And the best thing is…"
"What?" I leaned in.
"They have great restaurants here."
"Such as…?"
"Matsuhisa and Cache Cache."
---

'palm beach is the most wonderful haven. i'm so glad angus (her first husband) bought the house when we were first married. palm beach is palm beach because it was built to keep the right people in and the wrong people out.'

I was seated next to the inimitable society doyenne, Lila Doge Van Hrrummph, and the ultra-conservative blue blood consumer products heir Jimmy Heir-Tight (not their real names) at an arts dinner in a club I belong to that discourages press mentions. Fear and anxiety about the state of the world dominated the conversation, as did, strangely, the controversial decision by male bon vivants in Palm Beach to do away with white dinner jackets at one of the community's most storied New Year's Eve bashes.
"Must everyone do away with all tradition?" Lila said, shaking her platinum helmet, looking regal in a vintage ruffled Scaasi not seen publicly since Reagan's inauguration.
"One has to accept change, Lila," said Jimmy, one of the few men in New York who looks at home in a tartan dinner jacket and velvet Stubbs & Wooton palm-tree slippers.
"No one doesn't," she seethed in steel magnolia fashion.
"There's a great deal of change happening in Florida these days," he said, peeking at his father's 1940s Cartier tank.
"What do you think of all the South Americans flocking to Miami?" I asked Lila. "I hear it's becoming the little Brazil."
"I don't know any of them," she sniffed. "The only Brazilian I care for is the Brazilian Court. (The classic Palm Beach Hotel.) I must say I hardly ever get to Miami these days."
"What's happening in New York is now happening in Miami, too," Jimmy remarked. "All the wealthy are buying apartments and homes as a safe haven. I like that Palm Beach hasn't changed all that much since I was a child," he said, looking at Lila for agreement.
She nodded. "Palm Beach is the most wonderful haven. I'm so glad Angus (her first husband) bought the house when we were first married. Palm Beach is Palm Beach because it was built to keep the right people in and the wrong people out," Lila said, without fear of repercussion.
She continued, shaking her head. "Although lately that's a bit dubious. Not to say that some of the newer people aren't serviceable, but most are a bit too eager."
I steered the conversation in another direction before Lila Doge could say something she would later regret, if such a thing were possible.
"Jimmy, why do you still like Palm Beach?" I asked him. "Would you go there if there were a crisis?"
"I hope to be there in a crisis," he said. "The one thing about the Palm Beach is most people know each other and the police know the locals and the cars and such. It's very hard to be inconspicuous in Palm Beach."
Lila chimed in. "The waterways are patrolled and the only way in or out is by the bridges," she said. "And if they want to keep someone in and catch them or keep someone out, all they need to do is raise the bridges."
"Does that help you sleep at night?" I asked.
"Like a baby," Lila said, dreamily playing with the 20-millimeter South Sea pearls her third husband had gifted her.
Seventeen-dollar egg-white omelets are
de rigueur in Manhattan and St. Ambroeus is just the place to have one. I was catching up with a newly single private equity friend. After showing me a few "wealfies" of his stylish new Euro girlfriend and some, ahem, other conquests, we got to chatting about bolt holes.
"I do know a few people who have had these conversations," he said, "but I'm not one of them."
"Really?" I said, slicing into my frothy, aerated omelet. "Where do they say they're going?"
"Aspen for sure," he said, enjoying his smoked salmon and capers ($27).
"Why do you think that is?" I asked, sipping my espresso ($5.50).
"Because there's a better chance of getting their kids into a college if they're not from New York."
"So if there's ever a major issue like terrorism or social unrest you would just stay in New York?" I asked.
"Well, if I did it would be somewhere no one would go; New Jersey for sure. No one wants to touch it. I'm long on NJ. And you?" he asked.
"I am a dyed-in-the-wool New Yorker and feel safer with a doorman. Let's not forget a cabin on a lake in the middle of nowhere is always the scene of a horror movie. Rent The Bodyguard and see what happened to Whitney!" I offered.
"I totally agree. All I have to say is in the case of an event, let everyone try and get to Teterboro. I can promise you it will happen on a snow day when the Upper East Side is the last to get plowed and there will be a huge traffic jam," he raised his eyebrow.
"So when the revolution comes, where do you think we should order in from?" I asked.
"Nobu," he said.
I nodded. "Is there anything better than the black cod with miso?"
Lunch with The Impossibly Blonde and Glamorous Socialite was long overdue and she breezed into Harry Cipriani, resplendent in beautifully cut tweed, elegant, forearm-length, kid-leather gloves and Gold Coast perfection. Heads turned, of course, and the dapper Sergio showed her to our regular table where her bellini was waiting.
"Darling, it's been much too long," she said, bestowing the artful UES double-kiss as we both settled into the chic, yet Lilliputian chairs. I always make sure to give TIBGS the view and we caught up on families, vacations and her considerable philanthropic endeavors. Soon I got around to the column at hand.
"Do you have an escape plan?" I asked her.
"Well, let's hope we never see the day," she said seriously, "but should we, I think I would repair to my parents' farm. It's divine and the area has gotten much more chic since my parents bought it all those years ago, to Daddy's dismay."
"Well that's much too convenient," I said. "Let me ask you another question. If you had to go somewhere else where would it be?"
"Let me think." She toyed with her Seaman Schepps ebony and gold link bracelet.
"I think it would have to be Aspen," she said. "I adore winter fashion, fur and jewels. While Sumner (not husband's real name) is doing black diamonds…"
"YOU can go shopping for white ones…."
"That's why we'll always be the best of friends," she laughed. "You truly understand me."
"Now I understand why Aspen tops the list." I chuckled as well.
After all, as the world has gotten a bit gloomier, one can either wring one's hands or share a wonderful lunch, some old-fashioned laughter and a bellini with a dear friend. Especially the laughs.
Richard Kirshenbaum's new book, "Isn't That Rich: Life Among the One Percent" is now available for pre-order on Amazon and Barnes & Noble.