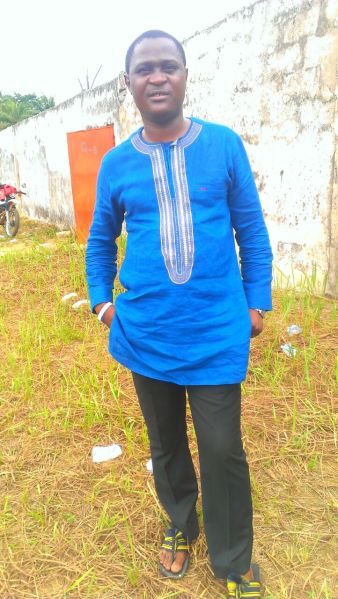 SIERRA LEONE – APRIL, 2015
Packed cots, chlorine taps, and dirt floors surrounded by four walls. The scene describes the Ebola treatment wards dotting the landscape of Liberia, Guinea, and Sierra Leone. The thin walls form a barrier between two very different worlds. Inside them patients afflicted with the disease struggle to live on and outside the daily activities of living continue on undeterred.
There is very little mixing of these two worlds but one group, dressed in astronaut- like personal protective equipment, passes between them, not fully belonging to either one world or the other. The Ebola doctors have been called many names in the media ranging from pariahs to martyrs to heroes but few have the harrowing heroic experience of doctor-turned-patient-turned-doctor-again Captain Dr. Komba Songu-M'Briwa.
---

'I started feeling unwell. Initially I thought it was exhaustion but my health condition started worsening and I was isolated later testing positive for Ebola.'—Dr. Komba Songu-M'Briwa.
Born in the current epicenter of the crisis, Dr. M'Briwa is a native Sierra Leonian and a relatively fresh graduate of the national medical school. He has been described by those who know him as fun-loving, passionate, hard-working, and patriotic. Growing up he faced the challenges of a country decimated by one of the most gruesome civil wars in history but he nevertheless managed to continue his training.
At first, Ebola did not appear to be a major threat to the country. Dr. M'Briwa had heard of the disease occurring in remote villages but there wasn't an epidemic and those who maintained otherwise were viewed as fear mongers. He continued with his work as a general physician preparing for the next phase of his training in general surgery.
But then Ebola began to spiral out of control. Infection rates skyrocketed and the country's already overwhelmed healthcare system imploded. International aid trickled in but the few isolated cases had now coalesced to form a cluster. Thousands became infected with hundreds of new cases every week. Many physicians fled the country for fear for their own safety and many of those who remained became infected and died. Schools were shut down, hospitals shuttered, and military enforced curfews were established.
As the crisis grew, Dr. M'Briwa continued to see patients but he realized he could no longer stay on the sidelines as his friends, family, and colleagues were becoming victims. Joining the Ebola Treatment Unit (ETU) in Freetown, the new epicenter of the crisis, Dr. M'Briwa managed an all-local team to care for Ebola patients. He describes his work as a doctor treating Ebola patients as a "mixed one, that of satisfaction and anxiety. Anxiety because initially I was afraid for my own life, not to contract the deadly virus while providing care for Ebola patients." He adds that what "kept me going was the fact that I wanted my Sierra Leonean compatriots to have the best medical care as they were literally left to die."
Every day brought 25-40 new patients to his door. As capacity in the ETU was hit and then exceeded, his family "had to be abandoned so I could concentrate on my work." And then came the day when the doctor Ebola patients turned to became a patient himself.
On the 20th of November Dr. M'Briwa recalls that, "I started feeling unwell. Initially I thought it was exhaustion but my health condition started worsening and I was isolated later testing positive for Ebola."
Dr. M'Briwa knew exactly what could happen to him. He had already seen countless patients at all different stages of the disease and knew it's progression. He feared his fevers would give way to vomiting and diarrhea and finally to internal bleeding and death.
He turned to his faith. mixing weeks of prayer with several treatments. Eventually his lab tests came back negative. He was now free to leave the confines of isolation and emerge as an Ebola survivor- a title that fits only a lucky few. Most doctors in this situation retire.
And yet to this day, Dr. M'Briwa continues his work. He is committed to fighting Ebola and to help overhaul his country's feeble healthcare system. With the number of new cases shrinking and the hope of a new vaccine (currently in clinical trials) on the horizon, M'Briwa continues on as before, treating his patients with a combination of skill, compassion and reverence. He looks through a new lens now that amplifies his compassion, the lens that only a survivor can see through.
Marc Siegel MD is a professor of medicine and medical director of Doctor Radio at NYU Langone Medical Center. He is a Fox News Medical Correspondent.
Anshu Vaish is a medical student at Brown University and head of the non-profit WaterWalla which focuses on clean water and public health in Sierra Leone and India.