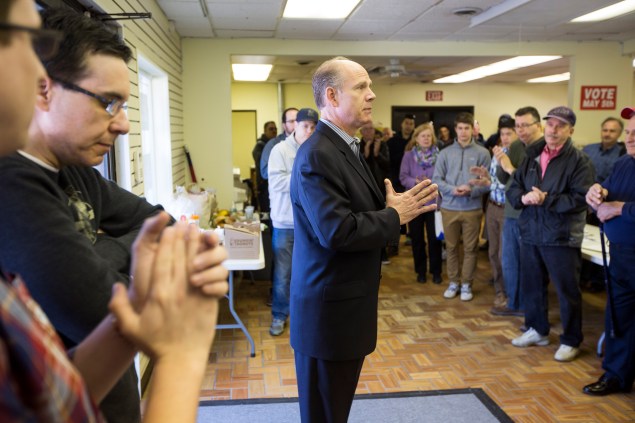 Staten Island District Attorney Daniel Donovan, a Republican candidate for Congress, reported yesterday that he had more than $400,000 cash on hand, more than three times as much as his Democratic opponent.
But a closer look at his filing with the Federal Election Commission shows that Mr. Donovan's lead in the cash race may actually be a little less formidable.
Mr. Donovan took the unusual step of delaying $120,760 in payments to a variety of consultants, strategists and firms, filings show. Had Mr. Donovan paid all of his consultants by the filing deadline, he would have had $340,921 on hand instead of $461,681—a far larger figure that turned plenty of heads in the political world. (His rival, Brooklyn Councilman Vincent Gentile, has a little more than $100,000 on hand.)
This doesn't change the dynamic of the special election, in which Mr. Donovan is the front-runner, and it's certainly not illegal. Racking up debt, however, is rarer for a campaign that is so flush in cash like Mr. Donovan's.
Among several debts, Mr. Donovan owes $20,000 to The November Team, a Republican consulting group. He owes another $14,000 to Moving Pictures Inc. for advertising expenses, and about $24,000 to another production company, Epiphany Productions. He even owes Bracewell & Giuliani, former Mayor Rudolph Giuliani's international law firm, $3,000 for legal consulting.
A spokeswoman for Mr. Donovan, Jessica Proud, said all their invoices had been paid. "All of our invoices are paid in full and we are proud to report such a strong fundraising period that shows how much support Dan's candidacy has in the 11th congressional district," she said.
When Mr. Donovan ran unsuccessfully for state attorney general in 2010, his campaign fell into debt that it has yet to pay off. As of January, Mr. Donovan still owes three campaign consultants almost $200,000. Bradley Tusk, a top strategist of the 2010 race, appeared resigned to the fact that Mr. Donovan wouldn't be paying him back anytime soon.
"It's certainly top of mind to him because he raises it every time I see him. But given Dan's fundraising track record isn't as good as his other skills, so his desire to pay outweighs his ability to pay," Mr. Tusk told the Observer last month.
A spokeswoman for Mr. Donovan said at the time the district attorney was working to pay off all the debts.
The special election is set for May 5.
This story has been updated to include comment from Mr. Donovan's campaign.