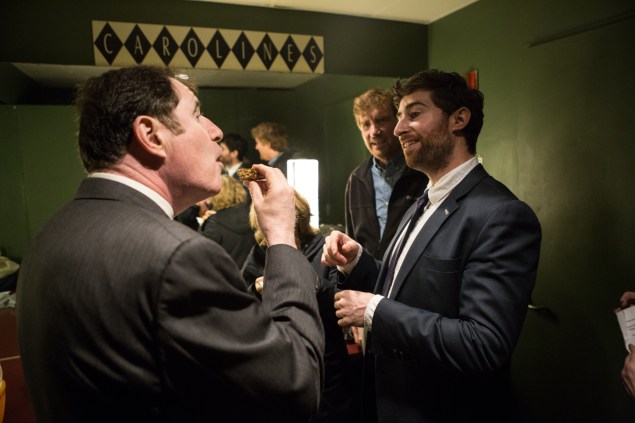 Over a pre-show turkey burger, comedian Scott Rogowsky tests one of his opening monologue jokes. "Today's Earth Day. I did my part. I shared an Uber with a completely unqualified driver." Not exactly a zinger, but it does the trick—and Uber reference aside, it seems kind of old school. "I am an old comic trapped in young comic's body," he says.
Mr. Rogowsky's live talk show, Running Late, currently at Caroline's on a monthly basis, is a throwback to the only-three-network days of comedy, when jokes were not polished by a staff of 20 Ivy Leaguers. It's pretty simple: Mr. Rogowsky does an opening monologue, his guests come on, they kibitz, he shows clips, maybe includes a sketch or game. His sidekick is his father Marty. Not a lot of innovation going on, but it works. "What am I gonna do, host on a waterbed?" asks Mr. Rogowsky. "People want familiarity. It's a talk show."
The traditional approach has brought in major talent like Jerry Springer, Cecily Strong and Morgan Spurlock. Tonight's guests were actor Richard Kind (Mad About You, Spin City), comedy writer Brian Stack and headliner Amy Sedaris, who had recently made her last appearance on David Letterman (she's been on 34 times). Mr. Rogowsky's father was out of town so Aunt Elise filled in as Ed McMahon.
---

Growing up in Westchester, Mr. Rogowsky seems to have trained for this host role his entire life. He even had an SNL-themed bar mitzvah.


---
"This show is not polished, not overly planned, there are imperfections," allows Alex Brizel, Running Late's producer, joining the table. "Right now in comedy it's all about being cool and hip. There's a frat boy element. Like Adam Devine's House Party … Or you have a host playing Twister with Bradley Cooper."
An hour before show time, Mr. Stack walks in. After 16 years on Conan O'Brien's staff, he recently left to move back to New York to work on Stephen Colbert's new Late Night show, which premieres September 8.
"Oh my God, Brian Stack!" Mr. Rogowsky says, blushing.
"People have sympathy for Scott because: here's a guy struggling up there," Mr. Brizel says to me. "He gets to meet his heroes."
Tall with blue eyes and a friendly, bearded face, Mr. Rogowsky, who is 30, is deeply knowledgeable about the comedy industry and its key players. His questions center on a guest's career history and how they got started, along with often obscure video clips and stills.
Growing up in Westchester, Mr. Rogowsky seems to have trained for this host role his entire life. He even had an SNL-themed bar mitzvah. "We had different themed tables: the Coneheads, Samurai Deli, the Cheerleaders. I was at the Goat Boy table." He started Running Late in 2011 and, after several different venues, found a home at Caroline's last November. He is moving the show to Le Poisson Rouge in Greenwich Village in July. "I love being a host. I even love the nightmare of lining up guests." He landed David Cross and Amber Tamblyn, his first "big time" gets, in 2012. "I stalked [David Cross] at a … benefit in Park Slope. I slipped him a handwritten letter."
Amy Sedaris arrives, and they all move to the tiny, mirrored green room in the back of Caroline's main space while the show's excellent band, Rebecca Vigil and The Vigilante, warm up the crowd.
Backstage, names are dropped: Conan, Colbert, Jon Glaser, Eric Andre. "Garlin said you were the funniest human he knows, in the world," Mr. Stack says to Ms. Sedaris, referring to Jeff Garlin (Curb Your Enthusiasm, The Goldbergs). "Oh, that's nice. Jeff Garlin,' Ms. Sedaris says with an eye roll. Apparently, Mr. Garlin owes her a phone call.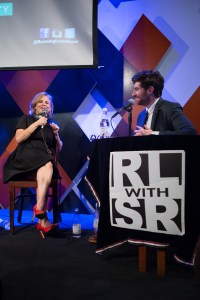 They seem relaxed. Were TV network late night talk shows more prepared and controlled? "I mean, you definitely talk to them about what kind of bits you are thinking about," says Ms. Sedaris, who looks radiant even while still wearing her black trench coat and big black-framed glasses. "It varies," adds Mr. Stack, "Some people like Will Ferrell have something conceptual and want to play with the form, some are like: 'I'm just here to promote my movie,' some play it loose and are happy to talk. … I hate to promote."
Richard Kind arrives and hugs are given all around. The room is filling up, but slowly. Mr. Rogowsky is palpably antsy. "Ugh let them in!" he says.
"Darling, surrender Dorothy," says Aunt Elise soothingly. "It's out of your control."
He then tests his Uber joke on Aunt Elise.
"Ooer?"
"No Uber."
"Oh! Uber."
The show finally commences at 10 p.m. Running Late is only 30 minutes late.
Mr. Rogowsky takes the stage and performs his opening monologue: "I finally had my first bowel movement since Passover," followed by "gefilte fish is the only food that looks better coming out than going in," which goes over well. The Uber joke then gets a few chuckles.
After some sound problems with the microphone, he introduces Mr. Kind, who launches into a story about the first time he met Caroline Hirsch, Caroline's founder, when he was a singing waiter. Mr. Rogowsky shows a clip of Mr. Kind and a young Mike Myers in 110 Lombard St, an unaired Second City pilot from 1987, and then a few seconds of the character actor in Sharknado 2, whacking a deadly flying shark away with a baseball bat. Mr. Kind recalled, years ago, going back to visit Second City in Chicago and meeting a young Will Ferrell, Steve Carell and Julia Louis-Dreyfus. "They are talented," he said with characteristic neurotic humility, "I imitate talent."
Doffing the coat and glasses, Ms. Sedaris comes on stage in a pretty cream-colored dress. She turns the tables. "How old are you?" she asks a flustered Mr. Rogowsky. "How did you get this gig? Is your goal to go to TV? Do you have a job during the day?" (He does; freelance video content for various websites.) Then she talks about her pet rabbit with a deformed paw.
Mr. Rogowsky shows a clip of her and Stephen Colbert performing together in the mid 90s on the short-lived Comedy Central sketch show Exit 57. They play an oversexed couple, and she is covered in fur. "I was blessed with facial hair," her character says.
"It's interesting. Alternative comedy—what you did—is becoming mainstream now," Mr. Rogowksy comments.
"Yeah," replies Ms. Sedaris. "And If I were to do a show now, it would be a really clean show. Not about pills and trans fathers. Every show has that. I would go back to the beginning."