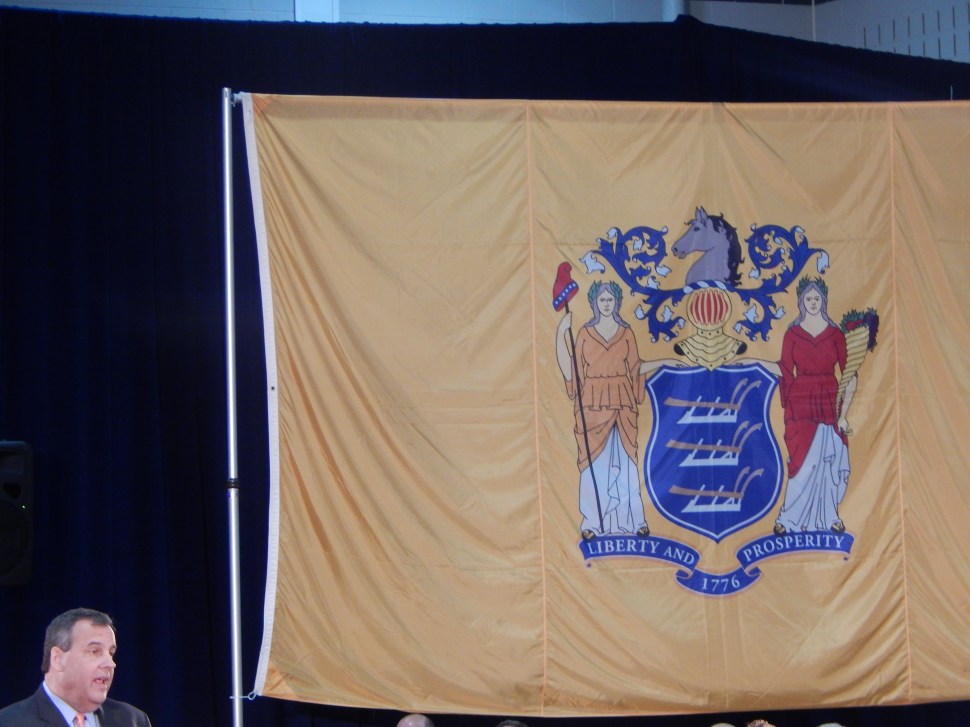 MATAWAN — It was a rare sight — Governor Chris Christie borderline remorseful as he defended his notoriously combative actions in front of a woman who had bluntly told him she really feels he needs to "tone it down a little bit if you want to become president of the United States."
He didn't go as far as to apologize for any specific incident, of course. But that was the image attendees of his latest town hall got today of Christie when Cheryl Meyer, a local school teacher, asked him why acts the way he does —  why the press "seems to get your worst side all the time," she told him — at the Old Bridge High School.
"How do you explain that?" Meyers asked, referring to  the handful of times Christie has lashed out at protesters and critics, often catching flak for it from the press and public. "When you're a governor and the highest office of New Jersey, and you start screaming at people."
Christie, who had just finished chastising a previous audience member for inaccurately characterizing a recent settlement between the state and oil giant Exxon Mobil over a series of environmental lawsuits, answered Meyer in a comparatively gentler way, thanking her for her "advice" and explaining that while he sometimes regrets letting frustration get the best of him, it's ultimately what makes him a preferable politician.
"The fact is that for me, anything that I've ever said in my public life is not something that I would necessarily say again. I think almost every person in this world who has had interactions in their public lives with other human beings who would say there has been times they wish they had said something differently," Christie said. "Now the difference for me is that many of my interactions happen with 10, 12 TV cameras around."
"The way I see it is when I say something I think is over the line, well, I'll apologize for that. I'm not perfect, nobody is. But the one thing people never have to worry about is what I'm thinking," he added.
The Republican — an unannounced candidate for the 2016 GOP nomination — scoffed at the "political speak" he said many public officials employ in their dealings with the press and their constituents, which he defined as an act where politicians sit around and wonder "what's the blandest, most vanilla thing I can possibly say" when asked tough questions.
"I'm just not like that," Christie said. "Vanilla, plain, even — that's not going to be me."
"In public life sometimes, people will just try and push your button," he added. "I can tell you in my public life, I have had my button pushed a hundred times more than they've actually gotten through with pushing. And there's a lot of different reasons that happens. Sometimes, I just want to do it."
Other times, Christie said, "you're just having a bad day. Some times you didn't sleep the night before. Sometimes you didn't eat all day."
"But when you put all of it together, what I would say to the American people, if I decide to do that, is this. I think we've had too much of people in public life pretending to be somebody," he continued. "With me, you're going get what you see. Some days, that's going to make you go, no thank you Christie. And other days, it's going to make you go, I'm glad he said that, because it need to be said."
Christie added he is "trying to get better everyday," and vowed to never sound like "Charlie Brown's teacher — you know, the one that goes wah, wah, wah."
"I will never sound like that," Christie said. "And if it turns out, whether it's from people in the state or people in the country, that that wasn't their cup of tea, I'd rather go home. Because, like my mom said, if you try and pretend to be someone else, you have to remember who you tried to pretend to be, and that can get both tiring and ineffective."
All in all, it was a somewhat unique insight into the psyche of Chris Christie, a man who has built a national profile in part atop the YouTube moments derived directly from the often times loud exchanges the governor has had with guests at town halls and press conferences like this one.
Arguably the most widely circulated of those exchanges was one in which he told a Hurricane Sandy activist to "sit down and shut up" during a storm anniversary tour last year.
That activist — whose name in Jim Keady, and who is now an Assembly candidate in the 30th legislative district — was in attendance this afternoon. Contrary to Christie's rhetoric, Keady said he has not received an apology for Christie's outburst on that day.
There was, however, at least one area of interpersonal relations where Christie refused to concede his brash tactics.
"I will say this about name calling," Christie said. "There are sometimes when you look at someone and there's just no other word left."