Artist Janine Antoni is probably most famous for a series she did for the Venice Biennale over two decades ago. Called "Lick and Lather" it featured 14 classical portrait busts of the artist—the kind of sculptures usually carved out of Grecian marble—cast in chocolate and soap. She slowly faded and re-shaped these busts by licking or bathing with them. Showcased at the influential Venice art exhibition by downtown dealer Jeffrey Deitch, a master trend-spotter, Ms. Antoni's scented and striking work was probably even more popular and commented-upon than another work displayed nearby by a then-little-known artist named Damien Hirst.
Brooklyn-based and Freeport, Bahamas-born Ms. Antoni—along with a group of other artists who came to prominence in the 1980s and '90s like Karen Finley, David Hammons and Felix Gonzalez-Torres—was at the forefront of a poetic end-of-the-millennium burst of expression that zeroed in on artistic "identity." Artists who felt increasingly marginalized by their race, sex, or sexual preference began to question, through their work, America's credos of freedom and equality.
Most of these artists worked with traditional art materials like paint and canvas, but others were inspired by newer methods of art making, particularly an approach known as Process Art. A concept that had roots in the action painting of Jackson Pollock, Process Art tended to focus attention onto the artist and his or her actions as much as on the finished product. This mixture of process and politics used everyday materials, most of which viewers had likely held, touched, smelled, loathed, adored or ignored at some point in their lives. In her own art, Ms. Antoni enlisted her body to act upon objects loaded with meaning and cultural symbolism (like chocolate).
If the 1993 "Lick and Lather" series made her famous, it was Gnaw, the year earlier that got her noticed. Gnaw, which was exhibited in 1992 at the Sandra Gering Gallery and then at the 1993 Whitney Biennial, featured two 600-pound cubes (again, of lard and of chocolate) that had been chewed down by the artist over weeks. Ms. Antoni's emblematic cube shape, which clearly referenced the macho lineage of Frank Lloyd Wright to Donald Judd, flipped the male-dominated genealogy of Modernism completely upside down.
By making her cubes out of substances that were practically Pavlovian to women, and by sculpting them orally, Ms. Antoni found a new way to intensely commemorate the constricted role of women in society. (The lard was mixed with beeswax to craft bright red lipsticks, also on display.) In a 2006 interview for the Museum of Modern Art, the artist said, "I was interested in the bite because it was both intimate and destructive. It summed up my relationship to art history [which] defined me as an artist, and excludes me as a woman, both at the same time." Gnaw is now in the collection of MoMA.
Over the years, Ms. Antoni continued to produce strong process-oriented work with her own body, using her long hair as a paintbrush in her "Loving Care" works, and her eyelashes as paintbrushes in the arresting series known as "Butterfly Kisses." Over the years, she's racked up a ridiculousness of top awards, from the Guggenheim Fellowship to a Hugo Boss Prize finalist nod to a Creative Capital Grant to the "genius" McArthur Grant.
Now, in Ms. Antoni's latest exhibition, "From The Vow Made," on view at Luhring Augustine's Chelsea gallery through April 25, the artist creates sculpture in a more traditional sense for the first time—and proves that superior artists can use any method to effectively communicate.
With a grouping of seven polyurethane resin sculptures, Ms. Antoni returns to casting her own body (as well as her skeleton and objects from her daily life) in an attempt to form a strange and personal aesthetic of prayer. The works are inspired by Milagros—a type of votive offering used in Latin cultures, usually made from cheap metals. These small reliefs can resemble anything from chickens to human hearts and are tacked to church doorways as a form of invocation.
While the works don't particularly draw from the imagery of organized religion, there is an aspect of Catholicism that is echoed within Ms. Antoni's milky spot lit objects. And the darkened gallery in which they are shown (though perhaps overly dramatic) is an important backdrop for Ms. Antoni's graceful yet recognizable white lines and forms, which create a playful and arresting dialogue between sculptures.
A great example of this is the exhilarating piece to long, 2014, an ethereal white resin stack that includes a partial cast of her face, a rib cage, a pillow, and a pedestal, all fused together in that order. The monochrome and denuded surfaces of these elements highlight the forms in a way that forces the viewer to really consider their nature. Connections are abundant: the stretched oval of the rib cage, for instance, is not very different from the shape of the fluffed pillow upon which it sits (and their uses might have literal and metaphorical commonalities as well).
In the back room, an inspiring collaboration between Ms. Antoni and the choreographer Stephen Petronio radiates from an even blacker darkness. The video titled Honey Baby consists of a moving image of a nude man settled into a tight circular space. The man (a professional dancer coated in honey) is backlit by yellowish light and rotates and gestures as if submerged in fluid, while a whooshing soundtrack furthers this illusion. It soon becomes clear that Ms. Antoni is having her dancer elegantly mimic a fetus in utero.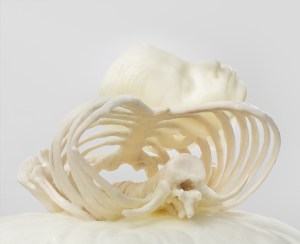 This solemn vision of a grown man aping an unborn child is both unnerving and totally absorbing. The effect crosses our emotional wires, mixing preconceived notions about birth, lust and time into a touching and dramatic stew. (Happily, more of this collaboration may be coming: the gallery material notes that Ms. Antoni, Mr. Petronio, choreographer Anna Halprin and scholar Adrian Heathfield are working on a new body of work as part of the Artist-in-Residence Program of The Fabric Workshop and Museum in Philadelphia; it will premiere there in 2016.)
Working within the realm of dance is a natural move for Ms. Antoni who regularly used and referenced her own body in past work with great success. This piece is no exception. It's surprising that Ms. Antoni's contemporaries such as Mr. Hammons have climbed to levels of market notoriety she has yet to reach. But then again, it's never surprising when a woman isn't championed like a man, only disappointing.