MONDAY, MAY 11
Gala: Creative Time Salutes Vik Muniz at Cathedral of St. John the Divine
The yearly gala/fundraiser that our periodical once called "One of the art world's top ten, break the mold spring fundraisers" (without, I might add, our usual hint of irony) has chosen to honor Mr. Vik Muniz in 2015. It seems like a wise choice considering Mr. Muniz has pretty much mastered painting, sculpture, collage, cloudmaking, curating, and documentary filmmaking, among other pursuits. The philanthropically inclined Mr. Muniz was even nominated as a goodwill ambassador by Unesco in 2013 and was given the Crystal Award by the World Economic Forum for being an artist dedicated to improving the state of world. That's hardcore, people. Show up and honor this guy.
Then be sure to check out the opening of Creative Time's newest project Drifting in Daylight, done in collaboration with the Central Park Conservancy for its 35th anniversary celebration, this Friday, May 15. Works and performances by Spencer Finch, Nina Katchadourian, Ragnar Kjartansson, Karyn Olivier, and more will be sprinkled along a pathway that winds through Northern Central Park.
Creative Time Spring Gala, Cathedral of St. John the Divine, 1047 Amsterdam Avenue, 6 p.m.
Opening: Shio Kusaka and Jonas Wood at Karma
L.A.'s gnarliest art couple brings their desirable wares to NYC's beloved Karma—the little bookstore that has quickly become a place to see killer artist projects. In case you don't know, collectors are currently bonkers for Mr. Wood's colorfully painted west coast imagery, and Ms. Kusaka's beguiling ceramic vessels adorned with patterns and dinosaurs were a clear high-point at the last Whitney Biennial. The lovebirds have also co-produced an excellent looking publication to accompany the show intriguingly titled "Blackwelder." They'll probably even sign it for you, they're that cool.
Karma, 39 Great Jones Street, 6 – 8 p.m.
Opening: "Urs Fischer: Big Clay #4" at the Seagram Building
Mr. Fischer's towering 42-and-a-half-foot aluminum sculpture, which is an enlarged replica of a stack of squeezed clay, should look fairly amazing at Seagram Plaza with all the little midtown suits scampering around it like ants. The unveiling, brought to you by fearsome art monopoly Gagosian, should be a tasteful affair and hopefully the weather will cooperate. So go ahead and brave the crowded sidewalks and bumper-to-bumper traffic. You'll be glad you did.
Seagram Building, 375 Park Avenue, 5:30 – 7 p.m.
Opening: Leon Golub at Hauser & Wirth
A selection of politically charged works from late great Monster Roster standout Leon Golub titled "Riot" will not make for a jovial evening, but if you want to see some of the most powerful, gut-churning historical paintings of the 20th century, then this is the place to be. In what feels like a renaissance of police brutality, Golub's art rings louder than ever. Ask the citizens of Ferguson or Baltimore. Speaking of income inequality, this show is also a great opportunity to see Hauser's swank three-story townhouse gallery, which in the words of Ferris Bueller is "so choice."
Hauser & Wirth, 32 East 69th Street, 6 – 8 p.m.
TUESDAY, MAY 12
Opening: "Rashid Johnson: Blocks" on the High Line
Megastar artist Rashid Johnson will bring his inventive and political craft to everyone's favorite outmoded commute. The piece will utilize one of Mr. Johnson's steel cube grids, which will supposedly feature a plethora of objects and materials within it, including busts that will act as a "living greenhouse." So, if witnessing one of today's most important young artists unveil a killer commission is your thing (which it should be) then try and get on the list for this, because good public art should be cherished.
The High Line, Little West 12th Street, the Standard Plaza, 848 Washington Street, 6-8 p.m.
Fair: Spring Masters at the Park Avenue Armory
The refreshing opposite of buzzwords like "emerging" and "contemporary" would have to be "classic," and this fair boasts a barrelful of classic. Staunch bastions of the canon such as Feigen & Co. are here, as well as design-oriented entities, like Simon Teakle. There are even a few wild cards like Salon 94, who bring you both contemporary art and design. This is the fair's final day, so make an appearance post-haste.
Spring Masters, Park Avenue Armory, 643 Park Avenue,11 a.m. – 6:30 p.m.
Opening: Chris Succo at The Journal Gallery
Pronounced "Soo-co" not "Suck-o", this German artist with an Italian name is literally everywhere these days. In fact it has only been about a fortnight since I rolled my eyes at his vacuous Brussels exhibition. Now he's taking over Williamsburg (like so many real estate companies before him) via model-magnet space, The Journal. If this show is anything like his last, collectors will probably get to choose from a group of identically snoozy "EKG" paintings or a selection of big dopey "boobie" collages. Still, it's a good reason to go to "the 'burg'" and see how radically the neighborhood has changed, and hey, "models."
The Journal Gallery, 106 North 1st Street, Brooklyn, 6 – 9 p.m.
Opening: Harold Ancart at Clearing
While you're in Brooklyn, you might as well go see a fantastic painting show. One of a bevy of excellent young Belgian painters working right now, Mr. Ancart has been wowing New Yorkers with his signature oil stick on paper works ever since his solo at this Bushwick space in 2013. He is unlikely to disappoint with his latest effort, so if you are a fan of the medium–or just bearded Bushwick hipsters–you should throw on some vintage threads and make the trek.
Clearing, 396 Johnson Avenue, Brooklyn, 6 – 9 p.m.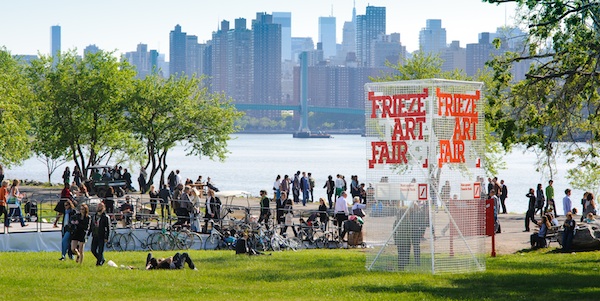 WEDNESDAY, MAY 13
Opening: "Yoko Ono: One Woman Show, 1960-1971" at MoMA
O yes Ono! See what I did there? Love her or hate her, it's hard to deny this Beatle-buster her rightful place as a global icon, and this should be a definitive look at her early career as a Fluxus artist. Among the works on view will be her incredibly influential Cut Piece, her famous Bed In collaboration with husband John Lennon from 1969, and the early work Painting to be Stepped On, which is exactly what it sounds like. So if you stepped on Oscar Murillo's work in "The Forever Now" show, you might want to see what it's like to step on an original idea at this fairly important show.
Museum of Modern Art, 11 West 53rd Street, private morning event; evening reception Thurs. 7 p.m. 
Fair: The Anti-Fair at the Carlyle Hotel
This fair's one participant isn't even a gallery (it's East Hampton bookstore Harper's Books), but the Anti-Fair sounds incredibly pleasant. First there's the Carlyle, a posh yet cozy symbol of old New York luxury, which sits just off Central Park and always makes for a satisfying visit. Then there's Harper's Books, which will provide a cornucopia of art books, rare magazines, pulp fiction, and ephemera for your viewing and buying pleasure. And finally, there will be a select group of artworks on display by sought-after emerging and mid-career artists such as Trudy Benson, Margo Wolowiec, and Eddie Martinez.
The Carlyle Hotel, 35 East 76th Street, 5-10 p.m. 
Auction: Post-war and Contemporary Art Evening Sale at Christie's
A few hundred million dollars will change hands in 90 minutes at this showpiece sale. In the past, celebs like Karl Lagerfeld, Hugh Grant, Tobey Maguire, and Leonardo DiCaprio have attended but the true stars of this event are Lucian Freud, Francis Bacon, and Mark Rothko. As it should be. It's invitation-only but Christie's live streams which is surprisingly suspenseful viewing, especially if you have a horse, or a favorite artist, in the race.
Christie's, 20 Rockefeller Plaza, 7 p.m.
Fair: VIP Preview at Frieze New York
Alright, enough playing footsie, let's get to it. At the fourth incarnation of Frieze New York, nearly 200 galleries will square off in a Battle Royale that is not for the faint of heart. Merch will be moving at breakneck speeds. Hot artists will sell out in a matter of hours folks, so don't waste time texting your accountant or chatting up the ferry captain. Today is the day that separates the men from the boys (and the women from the girls) in the art collecting world. Pack an emergency flask, warm up your credit cards, and for God's sake wear sensible shoes. This is it.
Frieze New York, Randall's Island park, private preview
THURSDAY, MAY 14
Auction: Contemporary Art Evening Sale at Phillips
Phillips is sick of always winning the bronze, so they're making some big moves with an eye towards upsetting the pecking order. This auction is chock full of major artists from Rudolf Stingel to Joe Bradley, and is crowned by a magnificent 1961 Francis Bacon that should pull in a cool 40 million or more. Nothing to sneeze at. If you have an extra 25 to 35 million of spending change, or even just a measly 20 million, grab a ticket and head over to Park Avenue. And even if–like me–you have exactly no spending change, it's a good chance to see how the other percent lives.
Phillips, 450 Park Avenue, 7 p.m.
Fair: NADA New York at Basketball City
Like an art thermometer telling us whether the kids are alright, NADA New York (also in it's 4th year) is the place to find the next whatever-it-was-that-came-before. Young dealers, young artists, and young money commingle in a paganistic free-for-all that will make your head spin. Fortunately, everyone can just chill out at 7 p.m. and enjoy Contemporary Fashion, a unique runway-style fashion show and the latest of artist Sam Gordon's awesome "contemporary" brain babies. Ah youth! Even if you no longer embody it, at least you can gawk.
NADA New York, Pier 36 at Basketball City, 299 South Street, special-invitation preview 3-6 p.m., open to the public 6-8 p.m.
Fair: 1:54 Contemporary African Art Fair New York at Pioneer Works
In a surprise move, this 2-year-old London-based fair has sent a 2nd fair across the pond this year. It settled on an interesting spot: The artist Dustin Yellin's enormous venue known as Pioneer Works, nestled into the mystical enclave of Red Hook, Brooklyn (you go there to buy ILLERÖDs and KVARTALs from IKEA, why can't you go there for African art?). But seriously, this 15-plus gallery showcase should be a great chance to see some unique artworks that you might not otherwise see in the city.
Pioneer Works, 159 Pioneer Street, Brooklyn, preview 10 a.m. – 12 p.m.
Concert: Lang Lang at the Met
If you don't already know, Lang Lang is basically the Salvador Dali of 21st Century classical music. A flamboyant Chinese prodigy who almost veers into kitsch, "L-Squared" (as I call him) really brings it live, and his screaming fans can't seem to get enough. His program will include compositions by Wu Zuqiang and Du Mingxin, Lü Wencheng, Chopin (Scherzo No. 1 and Scherzo No. 3), and Tchaikovsky (The Seasons). If you need a break from painting and sculpture, go see this adorable genius before he freaks out and goes into hiding.
The Metropolitan Museum of Art, Great Hall, 1000 5th Avenue, 8 p.m. 
Fair: Art Miami New York at Pier 94
High tea on the Hudson! This Sunshine State fair comes North for the weekend and takes over the roomy space that the Armory Show owns in March, Pier 94. The VIP preview starts 2 p.m., and apparently includes scones and works from about 100 galleries, including a few of our favorites.
Pier 94, 12th Avenue at 55th Street, preview 2-5 p.m. 
Opening: "Seth Price: 'Drawings' Studies for Works 2000-2015" at Petzel Gallery
There's no more intimate way to peek inside an artist's mind than to flip through his sketchbook. Seth Price is best known for his sculptures, videos, and writings, but this exhibition will highlight drawings and studies that he's produced over the last 15 years. Works done in airbrush, charcoal, watercolor, spray-paint, even thermo-formed plastic make it into this show.
Petzel Gallery, 35 East 67th Street, 6 – 8 p.m. 
Opening: "Jenny Morgan: All We Have Is Now" at Driscoll Babcock Galleries
Despite the fact that Ms. Morgan painted each of the bones in her skeletal figures individually, with no planning ahead of time,  her figurative works contain a level of precision and striking realism that's totally singular. The paintings pop with bright, ultra-satured color, and some combinations are little unsettling: bright pink hair, pale skin, a purplish-blue hand.
Driscoll Babcock Galleries, 525 West 25th Street, 6 – 8 p.m 
Opening: Huma Bhabha at Salon 94 Bowery and Salon 94 Freemans
This will be one of the big gallery openings of the week. The work of Pakistani-born Huma Bhabha will span both Salon 94 locations. Not unlike Ms. Morgan, she focuses on the human figure, but Ms. Bhabha's sculptures and drawings take the form in a completely different direction, and utilize mostly found materials— though sometimes animal bones, clay, wood, and even beauty products find their way in.
Salon 94 Bowery, 243 Bowery, and Salon 94 Freemans, 1 Freeman Alley