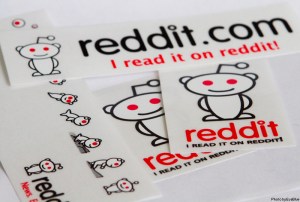 Reddit can be a huge black hole of time, or it can genuinely make your life better. It's all in how you use it and what subreddits you subscribe to.
A note for non-redditors: If you don't have an account, reddit just shows a mix of what it thinks the best content is. When you create an account, you can pick which subreddits—essentially community-run channels—to subscribe to. This transforms the site from 'the front page of the internet' to a highly curated collection of important, fun, funny, educational, edifying and unique content.
Below are five subreddits I've discovered, some big and some small, that have made my life better. They've made me think, made me laugh, taught me things, exposed me to things and improved my media diet. This list is by no means exhaustive, but try these five below and tell me they don't give you some perspective and new insight.
Every question you've ever wanted to know about history answered by some of the most dedicated and insightful (and smart) historians in the world—and done so in real, accessible language. Questions like: Was Benjamin Franklin prevented to write the Declaration of Independence because he might hide a joke in it?, During the Holocaust, is there evidence of even a single SS soldier who stopped and said "This is immoral, I can't do this"? and even questions like I have just been recruited as a Japanese Kamikaze pilot. How did I get to where I am and what will my life look like until my mission? I've been known to wade in occasionally when the topics overlap something I've studied and I always feel like I'm the least smart one there. I've learned so much from these guys—if I was a high school history professor I feel like I'd just steal all my lessons from here. If you want to be informed, you'd be better off reading AskHistorians than just about any current events or news story.
There is something very humbling about seeing the distant past made present and vivid by the artists in this subreddit. Painstakingly replacing the black and white and shades of grey with bright, accurate coloration takes photos like W.H. Murphy and his associate demonstrating their bulletproof vest in 1923, Times Square on D-Day, flipping burgers in 1938, a Samurai from 1881, figures like General William T. Sherman, Mark Twain, John F. Kennedy, Harry Houdini and Claude Monet and brings them into a new light. Part of the reason that things like slavery or war from the past provoke such muted reactions from us today is that photos make it seem like it happened in a different world to a different species. But when it's made clear that the sky was blue then too, that people looked the same, that they clearly felt the same, that kind of cognitive dissonance evaporates. I also really like r/HistoryPorn and r/TheWayWeWere. In fact, it's often cool to see a photo on one of those subreddits pop up on colorized history.
Ok this one is not that serious. And yes, I know there is also r/goats (on which my pet goats have made several appearances). Goatparkour is amazing because it's goats at their cute and inexplicable best. Goats jumping on other animals. Goats spazzing the hell out. Goats mashed up to look like they are in Tony Hawk Pro Skater. Goats on teeter totters. It's all amazing. Goats will change your life, as I've said, because of the joy and ridiculousness they bring to life. But if you can't actually have one where you live, subscribing here is a good way to get a taste of it. There's a bunch of other cute subreddits like this, and if goats aren't your thing, find one.
Holy shit this is so great. Let me say that again, holy shit this is so great. The Observer has covered r/relationships a few times but it's hard to do it justice. Real people discussing real relationship issues—many that are painful, heart wrenching, common, confusing and human—with real people stepping in to help and guide these total strangers. Jerry Seinfeld tried to make that show "The Marriage Ref," well, with r/relationships that idea is as authentic and raw and real as you could ever hope. And it's not limited to marriage either, it's roommates, parents, siblings, friends, hook-ups, neighbors. It's a glimpse into humanity at its best and worst. I've stepped in and answered a few questions myself and my wife and I often talk through what we see on the site. It's improved our own relationship. Also, from what I can deduce from the fact that there seems to be a desperate thread about this every day on r/relationships, never ever ever have a threesome.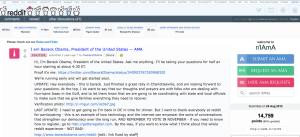 Some of the most interesting, famous, notorious, smart and unusual people in the world opening themselves up to a few hours of unlimited questions, most of which have never been asked before. There is nothing like a good AMA. Some favorites: any by Neil DeGrasse Tyson, Arnold, Bill Gates, Edward Snowden, Elon Musk, the guy who fought off a bear, and of course, the guy with two penises. It's also like I'm working incredibly hard to make this one awesome for you. About 3 years ago I wrote a couple big pieces about AMAs that apparently drove a lot of media attention to this new format for interviews. I even predicted that the president would one day do one (he did). I've driven a lot of clients to do AMAs over the years, like Tim Ferriss, Robert Greene, Tony Robbins, John Romaniello, James Altucher, Marc Ecko, Nomadic Matt, Rolf Potts, Scott Patterson, Zeds Dead, and others. I've also done 3 myself. Of course, AMAs are now common in many different subreddits but the original is where the important ones happen.
BONUS:
r/INSERT YOUR TOWN

With the decline of newspapers and TV news, it's hard to stay up on what's going on in your neighborhood. If you don't subscribe (and contribute) to the r/[yourtownhere] you're missing out. I've subscribed to r/LosAngeles, r/NewOrleans, r/NYC and now r/Austin and discovered so many cool things. New restaurants, community issues, "local idiot" news, even stuff like lost dogs or neighbors who need help. It's also fun to hear from people considering moving to where you live.
A few more bonus suggestions: r/TodayILearned is good. r/FoodForThought is a decent place for smart articles you wouldn't find elsewhere. r/ExpectationsVsReality is a reminder of how things really are and so is r/FirstWorldProblems. R/Investing and r/PersonalFinance have been helpful and educational for me. There's r/Writing for writing advice. R/Books for book lovers (I remember when this was just a small community, now it is millions of people). r/Stoicism has been an incredibly valuable resource, especially for their help on my last book.
**
What's great about reddit is not just 'what gets a lot of votes.' When you break it down into these smaller subsections, it's specific enough that it stops being a popularity contest and becomes a discovery engine. It's also the discussions where the real value comes from. Places like r/relationships and r/AskHistorians aren't link-based. It's original content that you really couldn't get anywhere else.
The web lost a lot when RSS died but reddit helped the Internet live up to some of its original promise. I hope you try some of these subreddits and feel free to suggest some of your own below.
He's also put together this list of 15 books that you've probably never heard of that will alter your worldview, help you excel at your career and teach you how to live a better life.