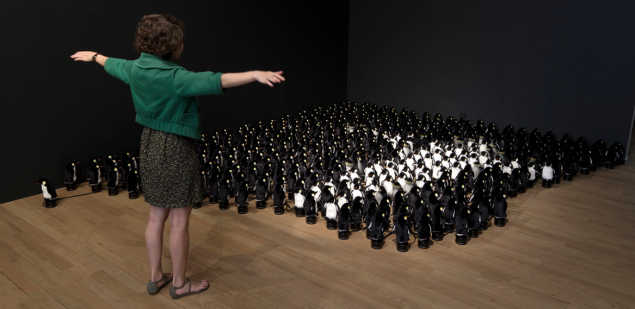 TUESDAY, MAY 26
Opening: "Huang Rui: Language Color" at Zürcher Gallery
Huang Rui was a founding member of the Chinese avant-garde group the Stars, which was active in Beijing from 1979 to 1983 and included such controversial artists as Ai Weiwei, Wang Keping, and Ma Desheng. Now, the artist is finally making his New York solo show debut. Here's a chance to meet the 63-year-old and see two sides, yin and yang, of his work: geometric abstractions based on city maps, gardens and waterways from the 1980s, and recent conceptual word paintings that use puns to make political and social commentary.
Zürcher Gallery, 33 Bleecker Street, 6-8 p.m.
Screening: "Barbara Hammer's "Welcome to This House, a Film on Elizabeth Bishop" at the Museum of Modern Art
Award-winning visual artist and filmmaker Barbara Hammer, one of the pioneers of queer cinema, has made more than 80 moving-image works over her 40-year career. The subject of a month-long retrospective at MoMA in 2010, Ms. Hammer returns to the museum to premiere her latest documentary film, which explores the life of closeted lesbian poet Elizabeth Bishop (1911–1979) through the homes in which she lived and interviews with friends and scholars that provide missing accounts of numerous female lovers.
The Museum of Modern Art, 11 West 53rd Street, 7 p.m., free with museum admission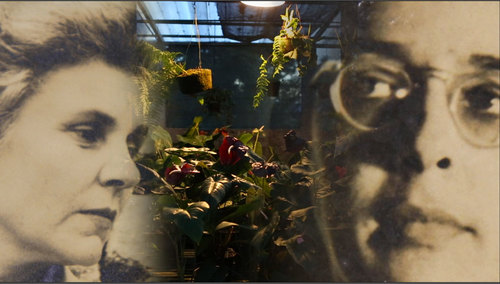 WEDNESDAY, MAY 27
Talk: "The Art of Reading: Peter Nagy and the Xerox" at the New York Public Library
Artist Peter Nagy was an advocate for a neo-conceptual form of postmodern art that was dubbed "Infotainment," and was also the co-founder of the East Village's legendary Nature Morte gallery in the early-1980s. Appropriating corporate logos and advertisement imagery from the mass media, Mr. Nagy used Xerox machines to create timelines and floor plans that critiqued contemporary culture. On this rare occasion, Mr. Nagy—who now runs an avant-garde gallery in India—is joined by fellow postmodernist artists Ross Bleckner and Philip Taaffe, and dynamic critic, curator, and publisher Richard Milazzo. As an added bonus, a one-night-only exhibition of Mr. Nagy's Xerox works will take place in the anteroom of auditorium.
The New York Public Library, Stephen A. Schwarzman Building, Fifth Avenue at 42nd Street, 6-8 p.m., doors open at 5:30 p.m.
Opening: "Daniel Rozin: Descent With Modification" at Bitforms Gallery
Taking Charles Darwin's On The Origin of Species by Means of Natural Selection as a point of departure, new media artist Daniel Rozin presents six interactive installations that use special computer software and motion tracking devices to examine the realm of artificial life. In Penguins Mirror, 450 motorized plush toys group together to form a silhouette image of the viewer, while 928 faux fur puffs mechanically adjust themselves to replicate your fluffy form in PomPom Mirror. Be prepared to take lots of selfies!
Bitforms Gallery, 131 Allen Street, 6-8 p.m.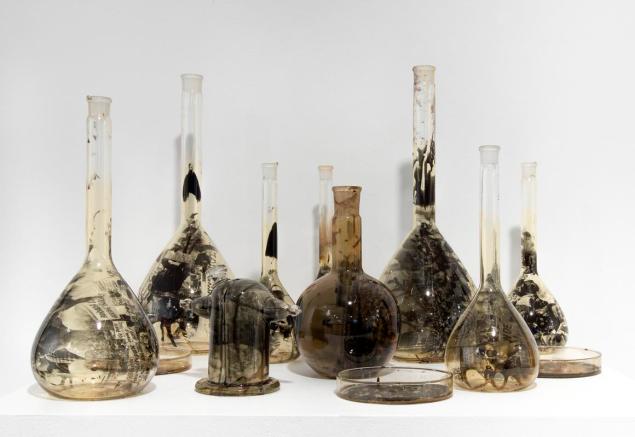 THURSDAY, MAY 28
Opening: "Fayçal Baghriche's What Looks Back At Us" at Taymour Grahne Gallery
French-Algerian artist Fayçal Baghriche presents his newest photography work, the "Atlas" series, of hands holding worthless quartz Geodes that conmen in North Africa modify to look like gem stones and sell to tourists at high prices. The artist ask us to question the value of the art we acquire, while his Family Friendly series offers images of nudity from popular art magazines that have been hand censored for the Muslim market. Displaying two identical pages with the same ink marks, he turns the tables by presenting the anonymous censor's action as art—clever work from an emerging part of the world.
Taymour Grahne Gallery, 157 Hudson Street, 6-8 p.m.
Opening: "Yoan Capote: Collective Unconscious," at Jack Shainman Gallery
With stories about the United States' changing relationship with Cuba regularly on the nightly news, what better time to look at the work of a Cuban artist dealing with history? Drawing on Carl Jung's assertion that a person's behavior and thoughts maintain an unconscious link with the past and its archetypes, Yoan Capote delves into his Cuban nationality while speaking to a more universal experience. We're excited to see Mr. Capote's giant bust of Fidel Castro constructed from thousands of door hinges that came from Havana buildings and a laboratory embedded with photographs of large crowds gathering at political events. Why travel to Cuba when the art is here!
Jack Shainman Gallery, 513 West 20th Street and 524 West 24th Street, 6-8 p.m.

Opening: "Park Seo-Bo" at Galerie Perrotin
One of the founding members of the Dansaekhwa monochrome movement, a synthesis between traditional Korean spirit and Western abstraction, 83-year-old Park Seo-Bo is an esteemed artist in his homeland. Steadily gaining recognition abroad, his work is part of the exhibition "Dansaekhwa," an official collateral event in this year's 56th Venice Biennial. At Perrotin, the artist exhibits his sublime, minimalist canvases rich with repetitions of geometrical patterns—a form of art that's made to empty the mind, which sounds like a welcome experience for us urban dwellers.
Galerie Perrotin, 909 Madison Avenue, 6-8 p.m.
Performance: "New Inc and Deep Lab: Drone Painting Performance" at the New Museum
You may have seen the abstract paintings by KATSU that were made by a drone aircraft or a video documenting how the paintings were made and the technology used to make them, but now is the chance to actually see a drone painting—stroke by stroke—being made. As part of the New Museum's three-day Ideas City Festival, which kicks off today with an all-day conference at Cooper Union, the museum's experimental incubator New Inc. teams up with cyberfeminist research collective Deep Lab to fulfill every graffiti artist's dream.
New Museum, 231 Bowery, 8-9 p.m., accessible only from the street