Art-worlders, has it ever been this crazy? There are a stunning 77 different gallery openings, talks, events, dinners and happenings scheduled in the New York City area on May 14 alone. We're dizzy, and delighted, and have culled a tiny few of the best coming up this weekend. Enjoy.
FRIDAY May 15
Museum: Night at the Museum at MoMA PS1
PS1's event where you can go see art… wait for it… AT NIGHT. How crazy is that!? Klaus and the gang will all be there, and the work of actual artists will be on view (I hear the Math Bass show is stunning). It's only 10 bucks ($12 day-of) and just a short, though heavily trafficked, jaunt across the Queensboro Bridge. And since it's a museum, no one will harass you to buy something.
PS1, 22-25 Jackson Avenue, Long Island City, 9 p.m.-12 a.m.
Talk: Thelma Golden in conversation
with Mr. Arnold Lehman
Of all the great Frieze talks available this week (Ask Jerry!), this one is sure to be filled to the brim with art world types hoping to glean just a few flakes of knowledge from these two. Ms. Golden, director and chief curator of the Studio Museum in Harlem, is currently one of the best in the biz and Mr. Lehman, who is retiring as director of the Brooklyn Museum after 17 crazy years, is no slouch himself. They'll focus on the topic "Whom Does The Museum Serve?"
Frieze New York Art Fair, 20 Randall's Island, 4 p.m.

Opening: Guerrilla Girls at the Abrons
Arts Center
In the 30 years that the Guerrilla Girls have been around, the female wage gap has shrunk from a 30 percent difference to a 20 percent difference. That's a start, but it's still not good enough. Every woman (and every man that loves a woman) should go to this show to pay their respects to a group that has fostered real change both in and out of the art world. Trust me kids, it will be a valuable history lesson. P.S. There will be some serious ephemera in this show (in case you enjoy ephemera as I do).
Abrons Arts Center, 466 Grand Street, 8-10 p.m.
Opening: Haluk Akakce at Richard Tattinger Gallery 
Finally, art openings convenient for night owls (more, please!) "Come Midnight" will showcase all new work, in several media, by the Turkish artist, and it will open at midnight on Friday and go on until Saturday morning, or what the artist dubs "the zero hour."
Tattinger Gallery, 154 Ludlow Street, 12 a.m. – dawn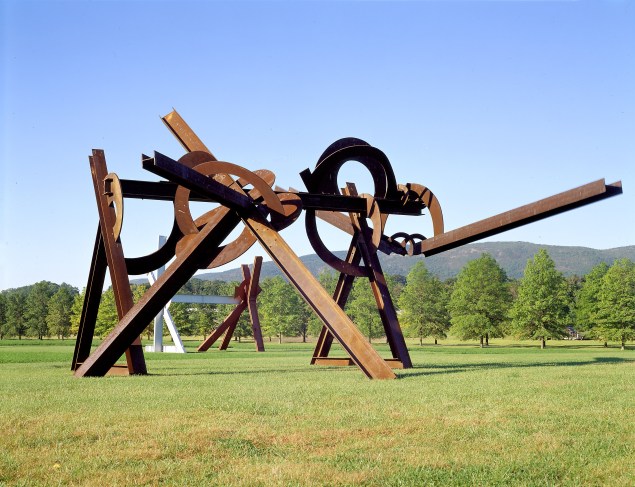 SATURDAY, May 16
Opening: Lynda Benglis at Storm King
Road trip anyone? The always innovative Ms. Benglis brings more than a dozen new works titled Water Sources (plus a selection of older works) to the Hudson Valley's biggest art playground. Ms. Benglis' Seussian fountains—some of which tower up to 17 feet tall—should be both literally and metaphorically refreshing. On top of that, Storm King will present brainy art dude Luke Stettner's new outdoor installation. The piece was created using a menacing mystery material called Biochar (it's really just charcoal, but it sounds evil, doesn't it?). The duo should make for a lovely little stay-away-for-a-day-cation.
Storm King, 1 Museum Road, New Windsor, N.Y., 10 a.m.-5:30 p.m.
Film Premiere: Eva Hesse at The Whitney Museum of American Art
The estate of the brilliant and ground-breaking sculptor, along with her gallery, Hauser & Wirth, present the premiere of this documentary about her life and work. The after-party is at the highly enjoyable Roth New York Bar run by Hauser & Wirth on 511 West 18th Street. That's too far away, you say? Remember, the Whitney is now downtown.
The Whitney, 99 Gansevoort Street, 7 p.m., private

Opening: "Frida Kahlo: Art, Garden, Life"
Can a garden have a "blockbuster?" The simple answer is "Yes!" The New York Botanical Garden opens to the public an elaborate not-to-be-missed exhibition that recreates the lush gardens and studio of Frida Kahlo and juxtaposes those installations with loans of major works by the artist.
The New York Botanical Garden, 2900 Southern Boulevard, The Bronx, 10 a.m.-6 p.m.
SUNDAY, May 17
Opening: El Anatsui at The School
Jack Shainman's Hudson River space, with its soaring 24-foot ceilings and generous five acres of lawn and trees, turns one-year-old and celebrates with a show of work, both new and old (and often monumental) by Anatsui.
25 Broad Street, Kinderhook, NY 1-4 p.m.