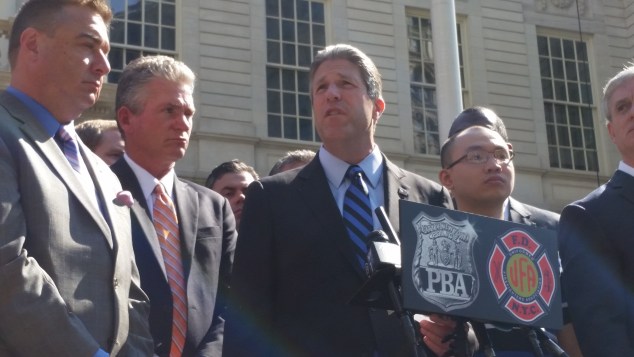 Police and firefighter unions blasted Mayor Bill de Blasio today for proposing a boost to their disability benefits that they say doesn't go nearly far enough.
The fiery City Hall press conference, which featured a long line of Democratic elected officials normally more sympathetic to the liberal mayor, was a repeat of past performances. Critics of the mayor said he was unsympathetic to wounded policemen and firefighters, who receive lower disability retirement benefits if they were hired after July of 2009–the unions leaders and much of the City Council are demanding Mr. de Blasio back a reversal of the 2009 state law, though City Hall contends that would be too costly for New York City taxpayers.
"His bill is a disgrace," said Stephen Cassidy, the president Uniformed Firefighters Association. "His proposal is completely, wholly unacceptable and doesn't solve the real issue, which is firefighters and police officers need to know if they're permanently injured in the line of duty that their familes will be taken care of."
Patrolmen's Benevolent Association President Patrick Lynch, a frequent antagonist of the mayor, joined Mr. Cassidy, along with Public Advocate Letitia James, a mayoral ally, and Comptroller Scott Stringer. A majority of the City Council supports passing a "home rule" message that would allow the State Legislature to reverse the cuts to disability benefits made in 2009.
Earlier this month, Mr. de Blasio proposed increasing the payout by removing a social security offset and calculating benefits at a higher salary point. According to City Hall, the unions' proposal would cost $400 million through the 2019 fiscal year and Mr. de Blasio's plan would only be $47 million over the same period. (Mr. Cassidy and his supporters argue the calculations the city made are faulty because they are based on disability paid out after the September 11 attacks.)
Mr. Stringer, while backing Mr. Cassidy, could not tell reporters this morning how much more it would cost the city, in his estimation, to pay all wounded cops and firefighters benefits equal to 75 percent of their salaries plus any social security benefits. He maintained, rather, that unspecified pension "savings" would allow the city to make these payments and remain on firm fiscal footing.
"The bottom line is that there cannot be two classes of heroes," Mr. Stringer said.
The union leaders also have an ally in Gov. Andrew Cuomo, who suddenly endorsed the full return of disability payouts to pre-2009 levels. Though Mr. Cuomo has often touted his fiscal restraint and opposed labor unions, he seems to delight equally in tweaking Mr. de Blasio at every turn. It would be New York City, and not the State, that bears the burden of boosted disability benefits.
In his testimony to the City Council today, City Hall's labor negotiator Robert Linn said pensions for uniformed officers "are currently some of the most expensive in the country." The City Council is holding a hearing on the disability proposals and will then possibly schedule a vote on a home rule message, which Mr. de Blasio won't be able to veto. (Council Speaker Melissa Mark-Viverito has yet to take a position on any plan.)
Assemblyman Peter Abbate, a Brooklyn Democrat carrying the bill that would restore disability benefits, warned that the City Council needs to act in the few remaining weeks before the legislative session ends. (Albany, however, is known for its last minute horse-trading.)
"Time is running short," he said. "The mayor … he's running out the clock."
"It's an outrage what's going on with this administration, going around the country, saying he's looking for a $15 minimum wage for workers in the city and will not give more than $27 or $30 to an injured police or firemen for the whole day," the assemblyman added.