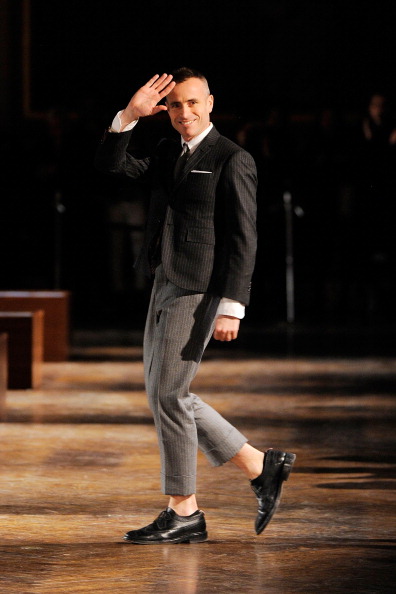 Commenting on women's dress and skirt lengths has been the subject of frenzied fashion talk since mankind set its mind to the task of covering up.  But recently, fluctuations in the length of men's trousers have caused raised eyebrows and head scratching too. Skirt lengths are so last millenium This spring the most fashionable trousers are finishing a number of inches above the masculine ankle,  sending some guys into a sartorial tailspin not experienced since soccer player David Beckham wore a sarong (a fancy word for a wrap-around skirt) in 1998. 
Much of this can be laid at the door of designer Thom Browne, a man who wears trousers of any length except long. "Thom Browne has made very short cropped trousers his signature over the past several years and that works for a very specific guy," Brian Boye, executive fashion director of Men's Health told the Observer. Mr. Browne's edgy, cropped trousers have now filtered out into the mainstream of men's fashion. To keep your trousers the right side of something a clown might wear, according to Mr. Boye, the trick is to ensure they don't creep up any higher than mid-shin. "It's best if they fall about an inch above the ankle," he advised. This is a view shared by Ryan Thompson, co-founder of the menswear fashion site, Conversational Style. "Any shorter and you'll look like you're about to wade through something unpleasant," he added as an urgent warning. "Also, cropped trousers shouldn't be confused with Bermuda shorts, calves have to be well covered for a garment to qualify as 'trousers.' "
But what about the less than savory exposed flesh of hairy lower legs? Wear such an attenuated lower half will test the aesthetic value of conventional footwear to the hilt. "Funnily enough, dressier, chunky shoes actually work well with shorter trousers. Brogues, double monks and oxfords all go," said Mr. Boye, adding that suede desert boots and white sneakers are the best choices for casual cropped chino styles. "My preference this summer is for tasseled loafers or even double monk strap shoes when erring on the smart side," suggested Mr. Thompson, "while a pair of suede derbies or lo-fi sneakers are perfect for a more casual effect."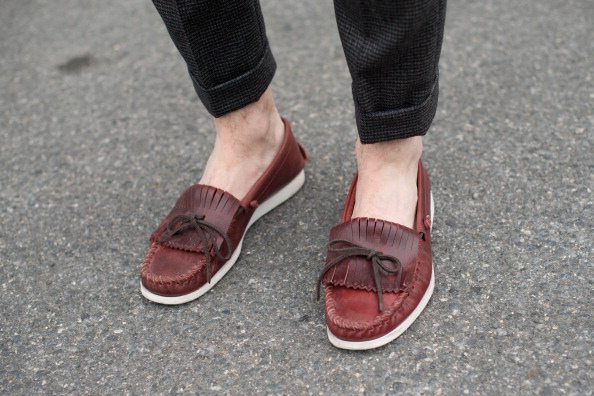 For Mr. Boye, socks are a no-no with this look. Luke Sweeney, from London-based tailors, Thom Sweeney couldn't agree more. "This style looks much better without the bulk and heft of socks," he definitively told the Observer.
Which leaves, of course, the all-important question of  the cut and detailing of cropped trousers. "For me, the trouser width is just as important as length when wearing this style of trousers," said Mr. Sweeney. "If you usually wear straight cut trousers beware, they don't flatter these shorter looks. The width needs to be narrow for a shorter trouser to look right," he added.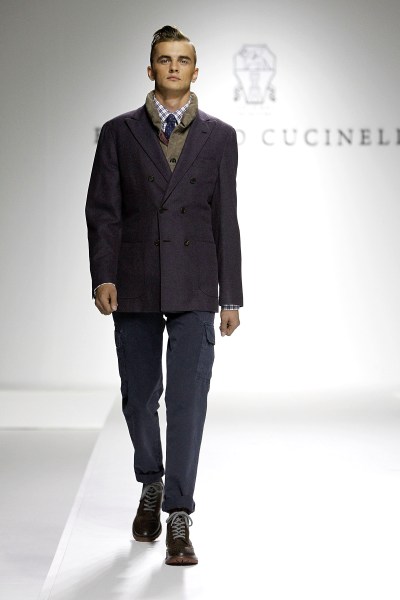 Italian label Brunello Cucinelli, Swedish fashion brand Acne and Japanese designer Junya Watanabe have all presented trousers cut to end well above the ankle with a flattering taper at the bottom. For Mr. Watanabe, laid-back flip-flops were the footwear of choice on his catwalk. The key challenge with shorter-length trousers comes when the wearer is seated.   Keep in mind, slightly longer cropped styles avoid the pitfall of short trousers riding up to, or even—red alert—above the knees. "This really is a minefield," warned Mr. Thompson.
Of course, for many of us, the taper cut chino is the best expression of this short/long look. They can be rolled up to the perfect height and will not fall back down (as long as they're made in reasonably heavy weight cotton drill). Tapered chino styles by the Gap, Polo Ralph Lauren and Gant work particularly well rolled up. And if the kinds of looks you've seen on the Thom Browne runway are enough to make you run away, then keeping this look on the casual side is the safest option. After all, you could have just rolled up your chinos to avoid splashing yourself as you manfully stepped from your yacht to shore. Just make sure your socks are safely in your tote bag. And best of all, when the trend is for longer styles next spring: just roll them back down again.