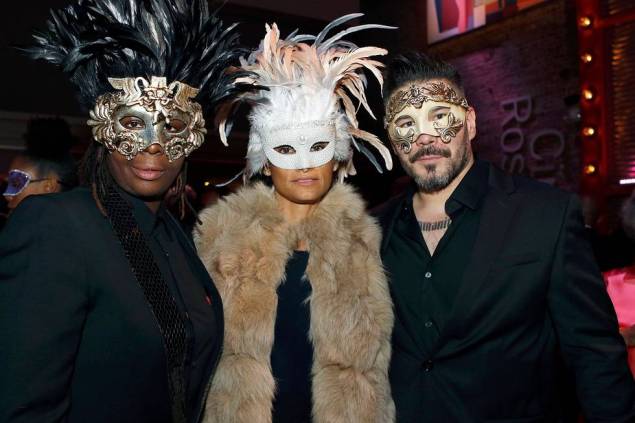 On Thursday, the Museum of the Museum of Contemporary African Diasporan Arts (MoCADA) held its inaugural Masquerade Gala at the Brooklyn Academy of Music. The event celebrated artists and activists Mickalene Thomas, Tonya Lewis Lee, Spike Lee, and Phillip Agnew of the Dream Defenders for their contributions to the arts and social justice. While many attendees were wearing brightly colored, feathered, and glittered masks over their faces, there was no hiding the joy as donations poured in for an expansion project that will move the museum to a brand new Brooklyn-based location.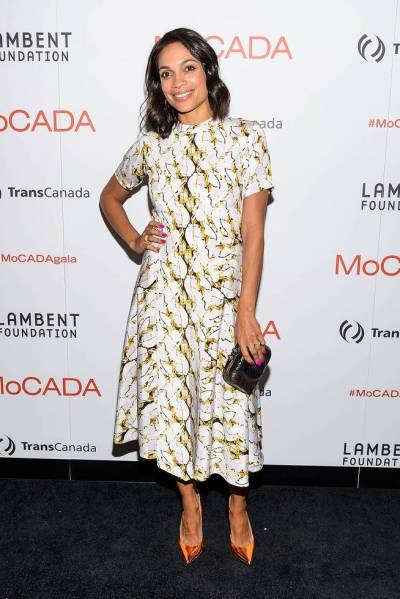 The evening kicked off on the red carpet, where celebrities, honorees, Brooklyn politicians, and MoCADA staff stopped to pose for a picture. Singer Estelle wore a fitted black and white lace dress and sky-high heels; actress Rosario Dawson paused to hug fellow actor Malik Yoba; and MoCADA executive director James Bartlett posed with a number of the guests including activist Phillip Agnew and Grey's Anatomy star Jesse Williams.
Inside, the room sparkled as glasses clanked, and guests mingled. Masks were donned, voices became louder, and people quickly became even more welcoming as they shared a watershed moment for the museum's history. Attendees stopped over at the silent auction tables, where donated art work from artists Kehinde Wiley, Victor Matthews, and Tim Okamura was on view, and could be bid on via online auction platform Paddle8.
When it came time to make speeches, James Bartlett raised even more donations by asking people to match his own $1000 donation. In less than a minute, $15,000 was raised with a show of hands. Brooklyn Borough president Eric Adams brought Brooklyn councilwoman and MoCADA founder Laurie Cumbo to the stage to tell a the story of how they met, and what can come of community members working together. Artist Mickalene Thomas accepted the Artistic Advocacy Award all while managing to keep her elaborately feathered mask on. When Phillip Agnew of the Dream Defenders received his award, he gave a moving speech about social equality delivered like a spoken word performance.
The evening hit a perfect high note when Kirk Douglas of The Roots treated everyone to a guitar set.