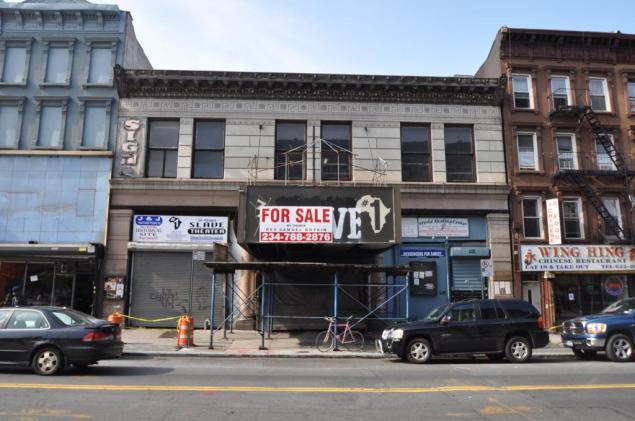 Visitors entering 1215 Fulton Street in Bed-Stuy, Brooklyn, are greeted by the ruins of a concession hall and by striking murals. "Lost my name, tribal language, my homeland, African wealth!" one reads, an image of a beat-down man beside it.
In the next room are seats that hosted hundreds of visitors for movie premieres, gatherings and civil rights discussions. Paintings are ripped from panels. A few portraits survive, tarnished by wear and tear. Martin Luther King Jr.'s face looms on the left side.
This is the Slave Theater, a New York landmark that's being tugged between gentrification and tradition—and is literally caving under the pressure.
Formerly the Regent Theater, the Slave was renamed to reflect African-American heritage when noted Brooklyn jurist, Judge John Phillips, purchased the building in 1984. After a series of violent attacks on black men in Howard Beach, Queens, in 1986, Phillips repurposed his theater as a meeting place for rallies and talks among Brooklyn's civil rights activists, dubbing it Slave One.
---

The landmark is being tugged between gentrification and tradition
—and is literally caving under
the pressure.

---
A mentor to the community, Phillips was declared mentally incapacitated late in life, and, before he died in 2008, a slew of rotating guardians lost most of his fortune. Rev. Samuel Boykin of Ohio, a nephew of Phillips (although some dispute the connection), was his last guardian and inherited the Slave Theater.
In 2008, the fight for Slave One began. Clarence and Omar Hardy, friends and longtime caretakers of the judge while he was in assisted living, said that they owned the theater, but Rev. Boykin argued otherwise. He decried the Hardys as "squatters" and several legal battles resulted. In a recent development, Judge Diana A. Johnson in the surrogate's court of the State of New York, Kings County, ordered that "the Letter of Administration of the goods, chattels and credits which were of John L. Phillips, deceased, issued and granted to the said Samuel L. Boykin on the 16th day of January 2009, are hereby revoked." However, Rev. Boykin had already sold the Slave Theater to Fulton Halsey Development Group in August 2013.
Jonathan Solari, the 29-year-old founding artistic director of the New Brooklyn Theatre, stumbled upon the legacy of the Slave in 2012, when he interviewed Clarence Hardy for his project, "The Love Letter You've Been Meaning to Write New York." He was taken by Mr. Hardy's stories surrounding the deteriorating marquee he had passed so many times on his walks, and felt a pull to save it.
"I mulled it over and I spoke with some friends and said, 'O.K., well let's do this," Mr. Solari told the Observer. "The founding mission [of his New Brooklyn Theatre] was to restore that building to a space that could provide something for the community again." Mr. Solari began a Kickstarter campaign to fund the purchase of the theater and raised $41,000, but he wasn't able to write a check before Rev. Boykin sold the Slave to Fulton Halsey.
When Mr. Solari heard that the developer was in talks with Rev. Boykin, he said he rushed to their offices to request a meeting. He then informed the real estate gurus about the cultural relevance of the Slave, asking them to consider its importance. Fulton Halsey was receptive, and while the company intends to convert Slave One's upper levels into apartments, it is in conversations with Mr. Solari about sharing the first few floors with the theater company.
The former theater is so damaged that it is now nearly unsalvageable. During Mr. Solari's last meeting with architects and Fulton Halsey a year ago, experts proposed that Slave One might have to be torn down and reconstructed. Still, Mr. Solari has hope that he can at least preserve the essence of the theater for future audiences.
"I think there has to be as much of the spirit of that building as possible," he said. "The conversation became a matter of 'what can we restore? From a structural engineering perspective, what elements from the building are able to still stand?'"
Mr. Solari has also attempted to include the Hardy family in his plans for the Slave, offering them positions on the NBT's board and as historical advisors. However, the Hardys have declined; they told the Observer that they support Mr. Solari's efforts, but they don't agree with the way that he has navigated the situation. For them, Slave One should be open to everyone. They said they would be happy to ally with Mr. Solari if he would acknowledge them as the property owners and not Fulton Halsey.
Right now, NBT is caught up in a waiting game while Fulton Halsey decides what to do with the building. Meanwhile, Mr. Solari is working on his company's 2015 season, a tribute to African-American women. He still has his eye on the Slave, but is trying to be patient.
"This was an opportunity to have a home that honored the history, that gave something back to the community and provided an opportunity for developing artists and kids in the neighborhood to have something to do," Mr. Solari said. "It's going to be a long uphill climb to be able to get this place open again, and that's what we signed up for. We didn't know everything that would come at us, but in the meantime, I'm just trying to produce good theater."