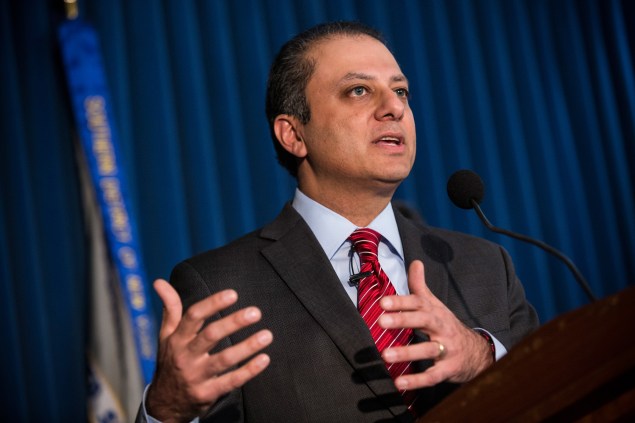 He did not opine at length on corruption festering in New York State. He did not warn reporters to "stay tuned." He did not, ultimately, speak for a very long time.
In his press conference unveiling a six-count criminal complaint against Dean Skelos, the Republican majority leader, U.S. Attorney Preet Bharara was a subdued version of himself, reciting the charges, taking a limited number of questions, and swiftly departing. The press attempted several times to goad him into lambasting Albany, as he has done often.
Mr. Bharara, for reasons that aren't clear, passed.
"I've said a lot about … what this says about the state of corruption in the public so I don't think I need to elaborate on that here," he said at his Manhattan headquarters this afternoon. "I think the complaint speaks for itself."
Did the prosecutor who indicted former Assembly Speaker Sheldon Silver and excoriated the "three men in the room" approach to state governance have any suggestions about how to fix corruption in Albany?
"I don't think this is the time or place to talk about reforms that might have made sense," he said.
Should the public, like he said in January after Mr. Silver's arrest, "stay tuned" to more corruption charges against elected officials?
"I think implicit at the end of any comment I might make in this podium is you should stay tuned. You should stay tuned to our cyber cases, you should stay tuned for our terrorism cases and you should also stay tuned for our public corruption cases," Mr. Bharara replied. "There are public corruption cases pending in the office when I arrive and there will be public corruption cases, fortunately or unfortunately, pending when I leave."
"We have a public corruption unit—we're not intending to disband it," he added.
Mr. Bharara, a suave and swaggering prosecutor, has drawn criticism from judges and academics for offering critiques of the political system that seem to extend beyond his purview as a U.S. attorney. He has delivered keynote addresses at conferences that have little to do with the legal world, including a Regional Plan Association convention attended by many of the city's political and business elite. Unlike neighboring offices in Brooklyn and New Jersey, he has appeared far more willing to leak the details of his investigations to select news outlets: the investigation into Mr. Skelos' business dealings had been reported at length before today. (His office denies leaking information.)
A Manhattan federal judge in the Silver case said Mr. Bharara "strayed so close to the edge" of the rules governing his own conduct. With a bit of snark, Mr. Bharara rejected the notion that this criticism forced him to alter his approach.
"You're asking me at a press conference to talk about a judge's opinion?" he asked a reporter. "Nice try."
When Mr. Bharara brought corruption charges against Mr. Silver, he was almost gleeful. He referred to the "titanic" power Mr. Silver, the speaker for 21 years before resigning in February, wielded in Albany.
"Politicians are supposed to be on the people's payroll, not on secret retainer to wealthy special interests they do favors for," Mr. Bharara declared in January. "These charges go to the very core of what ails Albany–a lack of transparency, lack of accountability, and lack of principle joined with an overabundance of greed, cronyism, and self-dealing."
Mr. Bharara conducted a more by-the-book press conference today that lasted only a half hour. He explained how Mr. Skelos and his son Adam allegedly committed extortion, conspired to commit fraud and solicited bribes. He alleged, with little lingual flourish, that Mr. Skelos sought to direct companies with business before the state to give business to his son, with the expectation that Mr. Skelos would then treat those companies favorably. Like Mr. Silver—Mr. Bharara refused to make the connection between the two Albany power brokers—the younger Skelos was charged with taking a no-show job, this time with an environmental company that won a contract with Nassau County.
"Adam literally knew nothing about the business," Mr. Bharara charged.
Mr. Bharara would only say that corruption in Albany is "deep-seated."
"We are deadly serious about tackling that problem," he said.