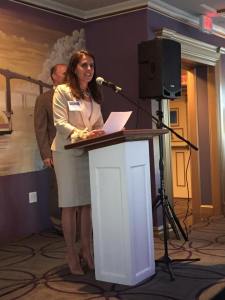 It's on like Donkey Kong. Balloting for the runoff for SBA Secretary—irresistible inside baseball to New Jersey's legal community—has begun. PolitickerNJ has been covering the race in which the nominating committee's choice, Kim Yonta, was forced into a runoff by insurgent candidate Fruqan Mouzon.
Yesterday afternoon featured an interesting development.
A Mouzon supporter named Christine A. Amalfe — his former colleague at Gibbons, where Mouzon worked before being hired by Steve Sweeney as Counsel to the Senate Majority—sent an email to people who had indicated support for Mouzon's candidacy urging them "to act as a 'Vote Captain'" and email back signaling agreement to "do the necessary follow up and communication within the firm."
It was innocuous stuff—basically a get out the vote plan.
But there are two intriguing aspects.
First, the email asks all respondents to "reply all" signaling agreement to serve as Vote Captain. That would mean answering to Amalfe, to Mouzon himself, and to a third person, Chris Russell, the highly regarded Republican operative who runs an eponymous consulting firm and steered Tom MacArthur into Congress and Jon Runyan before him.
No one can doubt the GOTV skills of Russell (who happens to be a friend of this reporter). But it's curious to see the Republican's name included as an organizer for someone so closely associated with the state's highest-elected Democrat, someone who is also Gov. Christie's main antagonist.
Asked about his involvement, Russell told PolitickerNJ, "Yes. I am helping out Fruqan. It hasn't been a secret and I haven't tried to hide it. I met him through some folks I know well, and I liked him. We talked and I agreed to assist him in some of the nuts and bolts of the campaign. At the end of the day, it's a non-partisan effort by a bipartisan group of people trying to help a well-qualified person win a competitive election. Nothing more, nothing less."
Fair enough.
For his part, Mouzon told PolitickerNJ, "I guess my current job lends itself to discussions about Steve Sweeney, Democrats and partisan conspiracies.  Looking through that lens perhaps the list of supporters would surprise you.  As you know, Chris Russell is a Republican strategist. You may not know, however, that there are many Republicans who support my run for Secretary. … Our efforts are therefore not about partisanship of any kind.  Nor is it about gender or race.  We are simply trying to present our members with the opportunity to vote for who we collectively believe to be the best choice for State Bar Secretary."
The second interesting tidbit is that Amalfe uses Mouzon's official njleg.org address and asks all recipients to do so, as well. If Mouzon were an elected official, that kind of campaigning with a publicly provided email address would be frowned upon. A ticky-tack violation at most, but after all, these are lawyers, who earn their living by paying attention to the smallest technical details.
This is not a big deal. Not only is it a foot fault at worst, but people who work for the government can't control which address others use for them—it'd be a bigger deal if Mouzon was sending email from his taxpayer funded address rather than just receiving it. And even then … not a big deal.
Yonta seems to agree with that assessment, telling PolitickerNJ, "I do not have the email you are talking about and I do not know anything about a strategist as 'one of the organizers.' What I can tell you is that since the results of the first round of balloting, I have been out meeting the members of the Association, talking to them about their concerns, and discussing issues that they would like to see the NJSBA take on."
Amalfe has not yet responded to emails sent last night asking for comment; if she does respond, this post will be updated.
Voting in the runoff opened yesterday and will run through June 16.