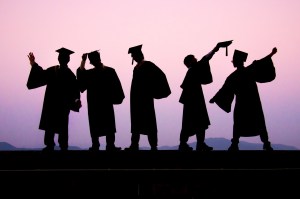 I returned to the class of my high school AP English teacher after almost 20 years. This is based on a talk I gave to her graduating seniors.
I've thought over the last week about what I'd share with you. Not too long ago…well actually 20 years ago (which will go by in the blink of an eye), I was sitting exactly where you're sitting, doing what you're doing, in miss Fauver's AP English class, about to graduate and at a time and a place in my life, much like the one you're in, when in the words of Elle Luna "nothing is known and everything is possible.
So I thought what I'd share with you is the advice that I would give myself if I could go back and talk to the 18 year old version of me. Ironically if I had known everything I'm about to tell you I may not be here telling it to you. That's the thing about being 18. You think you know everything. So in no particular order of importance I'd like to share with you what I've learned on this journey:
Chances are you've been giving a lot of thought to the answer to this question:
What do you want to do with your life?
And it's kind of a loaded question because despite what you might think, you hardly know who you are. You've only lived a small fraction of your life. You might be tempted to answer that question with how you plan to earn a living. But there's a difference between what you plan to do with your life and how you plan to earn a living.
When you don't limit the answer to that question, you open yourself up for a hell of a ride. Even though you've probably spent the last 18 years of your life searching for the right answers in order to get good grades, pass AP tests, get into the college of your dreams and become masters of the universe, I'm not sure there any right answers. And even if there are, I encourage you to search for interesting ones.
So make a list of EVERYTHING you plan to DO with you life.
Write it down in a notebook.
Don't worry about how crazy or insane it sounds or how it's ever going to happen.
Just make the list.
At the end of every year see how many things you've managed to cross off.
As you get older, fatter, and slower (which I know sounds unlikely to you right now) some of those things might not be as easy as they seem right now. So use your time wisely.
The author Neil Gaiman refers to his list as the mountain. And said that as long as he kept walking towards the mountain he knew he'd be alright. And that's the first piece of advice I'd give to you and my 18 year old self.
Don't walk away from the mountain.
Maybe you have plans….
Even a career in mind. If you have Indian parents some options might have been implicitly or explicitly suggested to you:
Do you want to be a doctor, lawyer or engineer? Well how do you plan to earn a living otherwise?
Maybe you've had this conversation at your kitchen table with your parents. I wish someone had told me that you don't have to choose from the options in front of you. There's a whole set that you'll find if you're just willing to look for them. But I didn't look for them. My plan included Berkeley in the fall, straight A's, and some high profile job that I could eventually brag about on my resume. Which takes us to the question….
What is school for?
To attend the greatest party of your life and have lots of sex if you weren't cool enough to do that in high school?
To change the world?
Ideally both. And I know this because I managed to do neither. I had a map and a plan. I thought about being an English major and I went to a career fair on campus two weeks after school started. A recruiter at Accenture told me they didn't hire English majors. So I dropped that idea. And every single choice I made from that point forward was based on what I thought would lead to a job.
I didn't get straight A's. I never got the high profile job
And because of that I wasted one of the greatest gifts that was ever given to me: Berkeley, with a world of options that I would have seen if I hadn't just been looking at the ones in front of me.
So, don't be in such a hurry to grow up and get a real job.
Embrace your curiosity. Study how to make films, cook delicious food, make good art and other things that seem like they have no practical purpose. In indulging your curiosity you're much more likely to find a calling which beats the hell out of a career.
Maybe college isn't part of your plan. The good news is there are other ways to attend the greatest party of your life, have lots of sex, and change the world. And given the rising cost of tuition, they're probably more cost effective. The beautiful thing about being young is that you have no real responsibilities. You can take big risks, the kind that your parents, peers and society might initially frown upon, but will ultimately cause you to grow in ways you never imagined. Some of my happiest most successful friends are the ones who did stints as ski bums before they became "productive members" of society.
When it Doesn't go According to Plan….
Even if you have this whole journey all mapped out, it probably won't go according to plan. Besides, what fun would that be? I graduated into 2 recessions.
1) The first was in December 2001
2) The second was from graduate school in April 2009
One of those recessions you grew up with, the other you probably have little recollection of. Just imagine a time when there was no Google, no Facebook, no twitter, no, iPhone and no Instagram. I know what you're thinking. "Damn, that dude is really old"
At 31, I was broke, had two degrees and a resume that looked a bit more like a rap sheet. So I turned to the two things that have become the driving force of my life: surfing and writing. I finally did what I wish I had figured out when I was your age.
A map is great if you want to go where people have been before. A compass, even though uncertain and unpredictable, will cause you to pave new paths, and lead you to unexpected and amazing places. So for the last 7 years, I've trusted my compass. It hasn't always been fun. It hasn't always been easy. But it's always been interesting.
I wrote every single day…until I was writing 1000 words a day
I started a show called The Unmistakable Creative that thousands of people around the world listen to today.
Since I couldn't achieve something worthy of being invited to TED, I planned my own conference and convinced 9 friends to speak and 60 attendees to show up.
And close to the end of last year, I almost quit. That's the thing about a creative career. It will test your commitment to it. But because I wasn't sure what else to do with myself, I told my parents "give me until the end of the year, and if it hasn't worked out, I'll quit and I'll get a real job." Two Months later an editor found my work online and about a month ago, I got an offer with Penguin Portfolio to write two books. And it happen right after I was almost ready to throw in the towel.
Have there been hard things? Sure. I've seen my friends lose their parents, some lose spouses and others lose their kids. Life is a combo of soul smashing and beautiful things, none of which you can really prepare for. But its also filled with tiny beautiful things as Cheryl Strayed would say.
So I'll leave you with this, which I hope more than any of what I've said you'll take to heart:
May your eyes be clear.
May your hearts be full.
May curiosity rule your senses.
May enthusiasm ignite your actions.
May you see what can't be seen by the world around you.
May you make the impossible possible.
May you strip away, your fears, your expectations, your doubts, and unleash upon the world your gift of the boundless originality that resides within…
May you steal like an artist when appropriate as I have throughout this talk.
Let your life be filled with the magic of hours that feel like minutes, and minutes that feel like seconds.
Let it be filled with words that sound like music, paintings that look like movies, and people who touch your heart.
Let it be filled with sunsets, sun rises, perfect waves, long drawn out kisses in the rain, chocolate cake with ice cream, and moments that flash before your eyes like a montage when you die.
When you arrive at the crossroads of should and must, choose must. When you must choose between the map and the compass, embrace the compass. Do the work, Fight the War of Art, and Turn Pro.
Make living your art, and life your canvas. And remember…
You like the Gods were born to create. Live like it. Namaste.
Srinivas Rao is a best-selling author, host of the Unmistakable Creative Podcast, speaker and occasional instigator of things that need to be instigated. If you've enjoyed this or know someone who'd benefit from it, feel free to share it.