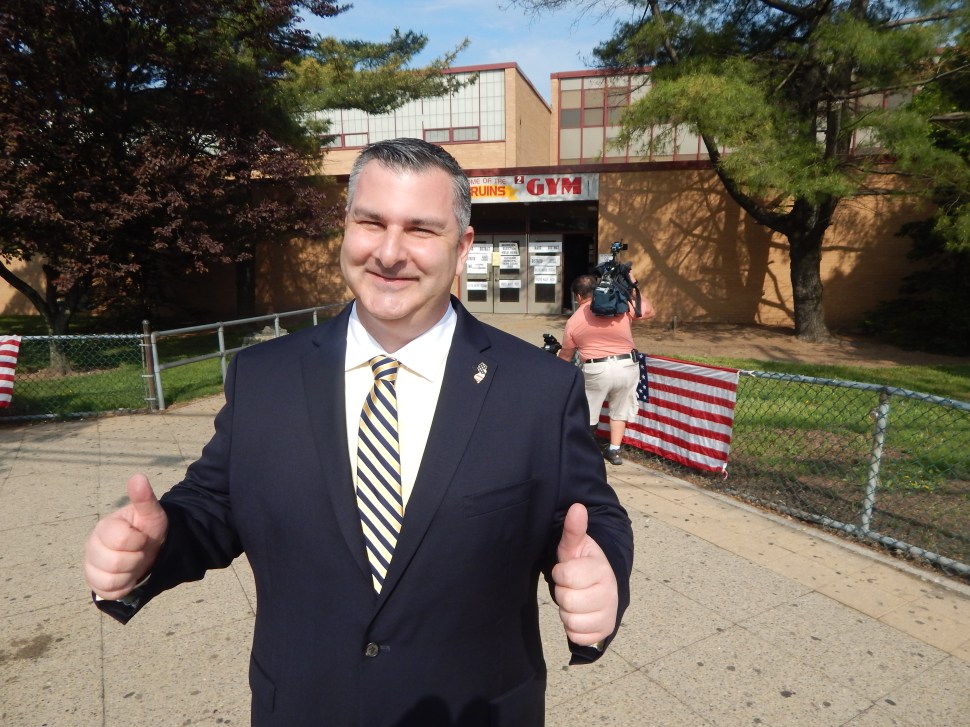 NORTH BERGEN — After suffering a nearly 2-1 loss to incumbent Nick Sacco in yesterday's mayoral election, local businessman Larry Wainstein insisted today that "change" is still coming to this 60,000 resident city — and that he still plans to be the one to bring it.
"Our movement to bring real change and honest government to North Bergen has just begun," Wainstein, in a statement, said. "Yesterday, we received more votes against the Sacco Machine than any other candidates in the 3 decades that Sacco has been in office. The results did not come easy. We achieved it despite intimidation and dirty tricks by Sacco's poll workers, we achieved it despite Sacco bringing in political operatives from all over the State of New Jersey, and we achieved it despite Sacco using his 3 government positions to raise over $1 million from vendors who do business with the Town of North Bergen, the North Bergen Board of Education, and the State of New Jersey."
Bringing to a close a race that Sacco has called one of the "most vicious" he's ever seen, Wainstein's hard-fought loss yesterday is being interpreted in two important ways in the election's wake. Some political observers read success in the comfortable lead Sacco held over the mayoral hopeful, oftentimes in spite of race's vicious nature and a considerable financial investment from Wainstein himself. Others, however, argued that the lead — one of Sacco's weakest since taking office 25 years ago– exposed a certain vulnerability in the incumbent's administration.
(In unofficial counts that do not include vote by mail or provisional ballots, Sacco received approximately 66% of the vote or 8,237 votes to Wainstein's 4,287).
Wainstein pointed out that allies from several neighboring cities and the county dispatched additional street hands to assist in Sacco's get out the vote effort in the late afternoon of the campaign, a move he argued highlighted the pressure his own troops had exerted on the contest.
"On Tuesday afternoon, PolitickerNJ reported that Sacco sent word to other politicians in Hudson County and around the State that he needed reinforcements because the Wainstein campaign was dominating the election," Wainstein said. "This occurred despite Sacco repeatedly stating that he was not going to bring in 'parties from outside of North Bergen' and that he was 'leaving the election up to the people of North Bergen.'"
The son of Argentinian immigrants and founder of the advocacy group North Bergen Concerned Citizens, Wainstein also seemed to find strong support in parts of the city's sizable Hispanic population, which has ballooned in recent years to give North Bergen the third largest Hispanic-majority population in the state. In conversations leading up to the election, several members of that community lamented a lack of attention — and articulated a desire for change — from the current administration.
"Sacco has spent 30 years getting rich off the back of North Bergen taxpayers," Wainstein added. "There is no lie he won't tell to protect his 3 paychecks. The people of North Bergen are waking up to the corruption and nepotism of the Sacco Administration.   Yesterday, hundreds of North Bergen residents volunteer to help bring change to North Bergen.  We are not going anywhere.  Change is coming and Sacco knows it."
Wainstein thanked his supporters — many of whom gathered at the candidate's campaign headquarters at 6225 John F. Kennedy Boulevard after officials called the election last night — and stressed that his work in the North Hudson borough is not over.
"I am so proud of our community and so proud of the thousands of residents who stood up to the Sacco political machine.   Together we have started the revolution that is going to change the future of North Bergen for our children and our grandchildren.   I am very fortunate to call North Bergen my home," Wainstein concluded.