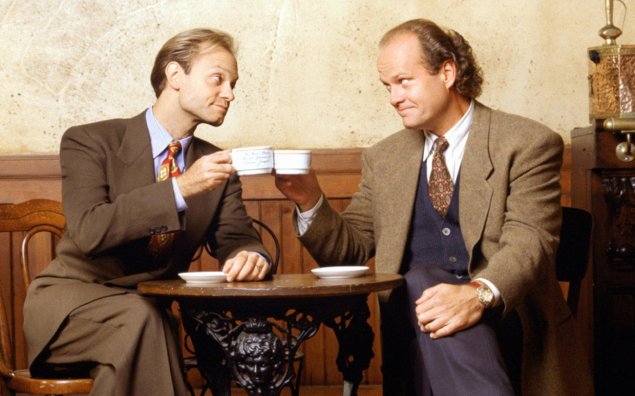 Last week I wrote an epic takedown of Netflix's new series M*A*S*H and of course, online haters everywhere reacted by threatening my life and calling me a liar (this is NOT satire). Well if you couldn't handle my scathing sarcastic takes on a messed up show like that then I've got good news for you: this week I'm reviewing a show that I LOVED.
Dramas can be hard to get into. As an anglophile, I tried to watch Downtown Abbey but I kept falling asleep and spilling Boddington's on myself. There are too many damned characters on Game of Thrones. Every time I try to watch Game of Thrones I'm like "which one is Dumbledore again?" Literally what is even happening on House of Cards? When he talks to the camera is he Kevin Spacey or Frank Underoo? Dramas, am I right? But they're not all bad, some of them are great and feature fun kitschy retro fashion, like Mad Men. Which brings me to this week's new Netflix series, a brilliant story about a deeply fractured man coming to terms with the trenchant spectres of his past in the sepulchral climate of the American northwest. This show is called Frasier.
If you loved Mad Men you will LOVE Frasier.
Frasier 1×1 Recap: The Good Son
Frasier dissects it's pilot episode succinctly into 6 mini-acts that introduce the main players. First we meet the titular Frasier Crane, a mastermind psychologist who wastes away his days exploiting his skill as a self help radio DJ. Frasier Crane immediately grabs me as a complex and disturbed anti-hero, like Sherlock, or James Franco. In the opening scene he consoles a stranger over the airwaves about some kind of bad Tinder date or divorce or something the guy just went through. He then launches into a soliloquy mourning the end of his marriage, agonizing over his separation from his son, and admonishing his own checkered past as a tortured bar fly. After the show he clashes over professionalism with his call screener, Roz, in a scene that is frankly ripe with sexual tension. I can not WAIT to see how this plays out. Very Don and Peggy.
Next we meet Niles, Frasier's brother and intellectual equal. He informs Frasier that their father has slipped in the bathtub and can no longer live alone. They fight a lot. He kind of reminds me of one of those guys that yells at Americans on cooking shows, or a grown up Draco Malfoy. They straight up throw shade at each other while discussing their injured father's roommate emergency. I need to stop here and applaud the razor sharp dialogue that Frasier stitches into it's otherwise entirely suspenseful meetings. I'm reminded of David Mamet, or my own @ replies on Twitter and Facebook. It's also great of a series to finally feature a character like Niles, whose sexuality isn't defined so concretely by the heteronormative patriarchy that governs most of television. Moving on, Frasier agrees to take in his aging father, Martin. Martin is a gritty ex cop who doesn't take shit from anyone, much like the cop that arrested me in 2014 for peeing on Matthew McConaughey's car during SXSW. Martin moves an armchair and a pet dog into Frasier's apartment in an act echoing the very real socioeconomic class gap we see all around us in America today. Dogs, rotting furniture… Frasier has grit. It's dark in all the right ways. I, for one, would love to see Christopher Nolan guest direct an episode.
Niles: Remember what Mom always said: "A handshake is as good as a
     hug."
Frasier: Wise woman.
Midway through the episode Frasier delivers another signature Crane-ologue about time, space, and the metaphysics involved in moving in with one's own father. He meets with Niles about his neurotic breakdown over living with his father, and they clash briefly before resolving to hire a home care assistant. This is an example of Frasier's brilliant almost Vince Gilligan esque ability to write a character into the foreground through plot manipulation. Back at home Martin is having this dark rumination on the nature of his worm infested dog, "Eddie Spaghetti. I think this scene is amazing. It reminds me of the time I read half of The Watchmen in college. We then meet Daphne Moon, a strong female character (finally) who reveals that she is straight up psychic. Frasier wants her out, Martin wants her to move into the apartment, and she remains shrouded in mystery. The retired cop, the psychic, and the genius, all three locked in a LITERAL Mexican standoff of wits. I love it. This scene is soaked in potential disaster. Soaked like the socks I wore when I went to a GWAR show on Special K in Portland in 2009. Martin and Frasier then get into one of those really heartbreaking father-son fights like you would see in a Wes Anderson movie and Daphne leaves.
Daphne: You were a policeman, weren't you?
Finally, back at the radio station, Roz launches into this great Chuck Palahniuk ish sort of story about a dead actress named Lupe Velez that killed herself with a toilet. Frasier then takes a call that turns out to be his father. The two resolve their beef and the future for the family and their new caretaker is for a moment solidified.
Frasier:  I'd consider myself a realist, alright? But in philosophical terms I'm what's called a pessimist… I think human consciousness is a tragic misstep in evolution. We became too self-aware. Nature created an aspect of nature separate from itself – we are creatures that should not exist by natural law… We are things that labor under the illusion of having a self, that accretion of sensory experience and feelings, programmed with total assurance that we are each somebody, when in fact everbody's nobody… I think the honorable thing for our species to do is to deny our programming. Stop reproducing, walk hand in hand into extinction – one last midnight, brothers and sisters opting out of a raw deal.
Wow. Just wow. That was 25 minutes of television that left me floored. I don't know who Kelsey Grammer is but from that performance I can only assume his career is about to take off. He's like a younger Louis CK. Bravo, Frasier, Bravo.