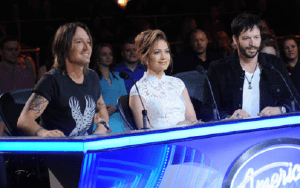 FOX announced its new slate of prime time series this morning, and towards the bottom was an interesting nugget about music competition juggernaut, American Idol. The 15th season, premiering in January 2016, will be the show's final season. From FOX:
"AMERICAN IDOL will begin its 15th – and final – season this January on FOX. A season-long celebratory event, AMERICAN IDOL XV will feature host Ryan Seacrest and judges Jennifer Lopez, Keith Urban and Harry Connick, Jr., as they search for the final IDOL superstar and pay tribute to the past 14 seasons of amazingly talented contestants and the millions of fans who tweeted, texted and championed their IDOLs."
Wow, remember when Kelly Clarkson won the inaugural season approximately a million years ago? Remember Ruben Studdard? Remember that mystery host that wasn't Ryan Seacrest? Brian Dunkleman? How pissed do you think Brian Dunkleman is?
Say what you will about American Idol's viewership now, or the fact that it's a shell of what it was when it began (because viewership is low, and Jennifer Lopez is no peak-crazy Paula Abdul). But  there's no denying that at one point, I'd say for at least five seasons, American Idol was pretty colossally significant culturally. And at the minimum, it produced some genuine names, unlike some people I know.
Now, if you're one of the people upset about Idol coming to a close, hopefully you're an X-Files fan. The six-episode event series return of the 90s sci-fi classic will premiere with two episodes January 24, immediately following the NFL's NFC Championship Game. The X-Files will join a whole slew of new prime time shows for FOX, that range from the meh (this dude from True Blood as Frankenstein's monster! Ryan Murphy's American Horror Story-lite!) to the promising (both John Stamos and Rob Lowe are getting their own comedies) to the hopefully amazing (the adaptation of Vertigo's Lucifer series.)
And if NONE of that will fill the Idol-sized hole in your heart, Grease: LIVE! will air live on Sunday, January 31 and that will be, well…that will definitely be something.