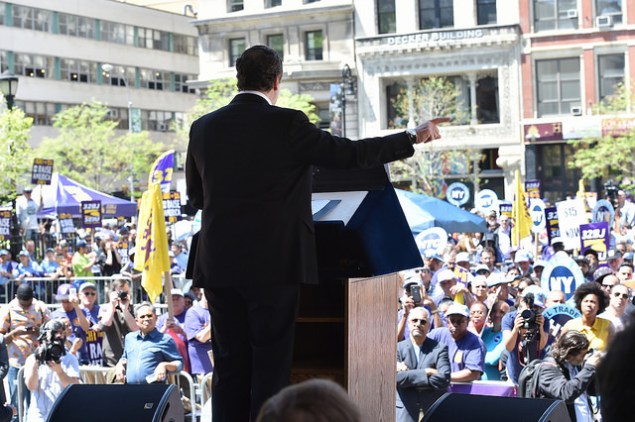 "Corporate greed" is out of control. American capitalism has created a "permanent underclass" that must be saved. Republicans are to be blamed.
Gov. Andrew Cuomo, long known for a triangulating brand of politics that has frustrated liberals throughout his time in office, delivered a rousing speech in support of his plan to convene a wage board to boost the income of fast food workers, sounding more like Bernie Sanders, the socialist Democrat challenging Hillary Clinton for the presidency, than himself. In front of a sympathetic audience of union members in Manhattan's Union Square today, Mr. Cuomo declared that he "wanted to get out of the hamburger business."
The timing was fortuitous–or intentional. With the arrest of Republican Majority Leader Dean Skelos on Monday, Albany was plunged into chaos once again. Mr. Cuomo, in a rally and op-ed in the New York Times, was able to turn the page, at least momentarily.
"It's about employee extortion. It's about corporate responsibility. It's about the misappropriation of taxpayer funds," Mr. Cuomo, his voice rising, said. "It's a fundamental violation of the promise of America. It is unethical. And it should be illegal what's going on."
Invoking Franklin Roosevelt, a hero of the left, Mr. Cuomo called for a wage hike in all industries–but singled out "obnoxious" fast food corporations, who have been the target of union-backed protests for several years. "The taxpayers of this nation have been subsidizing the workers at McDonald's and Burger King at a cost of over seven billion dollars annually and that's just wrong," Mr. Cuomo said.
He took aim at their chief executives: "It's not like the CEOs are struggling. They made an average of about $24 million over the past few years, and it is not like these corporations are even trying to be fair, they don't even pretend over the past few years they quadrupled the CEOs salary and the minimum wage worker went up less than one half of one percent."
"It is outrageous," he added.
Mr. Cuomo's move to convene a wage board would allow him to circumvent the State Legislature, where the GOP controls the upper chamber, to boost the stubbornly low pay of workers in the fast food industry. Though he spent much of his first term working closely with Republicans and did relatively little to aid Democrats in their attempts to retake the Senate, Mr. Cuomo disparaged the Republican Party today.
The unions in attendance–1199 SEIU, 32BJ SEIU and the Hotel and Motel Trades Council–all cheered. In the past, 1199 was a top donor to Senate Republicans.
"The Republican Senate in New York has refused to raise the minimum wage and my friends, they are wrong," Mr. Cuomo charged. "The fact that the minimum wage is too low is not a question of politics and ideology–it's a question of simple math. You cannot support a family in New York for $18,000 a year, period."
He argued that the fast food industries are costing the government money by forcing thousands of workers in the state to go on public assistance. He said he wanted his wage board to finish their determination in three months.
Mr. Cuomo has called for an $11.50 minimum wage in New York City and a dollar less statewide, a far cry from the $15 wage union leaders and many progressive activists want for fast food franchises. A year ago, Mr. Cuomo supported a minimum wage as high as $13 an hour.
But he stopped short of calling for a $15 wage himself.
"I want this panel to take a fair look at the industry. Look at the costs and then I want them to tell me what they think is fair and I don't want to bias them or prejudge them," he told reporters after the rally. "I'll tell you this: the minimum wage is too low as I said in my remarks, it's simply math."
By demanding a wage hike for fast food workers, Mr. Cuomo is challenging an industry that, while powerful, has less clout in New York State politics. The International Franchise Association, an advocacy group for franchise establishments worldwide, called Mr. Cuomo's plan "discriminatory." Executives in the real estate and finance industry, however, are far less impacted by Mr. Cuomo's latest progressive push.
Mr. Cuomo denied Mr. Skelos' arrest played any role in the timing of his announcement.
"This is my only option, frankly, when they won't pass a piece of legislation," he said.