When the penthouse unit at the Brodsky Organization's 45 West 67th Street marked 15ABC last went on the market, in 2007, seeking to clear $14 million, things did not go as planned. The listing shifted from Sotheby's International Realty to Corcoran and finally to Nestseekers, which managed to move the condo pretty quickly, albeit for a much more modest $8.3 million, in 2011. And the buyers that time around, Lengard Projects LLC, quite naturally thought of that brokerage again when they went to sell the (newly-renovated) 3,000 square-foot condo last November, listing it with Kyle Egan, who just succeeded in reselling it for $9.2 million, according to city records.
At more than $3,000 a square foot, the five-bedroom was no steal, even at a price reduced considerably from the aforementioned high. But there is the fact of its 1,110 square feet of delightful-looking outdoor space to consider. Trellised and greenly planted, it appears to be a veritable rooftop oasis. Still, it does not quite match, perhaps, the previous outdoor accommodations of the buyer, Anheuser-Busch vice president of sales, David Almeida, who will be relocating to the city to head up a new headquarters for the company's sales and marketing operations from St. Louis, where the executive had a backyard pool and hot tub surrounded by lush landscaping in luxe suburban style. (Less enviable: the McMansion-ish affair around which said landscaping was arranged.)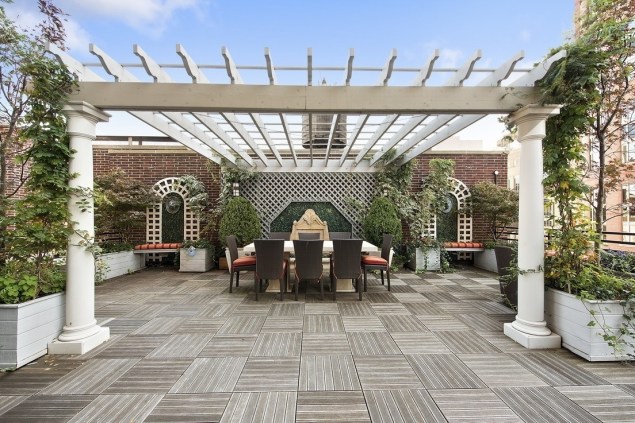 Sleek and modern, with classic touches of molding, dark hardwood floors and elegantly-made wooden built-in cabinetry in several rooms, the interiors at his new place are definitely an upgrade. A bright and gracious living room is lined with wide windows, which look out to skyline views over Central Park. There's a 72-bottle wine fridge, and a "champagne chilling sink" to go with, so as best to celebrate personal triumphs–like the roughly $40.5 million in stock options Mr. Almeida reportedly received a couple years back. There is even a Jacuzzi, to remind him of the old backyard hot tub. Alas, he will be be made to feel the lack of an indoor batting cage, a feature of the St. Louis home that the condo does not share.