Was it the prospect of having Howard Stern as a neighbor that kept buyers away from Eyal Levy's massive Millennium Tower tri-unit combination for nearly three years? Mr. Levy seemed to think the shock-jock's residency would have the opposite effect, when he let drop a few years ago–soon after listing the place for $27 million–that he frequently ran into Mr. Stern in the 53rd-floor hallway that services both his and the DJ's units. As bracing as Mr. Stern can be, we're going to guess that the building, an estimable condo development, has pretty good sound-proofing, and that buyer reluctance probably had more to do with that rather optimistic price tag.
Mr. Eyal and his wife, Jaffa Jane, did well to lower the ask to a modest $17.95 million, re-listing the condo with John Burger, of Brown Harris Stevens. (It was originally listed with Sotheby's International Realty.) And someone known in city records only as 53 CDE LLC has finally agreed to pony up for the pad. The company's name suggests that the buyer will be taking possession of all three of Mr. Levy's units–that is, C, D and E–but it appears that so far, only a $10.5 million deal for a pair of the contiguous apartments has closed.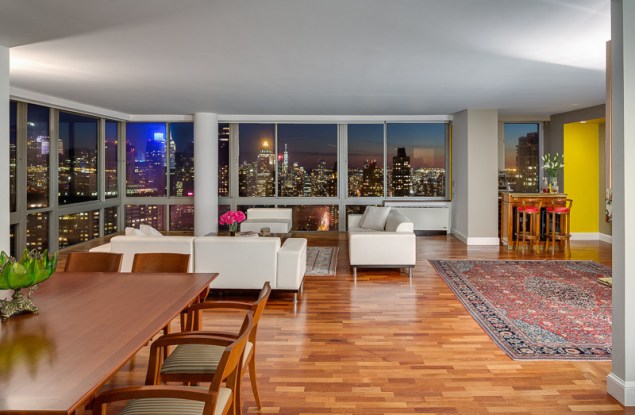 In all, the dwelling sprawls 3,850 square-feet, which, as the seller–the CEO of PlatinumArt, an art financing company–previously noted, seems rather excessive for a man who was planning on moving to London when he put the place on the market. But then again, Manhattan has no shortage of "pied-à-terre"s large enough to house a small village. With five bedrooms and lovely views of Park and skyline, the condo is wrapped in glass and soaked in light. There are herringbone hardwood floors and an expansive entertaining space. The kitchen is smallish, and not terribly modern. But the good news is that the apartment is big enough that the new owners could likely have Howard Stern to dinner and count on not being able to hear him from one side of their home to the other.