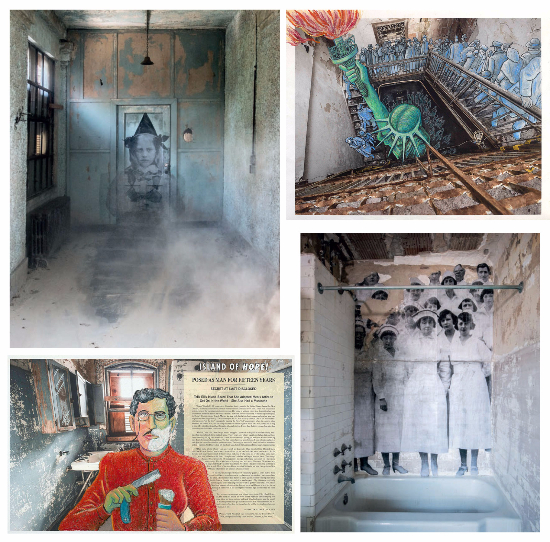 Internationally renowned French artist JR and legendary cartoonist Art Spiegelman have collaborated on a new book, The Ghosts of Ellis Island. The book documents the site-specific project "Unframed—Ellis Island," a series of photographs JR pasted throughout the historic immigration hub, accompanied by drawings by Mr. Spiegelman that depict the personal stories of visitors. The book, published by Damiani, will be released and distributed later this month by Artbook D.A.P.
The project began last August when JR was granted unprecedented access to the Ellis Island Immigrant Hospital in an effort to rejuvenate the old landmark. The hospital, which received close to 10 percent of the millions of immigrants who passed through Ellis Island in its heyday, was abandoned in 1954. Similar to other work in his ongoing Unframed project, JR chose close to 20 archival photographs of real hospital patients and staff and wheat-pasted the images throughout the decaying building. The photographs are displayed in the book in their archival form and as installations, allowing viewers to look at the pictures from two perspectives.
JR's work has been on display at Ellis Island since last year, and it is Mr. Spiegleman's more recent contributions that make the book so unique. Like JR, Mr. Spiegelman used the architecture of the hospital as a background for his drawings, and added colorful figures and text to the foreground. One image shows immigrants walking the stairs of the hospital, with the Statue of Liberty emerging from the center of the staircase.
Mr. Spiegelman also illustrated the stories of specific immigrants that have passed through the hospital over the years. On one page, a Canadian women, who for 15 years posed as a man, until her sex was revealed while aboard the SS New York. She confessed her gender before being tested for tuberculosis and was forced to wait in the private quarters of the hospital until she was released.