Alex Katz is having a good year. The 87-year old artist's giant 1963 portrait of his wife and muse Ada, titled The Red Smile, is prominently displayed at the new Whitney Museum of American Art; he has a solo show of paintings and cut-outs at Gavin Brown enterprise through June 13; and two museum shows—a survey of works from the 1950s at the Colby Museum of Art in Maine and a 60-year retrospective at Atlanta's High Museum of Art, which will travel to the Guggenheim in Bilbao, Spain—are set to open this summer.
But in terms of audacity and visibility, nothing quite matches his takeover of a prominent slice of Madison Avenue.
Katz, famed for his powerhouse portraiture, is collaborating with Barneys New York and Art Production Fund on a limited-edition collection of striking black-and-white home goods and gift items, now available at the store. To promote the collection, Katz has produced a massive mural portraying 18 fashionable women—including APF co-founder's Yvonne Force Villareal and Doreen Remen and director Casey Fremont—spanning the store's Madison Avenue windows for the month of May.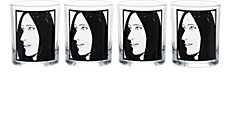 The collection ranges from glassware, bedding and leather tote bags, clutches and scarfs. The line features Katz's signature drawings of black and white flora and portraits of men, women and dogs.
"We worked closely with Alex and his team (his wife Ada, son Vincent and daughter-in-law Vivien) and Barneys to decide on the products," Casey Fremont told the Observer. "It was a combination of Alex's ideas and Barneys' direction as to what would work well."
Why all black and white objects when the artist is known for his use of bold colors?
"I've been doing it a lot lately, and it's the opposite of what tends to please people—you know, lots of colors," said Katz. "Also, black and white is always a fitting color scheme for New York. I think the products turned out really well like that."
All of the drawings, which were made specifically for this project, were rendered in Katz's formalist, reductive style. The dog-print and floral-print throw pillows are particularly appealing—as are the portrait-candle and the drinking glasses—and the his-and-her pillowcases and beach blanket are amusing.
"Alex Katz is a masterful artist whose imagery is so universal it transcends size, medium, and culture— and it translates beautifully onto domestic products," Yvonne Force Villareal and Doreen Remen shared with the Observer. "He has always been passionate about getting his work out in the public realm—from billboards, to affordable prints and products, and this collection is a perfect extension of that."
"I was offered to do this project, and I accepted it—which I thought was pretty bizarre!," Katz revealed in an interview on the Barneys New York website. "It was new for me—I never did store windows. The closest thing to windows I ever did was when [in 1977] I put these huge portraits on 42nd Street. And these windows can be considered public art just like that was," Katz added.
Retailing from $28 (a water bottle) to $75 for a quartet of drinking glasses to $3995 (a limited edition portfolio of drawings by Alex Katz with poems by Vincent Katz), the "Art Production Fund x Alex Katz x Barneys New York" collection is available at the Madison Avenue flagship pop-up shop, as well as in Beverly Hills, Chicago and on Barneys.com through Sept. 3.
Barneys New York is donating 25% of all retail sales of the collection to Art Production Fund, a non-profit organization dedicated to commissioning and producing public art projects.