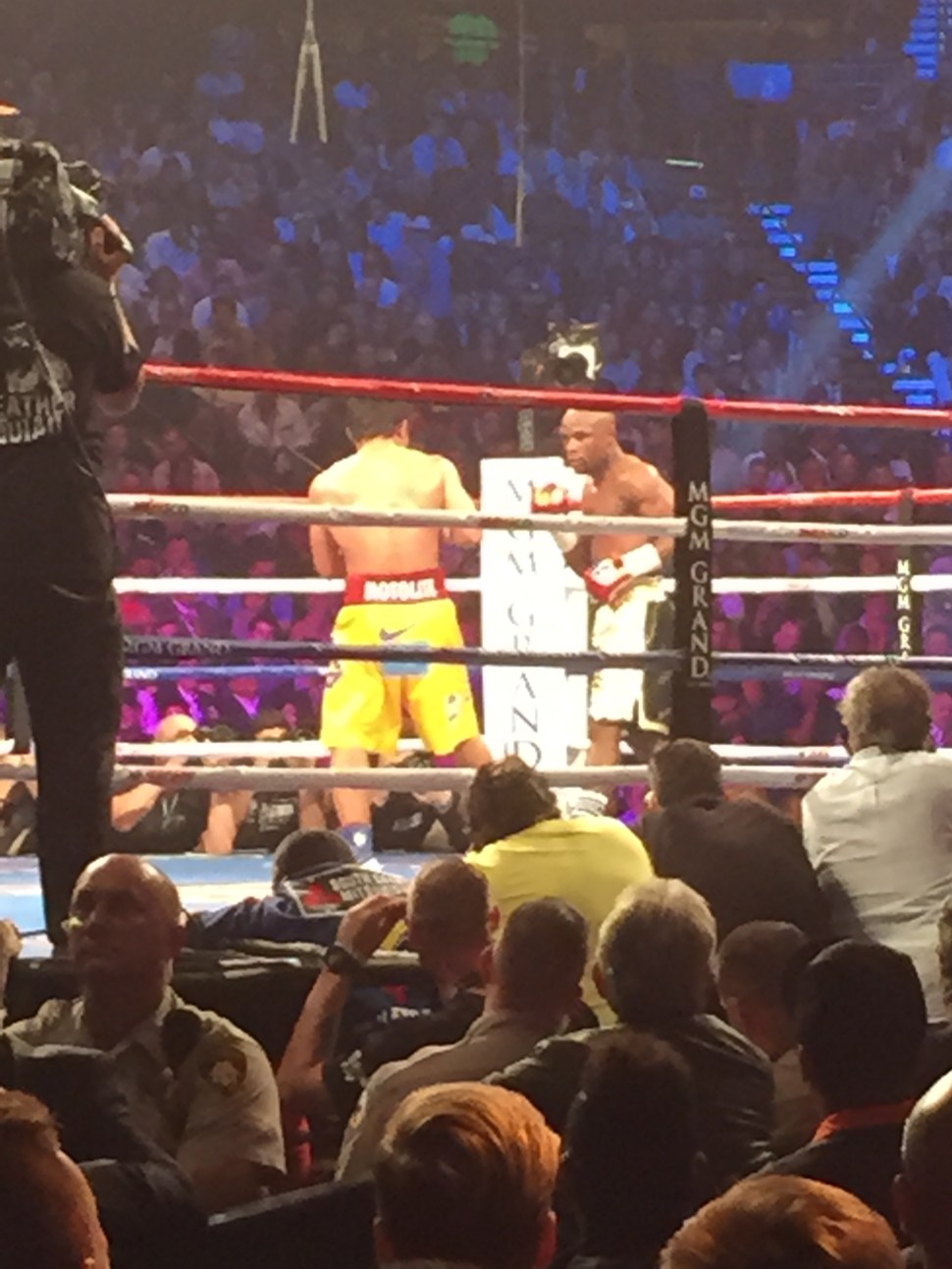 LAS VEGAS—The Fight of the Century was a dud. It's not so much fun, it turns out, watching Manny Pacquaio miss and miss again. It's not that entertaining to see Floyd Mayweather Jr. dance himself to an easy victory, shaking off all the boos at the MGM Grand Garden Arena and solidifying his legacy as perhaps the G.O.A.T. in a sport that, don't forget, has reminded us for decades that nice guys don't always win.
There are probably few people who pay $99 for a pay-per-view broadcast—or $5,000 for a decent but not at all spectacular seat in the priciest of sporting events—who want to see a pillow fight. But for those of us who were lucky enough to be there and get to brag about being there for all time, the scene was priceless.
There's this thing I like to call the Spectacle Circuit, which serves as kind of a world tour for many of the most important and wealthy people on the planet. The Spectacle Circuit includes events like the Super Bowl and Art Basel and Cannes and the Abu Dhabi Grand Prix and, yes, Las Vegas during CES or ICSC.
The pinnacle of the Spectacle Circuit had to be this past weekend in Vegas. You know about Clooney and De Niro and Diddy and Jay Z and Beyonce and [insert countless other celebrities here, almost entirely men], but those keeping close tabs on who truly holds the keys to New York City didn't even have to walk into the MGM Grand.
During five minutes at Steve Wynn's Encore resort on the early evening of the fight, we saw hedge-fund billionaire David Tepper walking around in shorts, stopping to chat with a table that included uber-broker Neal Sroka of Douglas Elliman (DOUG). Mario Carbone and Jeff Zalaznick of the Carbone/Santina/Dirty French/Torrisi/Parm empire, who will open an outpost of Carbone at Vegas' Aria resort later this year, were there too, pre-gaming for the big night ahead. Real estate developer Matthew Moinian strolled across Encore, pausing to say hello to familiar faces. For us, all of this was more exciting than seeing Bradley Cooper in his baseball cap on the casino floor.
Going to the fight itself allowed you to witness things like Giants co-owner Steve Tisch holding court or Vice's Shane Smith having a moment with music/advertising/marketing guru Steve Stoute. They could have just been talking about which dinners and parties they planned to attend afterwards, but let's go ahead and imagine that they were plotting the future of all media.
For some, this was a weekend about making deals, which is, of course, a big point of being on the Spectacle Circuit.
Hip-hop mogul Chris "Gotti" Lorenzo, in town with Ja Rule and rising star Rick Gelband, took meetings at Bellagio to show off his new Add Ventures music platform, which empowers artists to distribute their own music and even allows up-and-comers to book stars like Ja Rule, Fat Joe and Maino for guest appearances on songs. Gotti, best known for he and his brother Irv's dominant run at Murder Inc. Records, told us that he was in town raising money for his new venture.
Real estate brokers Oren and Tal Alexander, the dominant young guns at Douglas Elliman, made the rounds too with their brother Alon (Oren's twin) of Kent Security and Justin Nappi of Treehouse Pictures. They told me they ran into Douglaston Development's Ben Levine at the bout. As you might have guessed, real estate is a big part of the Spectacle Circuit.
The biggest names in development and brokerage are on this global journey, intersecting with the worlds of entertainment and finance and technology and media. (The writer of this piece had a funny moment when he saw two people—The Observer's Jared Kushner and DuJour's Jason Binn—whose publications have recently given him assignments walking into the stands together.)
After the fight, so much of in-the-know and in-the-money New York crowd headed over to the Cosmopolitan, where it didn't even take five minutes to see developer Zach Vella eating at a big table outside Blue Ribbon Sushi Bar & Grill while developer Ben Shauol talked to people walking into the Jay Z-hosted party at Marquee, a club run by New York moguls Noah Tepperberg, Jason Strauss, Marc Packer and Rich Wolf. Blue Ribbon and Marquee share a floor at the Cosmopolitan with Scarpetta, Milos and STK, which means this has to be the most insane collection of New York hospitality talent assembled in less than one city block.
At 12:45 a.m., the DJ at Marquee announced Jay Z's presence as sparklers lit up the room and bottles and bottles of the rapper's Armand de Brignac champagne made their way to a VIP table during an elaborate, but totally normal at this nightclub, presentation that involved a woman in a golden boat hoisted above the crowd by sweaty employees.
A mash-up compilation of Jay Z hits began, and when "Empire State of Mind" started playing, the crowd roared just a little louder, knowing that they had made it here, they had made it everywhere, and soon it would be time to book another flight on the Spectacle Circuit.