Assemblyman Joseph Borelli is considering a campaign to replace Councilman Vincent Ignizio following the Republican's sudden decision to resign his City Council seat.
Mr. Ignizio, the Republican minority leader, said today he would reign to become the chief executive officer of the Catholic Charities of Staten Island. He became the second member of the City Council in the span of one week to announce his resignation, following Queens Councilman Mark Weprin, a Democrat.
Their decisions to leave the Council are unrelated. Mr. Ignizio's office said he would resign sometime in the summer.
"This decision, for me, is bittersweet," Mr. Ignizio, a Staten Island lawmaker, said in a statement. "While I could not pass up the unique opportunity to lead a non-profit organization that does so many wonderful things for our city and aligns so fully with my beliefs, I will miss working on behalf of my constituents and with many people I have come to love and respect."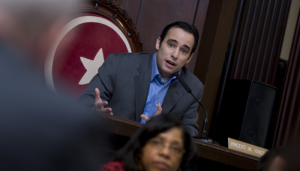 A source close to Mr. Borelli, who was Mr. Ignizio's chief of staff for eight years before winning an Assembly seat in an overlapping South Shore district, confirmed his interest in running. Mr. Borelli would be an instant front-runner if he entered the open race and a favorite to win the endorsement of the Staten Island Republican Party, though Council special elections are nonpartisan.
Mr. Ignizio won a special election in 2007 and was elected minority leader of the three-member GOP caucus in 2014. He was known for his collegiality in a body dominated by left-leaning Democrats.
His resignation will mean a Staten Island political scene even more in flux. The recent election of Congressman Daniel Donovan, the former Staten Island district attorney, has left a vacancy–many Republicans want State Senator Andrew Lanza to run for district attorney, a campaign that would also leave his State Senate vacant.
Assemblywoman Nicole Malliotakis, an ambitious Republican more alienated from the party establishment, recently moved into Mr. Ignizio's district and could also run for the seat.
This story originally stated that Ms. Malliotakis would face a legal hurdle if she ran for Mr. Ignizio's seat because she recently moved to the district. In city elections, candidates just need to live in the district by Election Day, however.