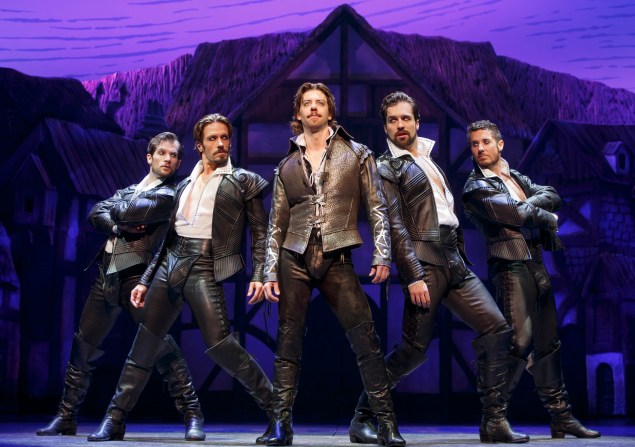 The featured actors are often forgotten in pre-Tony conversation, but these four categories are among the most entertaining and unpredictable races on Tony night. This year, no category has a single favorite- many of the 21 actors nominated have a very good chance of getting to the podium.
Here, an analysis of the contenders in each race:
BEST FEATURED ACTOR IN A MUSICAL
Christian Borle, Something Rotten
Mr. Borle, a Tony winner for the play Peter and the Starcatcher, hilariously portrays William Shakespeare as a rock star tough guy, who infiltrates Nick Bottom's inner circle to steal his idea for a play. He also has some of the show's best songs, including "It's Hard to Be the Bard."
Brad Oscar, Something Rotten
Mr. Borle's costar, previously nominated for The Producers , gets a standing ovation every night after his song "A Musical," which traces the history of Broadway in a brilliantly manic five minutes.  Mr. Oscar isn't well-known outside theatre circles, but he may have enough voters in his corner to take the prize.
Andy Karl, On the Twentieth Century
As young lover Bruce Granit, Mr. Karl shows a gift for comedy that wasn't readily apparent in his muscled performance as Rocky. The two Rotten men stand in his way, however, so he has virtually no chance of winning.
Max von Essen, An American in Paris
Playing Henri Baurel, a French lover par excellence, Mr. von Essen is charming, but his performance doesn't have enough substance to merit his getting the prize.
Brandon Uranowitz, An American in Paris
Mr. Uranowitz plays the main character's sidekick, and though he is dryly funny, his role is more one-dimensional than those of his competitors.
BEST FEATURED ACTRESS IN A MUSICAL
Judy Kuhn, Fun Home
As Allison Bechdel's mother, whose repressed emotions spill forth in a beautiful song called "Days and Days," Ms. Kuhn will likely win a Tony award on her fourth nomination.
Sydney Lucas, Fun Home
This moppet isn't just any kid actor- as young Allison Bechdel, she gets to sing one of Fun Home's most affecting ditties, "Ring of Keys."
Ruthie Ann Miles, The King and I
As the king's concubine, Lady Thiang, Ms. Miles knocks the romantic ballad "Something Wonderful" out of the park; if anyone can beat the two Allisons, she can.
Emily Skeggs, Fun Home
Ms. Skeggs gets to express "middle" Allison Bechdel's sexual awakening as a college student who wants to "change her major to Joan." She has not gotten as much press as her costars, however, and does not have the name recognition to take the prize.
Victoria Clark, Gigi
Ms. Clark is already a Tony winner for The Light in the Piazza, and that's a good thing because she's not winning this year. The sole nominee from Gigi, her comic turn as the title character's grandmother is not the stuff that Tony Awards are made of.
BEST FEATURED ACTOR IN A PLAY
Nathaniel Parker, Wolf Hall Parts 1 and 2
Mr. Parker is a magnetic stage presence as the scheming Henry VIII. He won an Olivier award for playing this role in London, and he'll get a Tony to match (likely the only major win for Wolf Hall).
Micah Stock, It's Only A Play
In his Broadway debut, Mr. Stock is charming as Gus, the coat check attendant who wants to get in with the upper crust. He's the only nominee from Only, though, which suggests Tony voters didn't love the show as much as audiences did.
K.Todd Freeman, Airline Highway
As the drag queen Sissy Na Na, Mr. Freeman oozes charisma as the flashiest member of a group of New Orleans misfits. But his performance, though comic and tender, might be too on the nose to get him a Tony.
Richard McCabe, The Audience
Mr. McCabe won an Olivier Award for playing Prime Minister Harold Wilson, but the lack of buzz about his performance on these shores means he's less assured of a trophy here.
Alessandro Nivola, The Elephant Man
As the tender Dr. Treves, Mr. Nivola was every bit the equal of Bradley Cooper, who played his patient. The Elephant Man closed in February, however- it's sadly doubtful that Tony voters' minds reach back that far.
Matthew Beard, Skylight
Mr. Beard is only in two scenes in Skylight, playing Bill Nighy's teenage son; though he has some affecting moments, the role is not meaty enough to win him a Tony.
BEST FEATURED ACTRESS IN A PLAY
Julie White, Airline Highway
As the prostitute who presides over the residents of the Hummingbird Motel, Ms. White is ferociously gifted at showing her character's inner pain. She already won a lead actress Tony for the comedy The Little Dog Laughed, and she will get one for her dramatic supporting work here.
Patricia Clarkson, The Elephant Man
Ms. Clarkson gave a physically and emotionally naked performance of immense power as John Merrick's romantic companion. Her costars overshadowed her, however, and since they have little chance of winning she faces the same fate.
Lydia Leonard, Wolf Hall Parts 1 and 2
Playing the willfully doomed Anne Boleyn, Ms. Leonard brings a feisty, powerful female presence to the all-male court of King Henry VIII. But she got less buzz than her costars, which hurts her chances.
Annaleigh Ashford, You Can't Take It With You
As the annoyingly chirpy dancer Essie Sycamore, Ms. Ashford wasn't even the best supporting actress in her show- Rose Byrne and Julie Halston shared that honor. Given this, it's a surprise she even got a nomination, and the award will definitely elude her.
Sarah Stiles, Hand to God
Ms. Stiles has a few good lines playing a sarcastic puppet minister, but the role is just too small to merit her getting the trophy.
The Tony Awards air Sunday, June 7 at 8 PM ET on CBS.